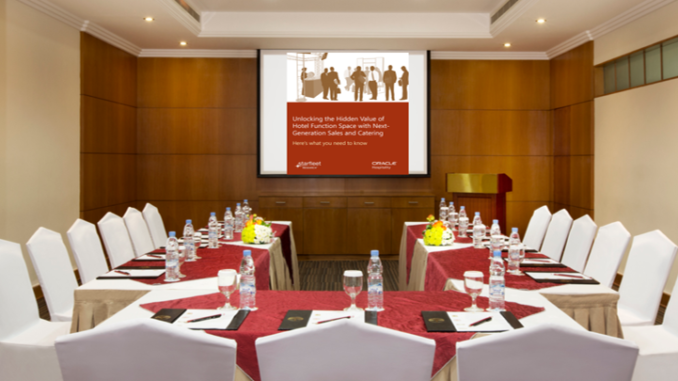 Industry pundits have long predicted the imminent decline of group sales for business events at hotels, resorts and conference centers. They believed that technology innovation would have a transformative effect on regional and global meetings. They reasoned that next-generation video conferencing, in particular, would dramatically reduce the need, and the desire, for companies to host and facilitate in-person industry conferences, corporate gatherings and other events.
As it turns out, these pundits could not have been more wrong. In this era of digital connectedness, business people still want to shake hands. They still want to "meet and greet" face-to-face. They still want to gather in physical locations to learn, share, network and conduct business. Technology falls short of fully replicating the experience —and benefits —of human interaction in a physical environment.
To be sure, companies slashed travel budgets and scaled back the number and size of the events they hosted as well as the number of events to which they sent their employees during the economic recession. But skies have long since turned blue again for hotels, resorts and conference centers offering function space for business events. In recent years, meeting attendance has soared higher than ever.
In fact, the Center for Exhibition Industry Research reported a 3.8 percent increase in the exhibition industry's performance in 2016. According to the "2016 Meetings and Events Forecast" from Carlson Wagonlit Travel and the "2016 Global Meetings and Events Forecast" from American Express, room rates are growing by 4.3 percent annually. Hotels and resorts added almost 100,000 new rooms in 2016 alone. Today, demand for function space for business events is growing at up to quadruple the rate of supply, with the daily cost per attendee increasing by a whopping 4.5 percent.
With the addressable market for event hosting estimated to be $5 billion worldwide across the hospitality sector, the opportunity to drive revenue growth and profitability through group sales and catering has never been greater. For mid-size and large hotels with function space assets, between 25 and 50 percent of revenues can come from the group and events business.
According to research conducted by Starfleet Research for the new eBook Unlocking the Hidden Value of Hotel Function Space with Next-Generation Sales and Catering, underwritten by Oracle Hospitality and currently available for complimentary download, no hotel operators at mid-size and large hotels have seen their events revenue decline over the past five years while almost half (45 percent) have seen "significant" or "dramatic" growth. More than one-third (40 percent) report that their events revenue has increased by more than 25 percent.
With this upsurge in demand, the lead times for attendee registration and venue contracts have shrunk considerably. In fact, some hotels in high-demand markets are no longer willing to hold event space without a nonrefundable deposit when responding to availability requests. According to sources, the average lead time is currently 18 weeks in North America and only slightly less in parts of Europe. Increasingly, event planners are having to work far in advance of the event date to secure desirable properties. Many hotel and resort properties now have the clear upper hand in group sales negotiations.
Hotels and resorts with function space may well have an opportunity to boost their overall property revenue, given the escalating demand for function space and the fact that many of them have already maximized the value of their guest rooms through sophisticated revenue management capabilities. Success generally starts with a next-generation technology solution that can empower sales and catering
personnel. Success also requires having in place the right organizational resources, business processes and performance metrics.
The new eBook Unlocking the Hidden Value of Hotel Function Space with Next-Generation Sales and Catering, is currently available for complimentary download,