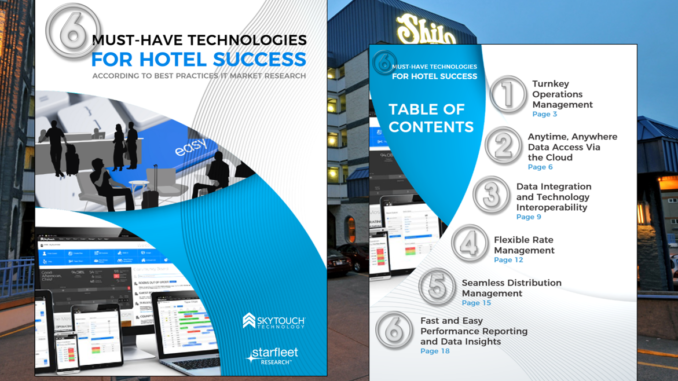 Starfleet Research,  the leading provider of best practices IT market research for the hospitality industry, in partnership with SkyTouch Technology, an independently-operated division of Choice Hotels International and provider of one of the most widely used cloud-based property management systems on the market, has released a new eBook: 6 Must-Have Technologies for Hotel Success.
The 21-page eBook, based on the latest industry research, highlights best practices for achieving hotel success by utilizing a next-generation platform with end-to-end operations management capabilities.
The eBooks speaks to the fact that some management software on the market today has evolved to the point that virtually all operations can now run automatically — and nearly flawlessly. Hoteliers everywhere, across multiple property sizes and categories, are reaping the benefits. So, too, are their guests.
Cloud-based and mobile-optimized, this new breed of software provides a vast array of day-to-day hotel management and guest service features as well as staff management and performance reporting tools. The software enables hoteliers to operate at unprecedented levels of efficiency and effectiveness.
The results are striking, even in the short-term, including higher levels of staff and guest satisfaction and substantial increases in occupancy, revenues and overall profitability.
The new eBook, which features research findings based on the experiences of hundreds of top-performing hotels and showcases the perspectives of executives at several major brands, including Cobblestone Hotels, Shilo Inns, and GrandStay Hotels, is currently available for complimentary access.
Clear here to read more about 6 Must-Have Technologies for Hotel Success and to download a free copy.