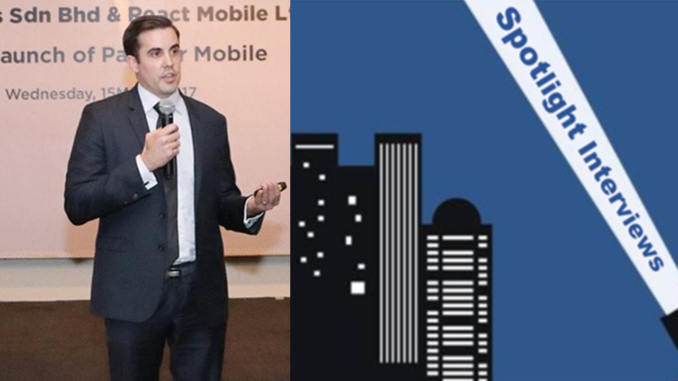 After personally experiencing a violent home invasion, Robb Monkman, the CEO and Founder of React Mobile realized that the safety solutions which existed simply weren't enough. After all, incidents rarely happen at a convenient time and place, and unfortunately, sometimes bad things happen to good people. Knowing this, could we really expect an emergency call box or noisemaker to offer anyone true peace of mind? What about emergencies faced by staff working in remote environments, or complex and large-scale buildings? What infrastructure was in place to protect them? These questions were the catalyst to the conception of React Mobile. Founded in 2011, React Mobile centers around a simple, but impactful core belief: Everyone should feel safe at all times – even at work. Since then, Robb's company has emerged as a leader in helping hoteliers meet newly heightened staff safety standards with the provision of best-in-class employee safety devices. The company currently works with more than 300 hotels, deploying more than 50,000 panic buttons. Earlier this month, React Mobile announced measures to help alleviate the impact of the coronavirus health crisis on the hospitality industry by offering its staff safety platform to existing hotels customers for free in April and May.
You have a personal experience that led you down this path in your career. Could you tell us a bit more about that, and what inspires your work with React Mobile?
When I was a university student, my roommates and I were the victims of an armed robbery in the living room of our off-campus home. Although we were fortunate to make it out unscathed, that experience provided me with a rather sobering realization: help, in a situation like what we went through, wasn't readily accessible. I recognized those dangerous scenarios, whether the product of a crime, harassment, or injury, were often a part of life and, at times, can be unavoidable. On some level, we know and understand this, but what about when it actually happens to you? What tools do you have at your disposal to mitigate that risk? I knew there was no easy answer, but I also felt there was more to be done. The emergency call boxes and blue light polls scattered around my campus were hardly a reliable resource in most emergency scenarios, and what about the high-risk nature of mobile workforces? Suddenly, it seemed impossible for me to move on from what had happened to me, without contributing to a better solution along the way.
Admittedly, I never anticipated this would become a business. At its onset, it was just my passion, and it felt deeply personal. But now, as safety continues to become a more significant issue around the world and especially within the hospitality industry, the demand for our platform has reached a fever pitch, and we feel privileged to play an integral role in this ongoing movement.
Can you speak to the 5-Star Promise, and the legislation changes currently rolling out around the United States?
The American Hotel and Lodging Association announced the 5-Star Promise just over a year ago, as stories of hospitality staff mistreatment, harassment, and injury continued to surface with alarming prevalence. Unfortunately, it's no secret that employees within the hospitality industry are frequently placed in vulnerable scenarios due to the often-remote nature of their work and, as you might imagine, this can bear the burden for harm.
Quite frankly, the statistics speak for themselves. Not long ago, a Chicago study found that women who work in Chicagoland hotels and casinos face a high level of sexual harassment, mainly from male guests. According to the survey, 58% of hotel workers and 77% of casino workers surveyed have been sexually harassed by a guest. In another study, 89% of respondents said they had experienced one or more incidences of sexual harassment at work. In a 2017 Huffington Post Business op-ed, Maria Elena Durazo, a labor leader with the hospitality union Unite Here echoed this point further, stating that the public doesn't understand what housekeepers go through just to clean these rooms and carry out the work.
Change can't happen overnight, and the introduction of new technology is often treated with certain skepticism in the early phases of implementation, but the writing was on the wall in this case. Something had to be done; it was time for hotels to do a better job of protecting their employees.
And so, the 5-Star Promise was born, marking the onset of a long-awaited transition towards enhanced workplace safety. The initiative represents a pledge to provide hotel employees across the U.S. with employee safety devices and commit to enhanced policies, training and resources that together are aimed at enhancing hotel safety, including preventing and responding to sexual harassment and assault. As of October 7th, 2019, one year after the announcement of the pledge, the AHLA announced a 230% increase in member participation, while statewide legislation continued to gain momentum.
What does the 5-Star Promise mean for hoteliers? What role does React Mobile play?
Although this progress is incredibly positive in nature, it has been notably swift. Hotels' reputations are at risk, and failure to comply can result in hefty fines. As such, we've seen a domino-effect of sorts take place across hotels in the United States, as they work to meet the guidelines of new mandates under relatively strict deadlines. In some cases, the hotels are merely uninformed in the realm of staff safety resources and technology standards, or they find themselves questioning what 'legally' fulfills the requirement of an ESD.
Of course, with any stark change there exists the risk of some confusion or resistance, and so it becomes the responsibility of companies such as React to support them as they pursue compliance. We recognize our role as a vendor — and a long-standing one at that — to offer guidance to our partners, as well as continued support and education throughout the entire process.
We also understand that safety isn't one size fits all, and hotels deserve a best in class platform that not only meets state-issued requirements but which can be customized to the unique needs of each hotel. Over the years, we have built out various tiers of service which allow us to work with each hotel directly to integrate seamlessly into their existing infrastructure in an intuitive, complimentary manner. Our technology works both on and off your property and allows you to pinpoint the precise location of a distress call down to the specific floor and room number. If the person in distress moves throughout your property, our system will track them as they move providing their updated location coordinates in real-time. As you can imagine, this is potentially life-saving information.
What is next for React Mobile?
We've already established our company as an industry leader in the realm of Bluetooth-enabled ESD devices; we have the expertise, the resources, and we implement quicker than any other provider. Moreover, our solution offers unparalleled accuracy in the case of an emergency, ensuring help is always only a click of a button away.
But now, we intend to keep on the path to innovation. Beginning 2020 on this note, we've recently launched three new products, the Stand-Alone LTE Panic Button, the Sidekick, and the BLE 5.0 Beacon. The Stand-Alone LTE device offers hotels an all-in-one solution capable of protecting employees both on and off property without the need for a tethered smart device. The Sidekick, on the other hand, is designed to pair with company-issued mobile devices to provide a truly seamless safety solution for the mobile workforce. And lastly, the BLE beacon device is a discreet, easy to conceal device that allows our safety platform to deliver precise room level location accuracy indoors in multi-story buildings.
We've now been providing cutting-edge, cost-effective, and user-friendly safety solutions for the better part of a decade, and we are incredibly excited to continue to evolve our offerings, with enhanced staff safety in mind, well into the future.