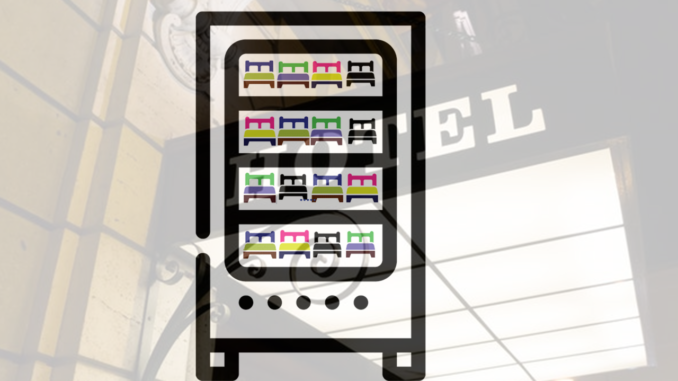 Numerous inventions inscribed by science fiction books and films have become reality. But while real life is gradual and nuanced, science fiction is a blunt brick in how it takes these technologies to their often-darkest extremes. So, per the title, let's discuss this radical question as perhaps there are some cost benefits that you can achieve for your own organization.
What's meant by vending machine is a place of near-perfect automation – hardware, deeply integrated software and IoT everywhere – where very little onsite labor is needed to sell (or vend to use the Latin root) as well as maintain inventory availability.
As they say in economics classrooms, "Tell me the incentive and I'll show you the behavior." With labor the most expensive line item for the average property, hotel brands are continuously incentivized to look for newer ways to further automate in order to limit this cost. As limited service hotels don't typically earn their bread from high-touch service, the stage is already set for them to eventually become autonomous business units.
Unlike sci-fi, this forecast will be decades in the making. And it is hardly an all-or-nothing evolution, with prominent exceptions like a beachside, select-service hotel that foregoes a purely cost-based approach to operations in favor of a handful of meaningful amenities that sharply enhance the onsite experience. Rather, let's look at the current influences so that you can envision the next five or so years for your company as well as some of the ways that technology can be deployed in each department.
The Airbnb Hegemony
Fight and deny all you want, but Airbnb is now the largest supplier of rooms inventory for any single accommodations entity. As such, they have a profound influence on the macro-trends for all guest profiles, regardless of how you demarcate hotel guest from vacation renter. And from this proliferation of short-term rentals, travelers now expect keyless room entry, unique spaces, flexible room configurations and a few workcation amenities like a kitchenette.
Crucial to understand here is how companies like Airbnb have sped up the modern tempo of travel. Everything is fast and frictionless (with in-person contact largely seen as a point of this friction), and this extends across all segments and star ratings. Guests will still enjoy meeting new people and chatting while abroad, but they no longer want to waste time on transactional conversations. They don't want to line up at the front desk for check-in. They want to be able to reserve dining or spa appointments off a website or app without any human interactions. They want a frictionless journey so that their time is better allocated towards meaningful experiences.
Technology Depresses Prices
Essential for you to note, technology is naturally deflationary because of the new cost savings that are derived from said innovation, namely increased labor productivity (automation that augments output per worker), improved supply chains (either through better methods of transportation or access to new markets) and faster information flows (to reduce market price asymmetry).
Automation and cheaper supply costs over the long run mean that a hotel can reduce its overhead and charge less while maintaining its margins, thereby making it more competitive. Consider price transparencies brought about by the OTAs that have resulted in hotels no longer being able to get away with grossly overcharging customers. Comparative information is now too widely available, meaning that a property's rates will gradually be forced down to a 'fair' number as members of the comp set continually undercut each other to gain market share.
Voluminous economics tomes have been written on this principle. In hospitality, to fight this race to the bottom, we brand, we rebrand, we advertise, we package, we renovate, we personalize, we unveil new amenities and so on. But for certain properties at the economy and midscale, commodification inevitably occurs, with the guest only looking for a bed in a quiet room where the lowest price is the law. And in a world that is constantly deflating certain industries, automating these purely heads-in-beds hotels may become the only way to maintain the owner's targeted bottom line.
In Each Department
For the hotel vending machine, no onsite administration is necessarily required – the front desk manager, executive housekeeper and GM can go in favor of regional control. The only people you will need onsite are room attendants, public area custodians, engineers, IT personnel and security guards, all of whom can be remotely directed through an operations platform. Here are some more tactical ways in each department that technology will continue to meet the modern guest's demands and rescue the income statement.
Search: Mapping platforms can now automatically update all OTA content while AI-driven revenue management products can analyze travel intent data in real-time then yield rooms up to the minute. With these tools in place, a revenue manager working at a corporate office can run more than a dozen hotels at once.
Reservations: Besides using a seamless booking engine, intake can be fully outsourced to call centers or AI-based voice services along with integrated chatbots for SMS or social media. You won't need a reservations time save for a front office manager who can also work out of a regional office to handle complains or complex bookings for multiple properties.
Property management: There's no need to host on-prem and devote IT resources to maintaining your own servers. Cloud-everything is the way forward, especially for your PMS for which there are a plethora of secure options already on the market.
Prearrival: Advances in CRMs, CDPs and open APIs allow for rich data integrations so that hotels know their guests before they arrive and offer bespoke, one-to-one upsells, with all of it automated through a robust PMS or communications platform of choice.
Check-in and check-out: This can be wholly contactless to eliminate the front desk. Mobile keys will reside in a digital wallet (accessible via a phone, smartwatch or smart ring) as prompted by a prearrival check-in portal. Or, in the rare case that a guest doesn't do this in advance, a kiosk will be available in the lobby.
In-Room: AI-based voice command speakers can act to address guest questions instead of a live agent at the front desk or concierge. Everything in the room will be IoT-controlled while casting to the TV to access a guest's preferred streaming service will be made increasingly frictionless.
Food & Beverage: While onsite restaurants are critical for four stars and above, for midscale and economy hotels, online food ordering like Uber Eats, Grubhub and Doordash will suffice. Once you set up the drop-off rules for security, you can eliminate this entire department.
Parking: It will all be self-park with automated ticketing and monitoring. Realistically, though, most people will be using Uber or Lyft to get around.
Housekeeping: This can be only upon guest departure for short stays. Or, via integrations to the PMS, you can let the guest choose between no stayover cleans and leaving fresh towels at the door or daily cleaning for an extra charge. Using existing systems, room attendant routing can be optimized with cleaning schedules updated in real-time and pushed to a staffer's phone.
Accounting: No cash transactions will be allowed onsite with mobile payments becoming the norm. Moreover, new centralized payment operations platforms are emerging to expedite audits, workflows, reporting, clearing and reconciliation so that, much like other departments, accounting can be moved to a regional office with one controller for multiple properties.
Recruitment: Networked on-demand labor platforms are emerging that verify and onboard staff members, giving HR quick access to a large pool of potential hires with little extra work.
Larry and Adam Mogelonsky represent one of the world's most published writing teams in hospitality, with over a decade's worth of material online. As the partners of Hotel Mogel Consulting Limited, a Toronto-based consulting practice, Larry focuses on asset management, sales and operations while Adam specializes in hotel technology and marketing. Their experience encompasses properties around the world, both branded and independent, and ranging from luxury and boutique to select-service. Their work includes six books "Are You an Ostrich or a Llama?" (2012), "Llamas Rule" (2013), "Hotel Llama" (2015), "The Llama is Inn" (2017), "The Hotel Mogel" (2018) and "More Hotel Mogel" (2020). You can reach Larry at [email protected] or Adam at [email protected] to discuss hotel business challenges or to book speaking engagements.
This article may not be reproduced without the expressed permission of the authors.
Are you an industry thought leader with a point of view on hotel technology that you would like to share with our readers? If so, we invite you to review our editorial guidelines and submit your article for publishing consideration.