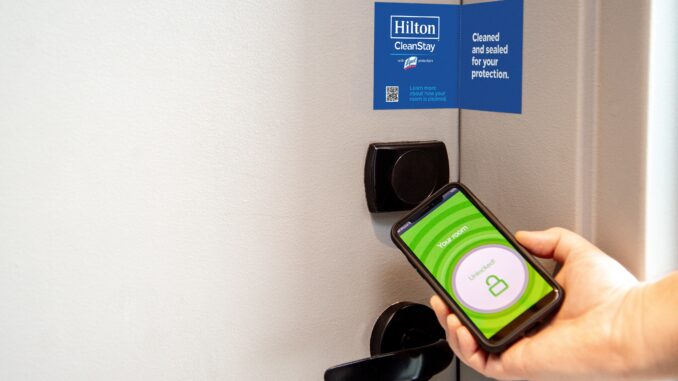 In response to the public health crisis that has wreaked havoc on the hospitality industry, and following on the heels of other leading hotel brands — including Marriott, which unveiled a similar initiative —  Hilton has launched a new program to up its standard of cleanliness and disinfection at its hotel properties around the world. As with other hotel brands, many aspects of the program are enabled by next-generation technologies. These include:
Contactless check-in technologies: Hilton will double-down on its digital key technology for guests who desire to have a contactless arrival experience. Guests can check-in, choose their room, access their room with a digital room key and check-out using their mobile devices through the Hilton Honors mobile app at participating hotels. Hilton will continue to expand its digital key capabilities to common doors and access points throughout the hotels.
Advanced disinfection technologies: Hilton is exploring the addition of new technologies, like electrostatic sprayers – which use an electrostatically charged disinfecting mist – and ultraviolet light to sanitize surfaces and objects.
Dubbed Hilton CleanStay, the program is designed to  build upon the existing housekeeping and hygiene standards at Hilton properties worldwide, where hospital-grade cleaning products and upgraded protocols are currently in use. According to a press statement, the goal of Hilton CleanStay is to provide guests with assurance and peace of mind when they stay at any of Hilton's more than 6,100 properties representing 18 brands.
The initiative will create a focus on cleanliness that will be visible to guests throughout their entire stay – in their guest rooms, restaurants, fitness rooms and in other public spaces.
"Our first priority has always been the safety of our guests and Team Members," said Christopher J. Nassetta, Hilton President and CEO. "Hilton CleanStay builds on the best practices and protocols we've developed over the last several months, allowing our guests to rest easy with us and focus on enjoying the unforgettable experiences we have to offer – while protecting our Team Members who are on the front lines of hospitality."
Hilton announced that it will collaborate with RB, maker of Lysol and Dettol, and consult with Mayo Clinic to develop elevated processes and Team Member training to help Hilton guests enjoy an even cleaner and safer stay from check-in to check-out. Experts from Mayo Clinic's Infection Prevention and Control team will advise and assist in enhancing Hilton's cleaning and disinfection protocols.
Mayo Clinic and Hilton share intertwined histories. Late in life, Conrad Hilton became a Mayo Clinic patient and supporter. In 1972, Hilton's donation of $10 million helped launch the Conrad N. Hilton Building for Laboratory Medicine, which was the first building in the Mayo complex designed specifically for laboratory medicine. The building opened on Oct. 18, 1974, and is still part of the Mayo Clinic campus in Rochester, Minnesota.
Mayo Clinic, the top-ranked hospital system in the United States, will apply its experience and expertise to advise Hilton hotels on cleaning protocols, training programs, and quality assurance.
Full details for the program are still in development and expected to be announced soon. Meanwhile, one thing is certain: consumer trust in hotel cleanliness standards will be critical to restarting travel.