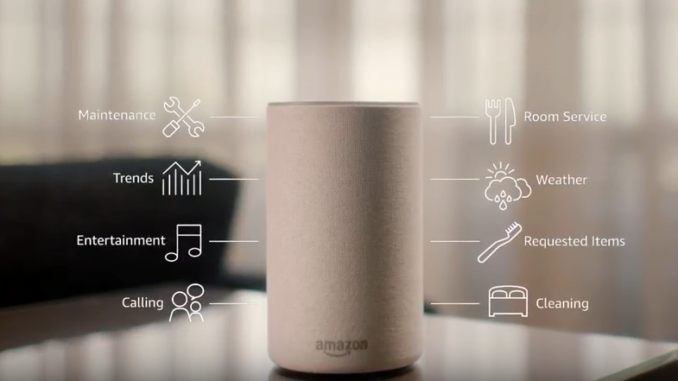 Following a series of digital assistant initiatives focused on everything from business support services to car dashboards, it was only a matter of time before Amazon set its sights on the hospitality sector. And indeed, today's launch of Alexa for Hospitality represents the company's latest effort to bring its digital assistant into even more aspects of people's lives, by placing the Amazon Echo voice assistant device in hotel guest rooms.
Marriott International, which ranks as the world's largest hospitality company, has signed up to be the first major hotel chain to offer the new service. Beginning later this summer, Alexa for Hospitality will be made available at select Marriott Hotels, Westin Hotels & Resorts, St. Regis Hotels & Resorts, Aloft Hotels, and Autograph Collection Hotels.
Clearly, landing Marriott as a first customer was a big win for Amazon's ambitions in the hospitality sector. Marriott is said to have been also considering Apple's HomePod, which will no doubt remain a major contender in this space. How long before Apple launches its own hospitality-based service is yet to be determined, and it seems likely that Google will also follow suit.
Of course, this is hardly the first time hotels have sought to enhance the quality of the guest experience with smart room devices, including digital assistants, or chatboxes. In fact, there is no shortage of hotels that have already tested the waters with digital assistants. In 2016, for example, the Aloft boutique chain rolled out a customized version of Apple's Siri. Similarly, Google has actively partnered with a number of startup companies to turn Google Assistant into a valuable concierge service.
Major hotels, including The Wynn Las Vegas, already offer an Echo device with a customized version of Alexa in their guest rooms. Even mid-tier hotel chains like Best Western and the Red Roof Inn have, as we recently reported, have taken advantage of the Alexa Skills Kit (ASK), which is a collection of self-service APIs, tools, documentation, and code samples that makes it fast and easy for developers to add "skills" to Amazon's Alexa voice service.
"Alexa for Hospitality integrates seamlessly with the hotel's existing amenities and services, to become your guests' virtual concierge," boasts Amazon in its promotional materials for the new service. "Alexa simplifies tasks for guests like playing music, ordering towels, controlling in-room temperature or lighting, finding local restaurants and attractions, calling, and even checking out."
In other words, the service aims to supplement, if not eventually replace, traditional concierge services. Each guest room will be equipped with its own Echo device that connects guests to hotel front offices to order room service, check facility hours of operation, and extend travel stays. For now, guests will not be able log in to their own Amazon accounts. However, the company is reportedly working on a next-generation version that will allow Amazon customers to access their own accounts so that they can play their own stored song lists, movies and other digital media.
For hotels, Alexa is a new treasure trove of data, even in an anonymized and aggregated format. Access to the data could help hoteliers see what their guests are searching for most (like restaurants or activities), and use that data to allocate more resources to improving their services or innovating on new ways to enhance the guest experience.
Not surprisingly, with the announcement of Amazon for Hospitality, there has been a lot of discussion about privacy concerns related to data collection. Amazon is treading cautiously and working overtime to address the anxieties that exist in the current environment.
The company has emphasized that the Alexa for Hospitality service will not give hotels access to an individual's voice data from any specific guest room. All voice commands and recordings will be automatically deleted daily. Providing additional assurances, the company states that Alexa for Hospitality devices are muted by default and require guest consent before use.
Many guests may be satisfied with these privacy assurances. Other may remain uneasy. Only time will tell if travelers welcome the Echo device into their rooms, and take full advantage of the services it offers, or view it as an unwelcomed guest.