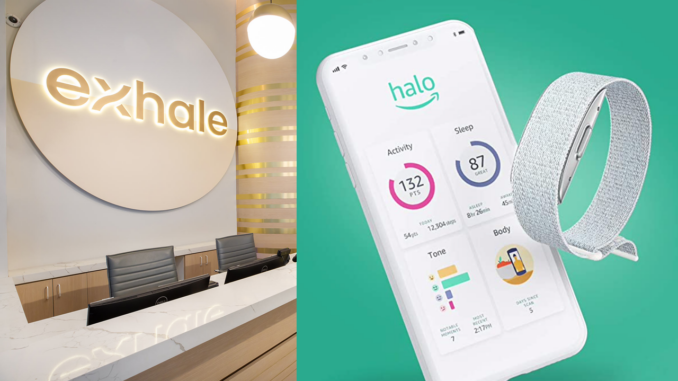 Hyatt Hotels Corporation's Exhale brand is partnering with Amazon Halo. Exhale will use the new technology to provide personal wellness insights and offer its members ways to improve their everyday health.
Powered by a mobile app and accompanying wristband, the newly launched Amazon Halo service combines science-backed tools and Exhale's streaming video platform, Exhale On Demand, giving users and Exhale members greater accessibility to Exhale On Demand's fitness programs.
Hyatt Hotels acquired Exhale, an 18-year-old branded concept that "addresses mind and body through spa and fitness" in 2017. The price of the acquisition was not disclosed. That same year, Hyatt acquired New York-based Miraval Group, another provider of wellness experiences, from an affiliate of private equity firm KSL Capital Partners in a $215-million deal.
There are currently 21 Exhale locations in the U.S. and Caribbean offering dozens of fitness classes and healing spa therapies, although roughly half of these locations are temporarily closed due to the pandemic.
According to a press statement, the Exhale On Demand fitness-focused labs offered on Amazon Halo are one-to-four-week trackable challenges—like a four-week event prep bootcamp ahead of a special occasion or a three-week challenge focused on core work. The Exhale On Demand labs in Amazon Halo help users build healthier habits and discover the fitness programs that work best for them. At launch, Amazon Halo members have access to seven Exhale On Demand fitness programs curated with specific goals, fitness levels and schedules in mind while also receiving data via the Amazon Halo Band.
"Exhale reinforces Hyatt's commitment to wellbeing by providing meaningful wellness experiences that support total mind and body through boutique fitness classes, spa therapies and original streaming content," said Julia Sutton, chief operating officer, Exhale. "We are thrilled to team up with Amazon Halo and provide even more people with the opportunity to easily access fitness- and wellbeing-focused programs. Exhale On Demand allows people to maintain their wellbeing routines when they want, where they want, and the collaboration with Amazon Halo adds a new element of measurement to help people better understand personal health and wellbeing and create a more connected, informed approach to their everyday wellbeing routines."
Amazon Halo was launched last month as a new service for helping customers improve their individual health and wellness. Amazon Halo combines a suite of AI-powered health features that provide insights into overall wellness using multiple advanced sensors. The sensors include an accelerometer, a temperature sensor, a heart rate monitor, two microphones, an LED indicator light, and a button to turn the microphones on or off, among other functions.
The Amazon Halo app is a suite of five core features designed to give customers a comprehensive understanding of their health and wellness—and the tools to take action to make measurable improvements. According to Amazon, these five core features are:
Activity: Informed by American Heart Association physical activity guidelines and the latest medical research, Amazon Halo awards points based on the intensity and duration of movement, not just the number of steps taken.
Sleep: The health benefits of consistently good, sufficient sleep are well documented—as are the potential negative health impacts of not enough or consistently poor sleep. Amazon Halo uses motion, heart rate, and temperature to measure time asleep and time awake; time spent in the various phases of sleep including deep, light, and REM; and skin temperature while sleeping.
Body: Medical research has shown for years that body fat percentage is a better measure of overall health than just weight or body mass index (BMI) alone, but the tools that measure body fat percentage can be expensive or difficult to access. Using new innovations in computer vision and machine learning, Amazon Halo lets customers measure their body fat percentage from the comfort and privacy of their own home, making this important information easily accessible.
Tone: The globally accepted definition of health includes not just physical but also social and emotional well-being. The innovative Tone feature uses machine learning to analyze energy and positivity in a customer's voice so they can better understand how they may sound to others, helping improve their communication and relationships.
Labs: Amazon Halo Labs are science-backed challenges, experiments, and workouts that allow customers to discover what works best for them specifically, so they can build healthier habits—for example, some customers might discover that cutting out afternoon caffeine improves their sleep quality, or that a certain type of at-home workout is more effective than others.
"The American Heart Association is excited about technology that focuses on new and interesting ways for people to improve their cardiovascular health, quality of life, and healthy life years. We're thrilled to see companies like Amazon innovating in this space," said Eduardo Sanchez, M.D., MPH, Chief Medical Officer for Prevention, American Heart Association, in an Amazon press statement. "The Association is committed to helping people live longer, healthier lives—both physically and mentally."
Hyatt Hotels Corporation's Exhale brand is just one of several programs (others include 8fit, Aaptiv, American Heart Association, Harvard Health Publishing, Headspace, Julian Treasure, Lifesum, Mayo Clinic, Openfit, Orangetheory Fitness, P.volve, Russell Wilson, Relax Melodies, SWEAT, and WW) partnering with Amazon to enable their customers to connect their Amazon Halo account. Account linking occurs via the opt-in of the Amazon Halo customer and they can opt back out any time directly from the Halo app.