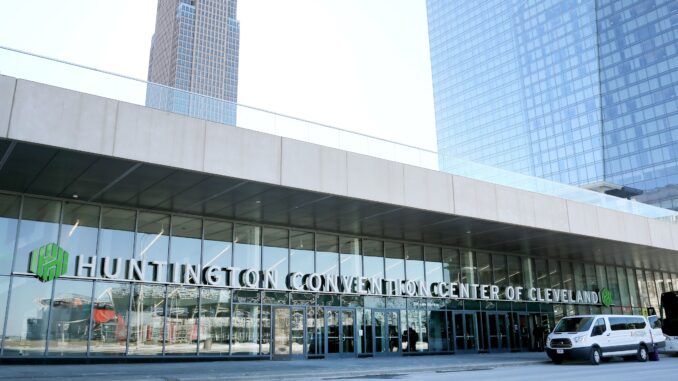 The Huntington Convention Center of Cleveland, managed by ASM Global, has selected Mills James as its audiovisual production partner. Mills James will become the Huntington Convention Center of Cleveland's preferred provider of production services and its exclusive provider of rigging services.
Founded in Columbus in 1984 by Ken Mills and Cameron James, the creative firm produces live and virtual events, broadcast television programming, commercials, and visual communication in all its emerging formats. Mills James will support the convention center from its Cleveland-based office located at 1228 West 6th Street. The Mills James team will help the Huntington Convention Center of Cleveland elevate event experiences through the strategic use of staging, video and lighting innovations, projection mapping, experiential technologies, virtual event platforms, and more.
"As one of the country's largest production companies, Mills James has built a reputation for high-impact events and outstanding customer service, two critical strengths for the convention center going forward," said Assistant General Manager Mike Campo. "We're back in growth mode — HCCC and Cleveland in general — and we're excited to partner with Mills James to take client events to the next level."
"Our mission is to redefine convention center audiovisual services," said Mike Tyson, Director of Convention Center Sales for Mills James and primary contact for the HCCC account. "The Huntington Convention Center of Cleveland is committed to raising the game nationally, and we're honored to be part of it."
A Service Mindset Like No Other
With convention meetings returning, Mills James is in a strong position for growth, having weathered the pandemic well thanks to the company's breadth of services. In the convention and hospitality AV space, the employee-owned production company makes a concierge-level service commitment to its venue clients. Unlike high-priced multinational AV corporations that have long held a monopoly on the market, Mills James manages every venue with a local ownership mentality. Employee ownership fosters a service mindset like no other, one marked by superior listening and communication skills, passion, professionalism, and the comfort of a familiar team.
"The fact that every Mills James associate is an owner in the company is a huge differentiator for us," said Mike Yearling, a Mills James managing partner. "Our broader production expertise also set us apart in a major way. We're able to offer production experiences that rival anything you'd see in New York, Los Angeles, or Chicago, but at client-friendly price points. And with greater speed and agility, which is so important these days."