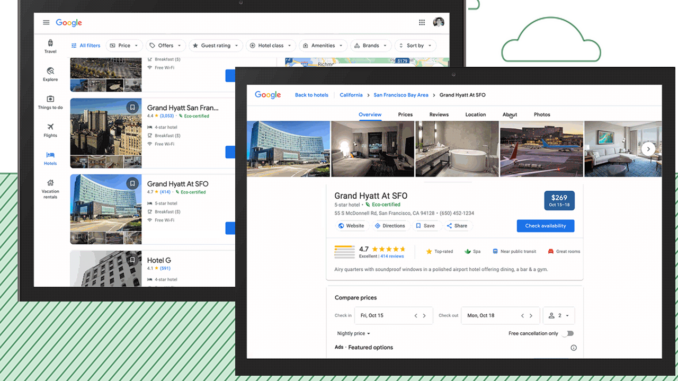 Increasingly, in the face of dire warnings that climate change is fast becoming the defining narrative of human health, more companies are taking measures to curb greenhouse gas emissions. Among those companies are major hotel brands, as has been reported in this publication (e.g., More Hotel Brands Pursue Technology-Enabled Initiatives in Bid to To Achieve Net-Zero Emissions).
Travelers care about sustainability. In fact, according to a recent survey conducted by Booking.com, 83% of 29,000 respondents said they found sustainable travel to be vital, with 61% noting that the pandemic has increased their interest in traveling sustainably. Another proof point is search volume around eco-travel buzz words. The term "green hotel," for instance, has quadrupled in search volume since March 2020, according to Google Trends.
Google has responded to this trend, enabling hotels to now identify their sustainability efforts on their search results detail page alongside amenities and health and safety practices. This information only appears for hotels that opt in to self-reporting and have sustainability practices to report.
The pages now label hotels as "Eco-Certified" in global search results, with a leaf-shaped icon next to the hotel's name. Clicking on the "About" tab details the property's specific sustainability practices, such as having water use audited by an independent organization or using energy from carbon-free sources.

Hotels with an "eco-certified" label have been certified by an accredited independent organization for meeting certain standards. An "eco-certified" label near their name allows travelers to find out more about their sustainability practices on their detail page.
Instructions from Google provide the following instructions:
On google.com/travel, search for hotels.
Select a hotel with an "eco-certified" label.
On the hotel's detail page, select the About tab.
Scroll down to the "Sustainability" section.
Not all hotels with sustainability practices are eco-certified, according to Google. To understand how a hotel is managing their environmental impact, the company suggests that travelers follow these steps:
On google.com/travel, search for hotels.
Select a hotel you're interested in.
On the hotel's detail page, select the About tab.
Scroll down to see if there's a "Sustainability" section. If this section isn't present, visit the hotel's website to see if they follow sustainability practices they haven't yet reported to Google.
Sustainability information is provided by the hotel. Google provides hotel owners with a list of approved certification agencies and curated sustainability practices based on industry best practices. Hotel owners select what is applicable to their property. This self-reported information displays on the hotel's About page. Google does not independently verify their claims.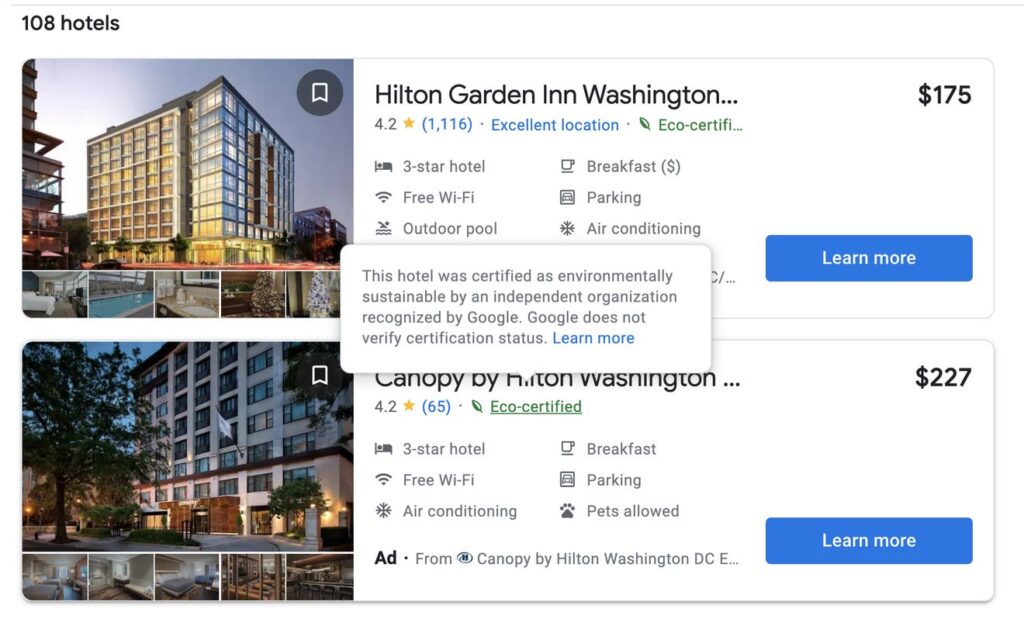 According to Google, eco-friendly certifications are granted to hotels who meet sustainability criteria designated by a third party certification agency. When a hotel is labeled "eco-certified" on Google, it means they have reported earning a certification from an agency that Google has identified as meeting specific standards.
To that point, the agency must use globally recognized and reputed criteria to evaluate the hotel. The evaluation must focus on environmental impact from at least these 4 categories: Energy efficiency, water conservation, waste reduction and sustainable sourcing.
The agency must conduct an on-site audit to verify the hotel's sustainability practices, or use an independent third party to do so. Google does not verify the certification status of each hotel. Certifications requires comprehensive and rigorous sustainability criteria that aims to reduce a hotel's carbon footprint.
Because sustainability terms can have a number of meanings, Google has shared more context for a few sustainability practices. The following terms and definitions are used by Google to align sustainability practices across hotels. For example, criteria relates to whether the property sources carbon-free electricity through at least one of the following ways:
"We're working with hotels around the world, including independent hotels and chains such as Hilton and Accor, to gather this information and make it easily accessible," notes Richard Holden, VP of Travel Products. "If you're a hotel owner with eco-certifications or sustainability practices you want to share with travelers, simply sign in to Google My Business to add the attributes to your Business Profile."
"Making travel more sustainable isn't something we can do alone, which is why we're also joining the global Travalyst coalition," he explains. "As part of this group, we'll help develop a standardized way to calculate carbon emissions for air travel. This free, open impact model will provide an industry framework to estimate emissions for a given flight and share that information with potential travelers. We'll also contribute to the coalition's sustainability standards for accommodations and work to align our new hotel features with these broader efforts."