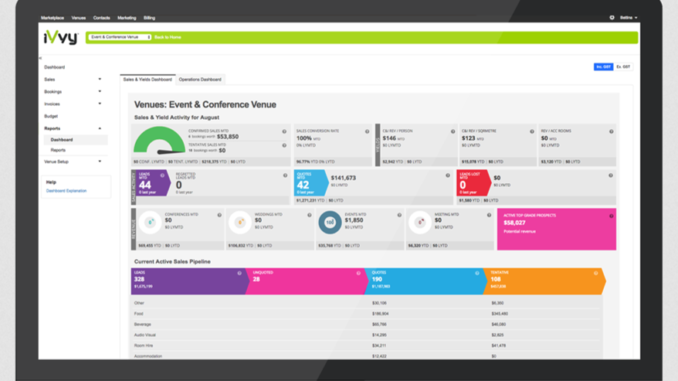 Since announcing its initial entry into the US market in 2017 and the UK in 2019, iVvy, an Australian-based global provider of cloud-based venue and event management software, has brought a number of global brands and iconic venues onto its platform. The company believes that venues across North America and the UK are ripe for disruption with venues across the world more than ever looking for new ways to improve processes and drive real business outcomes.
By providing hotels, restaurants, stadiums, and universities with an integrated revenue management and distribution platform, iVvy equips venue operators with the tools they need to manage inquiries and event logistics on any device, anywhere in the world. With enhanced reporting and analytics, Venues are provided with greater visibility over their business to yield group rooms, meetings and event spaces to maximize revenue.
As part of its expansion plan, iVvy has made a number of key hires to further build out its US operations. These include two new Vice Presidents of Sales, as well as the addition of a new Chief Operating Officer.
Jennifer Barbosa (Hollister, CA) and Bryan Knapp (Chicago, IL) join the global iVvy sales force as part of iVvy's continued North American focus and investment. Drawing on 15 years of experience in hospitality management, Jennifer Barbosa believes what's exciting about iVvy is the impact it can make for US-based venues as it transforms and streamlines their management operations. "Coming from the industry, iVvy really excites me as a product that can streamline the entire process of booking a venue, and running events for both the venue and the client," she said. "I'm excited to see iVvy benefiting how venues run and grow their business."
iVvy's new Chief Operating Officer David Rose is an experienced technology executive with over 20 years of experience across a number of business sectors. He brings this experience to the executive team at iVvy adding to an already highly experienced team. "I'm really excited to be joining at this time as we renew our push into the US market with a significant investment towards enhancing our products and growing our US team", he said.
With offices in five countries and a global team providing support 24 hours a day, software offers scalable solutions that tackle core issues faced by the travel, MICE and events industry. iVvy continues to service the world's leading hospitality groups, major corporations, travel companies, governments, associations, stadiums, universities and nonprofit organizations.
Does your company have news it would like to share with our readers? If so, we invite you to review our editorial guidelines and submit your press release for publishing consideration.