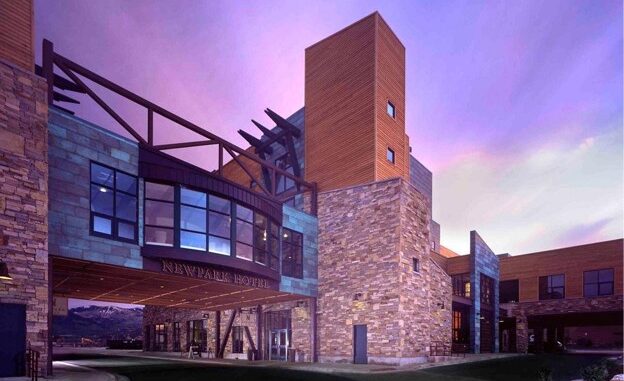 Newpark Resort in Park City, Utah has joined the exceptional hotels enjoying the premium Travel Outlook voice services. Travel Outlook The Premier Hotel Call Center™ is the leading voice reservations team in hospitality.
Newpark Resort understands that in an increasingly digital world a personal touch goes a long way, and a friendly and informative voice on the other end of the line is just what it takes to turn a curious caller into a repeat customer.
According to Doug Kennedy, President of the Kennedy Training Network, "voice has become a forgotten revenue channel, and many hotel leaders have failed to recognize the interplay of voice and online bookings."  
The definition of hospitality is "the friendly reception and treatment of guests or strangers", and true hospitality not only involves the friendly treatment of potential guests but knowing their needs and desires and having the ability to fulfill them.  Guests are looking for genuine hospitality, not a generic response off a call sheet, and a properly trained call center agent will know the particulars of the hotel and will be able to match them with the needs of callers.  Newpark Resort chose Travel Outlook to provide exactly that level of service.
Newpark Resort offers standard rooms, suites with kitchenettes, and two-bedroom townhouses, all perfect for family gatherings and for groups of friends on a ski vacation.  The resort is surrounded by an outdoor shopping center with restaurants and shops all within close walking distance, and next to the hotel is a twelve-hundred-acre wetlands preserve with many bike and walking paths.  Only a ten-minute drive to the Canyons Base area, or Woodward Park City, the Park City Transit system also offers free bus service to all local Ski Resorts.
Newpark Resort's rooms and suites feature the look and feel of natural wood and leather, with heavy pine doors accentuating the connection with the lovely Park City outdoors. The hotel has a unique heated indoor/outdoor pool, and guests can swim from the indoor section straight out to the hot tub, which is built into the main pool.  The hotel has a wet and dry sauna adjacent to the pool and a fitness center, and offers complimentary ski storage and on-site equipment rentals through Breeze Ski Shop.
Kyle Osborne, General Manager of Newpark Resort said, "Newpark Resort is very excited to be partnering with Travel Outlook.  As an independent, boutique hotel, we rely on great partners to support our operations.  The onboarding process was easy and straightforward, and had great support from their professional team.  We look forward to working with Travel Outlook for the foreseeable future."
The only call center certified by the Kennedy Training Network, for sixteen years the Travel Outlook team has been offering Forbes Five Star level service for hotels around the world. Travel Outlook can save the average property $10,000 a month answering voice calls, and many hotels are realizing that it's not necessary to maintain the fixed expense of an in-house reservations department.  
Travel Outlook also offers Annette, the Virtual Hotel Agent, which for pennies a month can answer up to 70% of front desk and dining calls.  
Does your company have news it would like to share with our readers? If so, we invite you to review our editorial guidelines and submit your press release for publishing consideration.