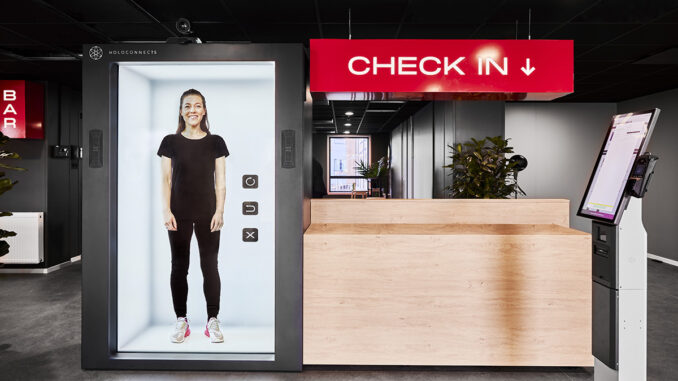 Holograms were once nothing more than a fictitious invention explored in futuristic stories and movies. But over the years, hologram technology has evolved from a distant pipe dream to a present-day reality, with many real-world applications stemming from quality control in manufacturing and fracture testing to hologram-powered concerts that bring beloved artists back to life. Today, hologram technology is positioned to make a significant mark on the world of hospitality – with innovative start-ups like Holoconnects leading the charge. 
Using two-way, interactive holographic technology that delivers a real-life, real-size, real-time personalized experience, Holoconnect's Holobox empowers hotels to unlock a new level of one-to-one engagement that self-service kiosks simply cannot emulate. Holobox allows users to 'beam in' from anywhere in the world and can be used as an addition to a self-check-in or as extra support during high-traffic times when traditional hotel teams would otherwise be stretched thin across guest touchpoints.
In an exciting move to embrace tech-driven hospitality, BWH Hotel Group is expanding its upscale, chic boutique brand Aiden. The brand is expected to grow by 200% in the next five years, doubling its portfolio in 2023. Aiden Hotels employs Holobox technology for hologram concierge services. They even posted a job opening for the world's first holographic hotel attendant!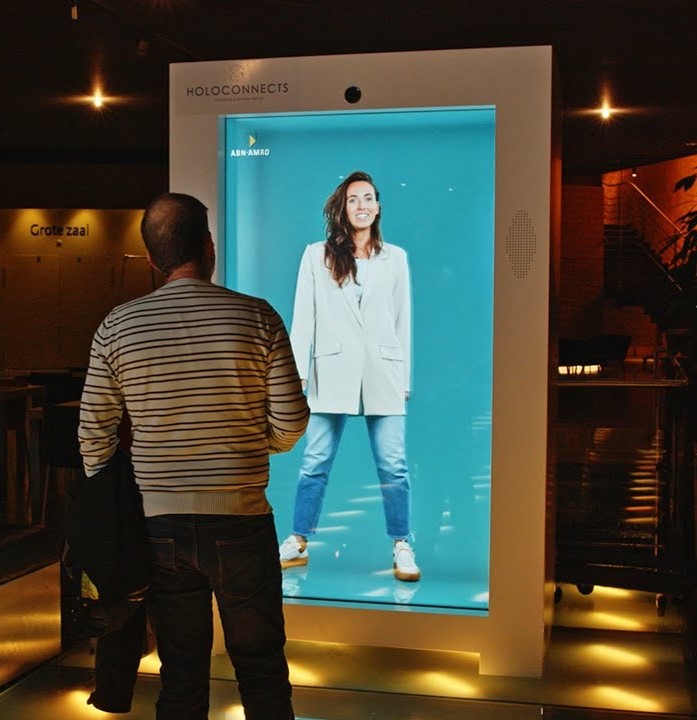 I had the opportunity to sit down with Holoconnect's co-founders, Andre Smith and Marnix Lock, to discuss the evolution of their company, the problems the Holobox can solve, future applications of the technology, and so much more.
Marnix and Smith have a unique history with each other. They are business partners and have been friends since the age of 13 and are now brothers-in-law. Before the conception of Holoconnects, the pair experienced a sudden death in the family, which led them to consider the question: Did any technology exist that would allow their children to see them if they suddenly passed? "At the time, the technology we were imagining didn't yet exist – and so, our idea for the Holobox was born," shares Marnix.

Their initial concept was named "Hololasting" – a platform selling "everlasting memories" in hologram form for future generations, such as children and grandchildren. "We received a great deal of media interest and coverage on this concept, but we didn't receive enough interest from the people that would leave a message behind in hologram form. But thankfully, due to the early buzz we had generated, we were able to contact corporations and marketing agencies that wanted to use the box for marketing purposes," shares Smith. "As their hologram technology began to capture more attention, Marnix and Smith began to field inquiries from large hospitality brands that wanted holograms to bolster their front-of-house team. "Our Holobox uses a transparent LCD screen. Behind that screen, we place a lightbox specially designed for the Holobox, which creates a life-like holographic illusion perfectly suited to a unique and memorable guest experience," adds Marnix. "Not only that, but we created the Holobox just before COVID struck. At a time when people were afraid of physically being with each other, and Zoom fatigue set in, holograms represent a perfect tool for digital connectivity."

Of course, every great piece of technology exists to solve a problem (or many), and the Holobox promises to address one of the biggest challenges currently faced by hotel brands: staff shortages. "Staffing is notoriously difficult in industries like hospitality, education, and healthcare – especially after the pandemic. The Holobox helps offset some of the operational demand placed on front desk staff and allows hotel brands to maximize talent better. 
"Each staff member has a unique set of skills, which may be best utilized across more than one property," shares Marnix. "For example, some staff members may speak languages other personnel aren't fluent in. Using our technology, customers can select their preferred language, and the team member that is fluent in that language will get a notification to serve the client."

Nine hotels are implementing Holobox, with another 50+ properties (across several chains) planning to adopt the technology over the three years. "We aim to roll out our Holobox in 2,000 hotels within the next three years," shares Smith. "We have a small hotel chain currently running three hotels with two studios, so they can have a second employee that can 'teleport' during peak check-in/out times. They want to minimize wait times by using the holographic receptionist from another property using the second studio. Within two years, we will upscale to 15 hotels using the holographic front-line staff."
According to Smith, three of the hotel properties they serve have an average of 45 rooms and can perform all front desk tasks remotely, from welcoming their guest through their big (86 inches) or small (22-inch) holographic boxes to answering guest questions and generating a room key. "The average conversation takes up to 3 minutes and 20 seconds with an average of 28 conversations per day," explains Smith. "In 20% of the cases, there are visitors in 2 hotels simultaneously, meaning that in 20% of the conversations, the second studio is being deployed with a 2nd employee. Only 3% of the time are visitors in all three hotels, so minimal overlap exists. Helping visitors at multiple hotels simultaneously occurs only during peak check-in hours. In most cases, 40% of the conversations are done between 1 – 4 pm, and another 35% between 4 – 12 am. Approximately 10% of the conversations are done between 12 am and 9 am, and 15% of the interactions are between 9 am – 1 pm. A holographic employee spends approximately 35 minutes per day per hotel in conversations with visitors during check-in periods, meaning they could serve 4 – 5 hotels during the peak times, varying per hotel."

Notably, Smith shares that one employee could serve between 30 – 60 hotels (with an average of 45 rooms) during the night shift via the Holobox. "Based on our findings with our Scandinavia hotel client, the ROI of one Holobox at one location can be achieved within 14 months."

As for future plans, Holoconnects is on a rapid growth trajectory that shows no signs of slowing down. "Beyond our rapid expansion into 7,000 – 10,000 hotel properties over the next five years, we plan to continuously improve the quality of our software with the feedback from our customers," reveals Marnix. "We are also developing a Holobox that can champion the entire check-in journey, including a payment portal, digital key generator, and passport scanner." 
Marnix also notes that the Holoconnects team plans to open a US showroom very soon, which will allow prospective clients to interact with the technology in-person and kick off efforts to establish a partner network with designated resellers and distributors in different regions.
"With so much innovation happening right now, and the OpenAI revolution, it's hard to predict where the future will lead," adds Smith. "But I am confident the next five years will be a transformative time for our company, and I look forward to seeing the evolution of our technology in stride with global trends and needs."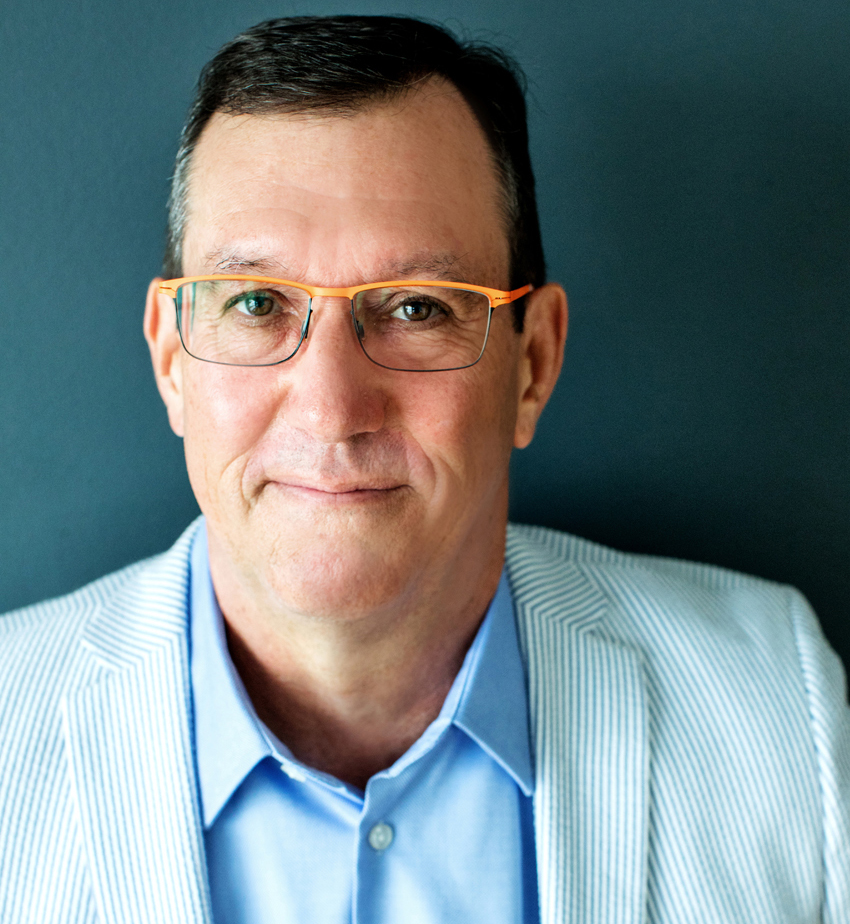 Alan E. Young is the Co-Founder and President of Puzzle Partner, the leading marketing agency focused exclusively on the complex B2B initiatives of technology innovators across industries including hospitality, travel, healthcare, life sciences, pharma, media, and entertainment. He is also the Tourism and Hospitality Program Professor at Georgian College. Previously, Alan has held executive-level positions with start-up companies such as Newtrade Technologies, (acquired by Expedia), Hotel Booking Solutions (acquired by IBS Software) and TrustYou. Alan is past Chair of The Board of Directors of The OpenTravel Alliance and been very involved with other industry associations most notably AHLA, HEDNA, and HTNG. With over two decades of experience in the travel and hospitality technology world, Alan specializes in helping innovative companies achieve winning performance and dramatic growth.