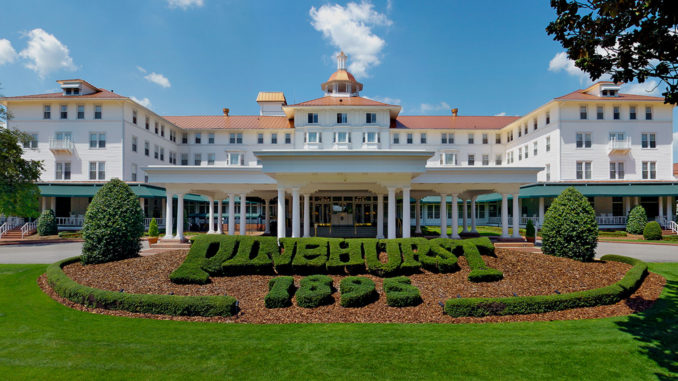 When it comes to delivering a positive guest experience, success is largely a function of being able to leverage data to create a multidimensional portrait of each individual guest. It is also a function of putting the right technologies and processes in place to drive continuous performance improvement.  This is something that Pinehurst Resort & Country Club, a 2,000-acre property featuring an award-winning spa, nine golf courses, tennis, and activities for the family, does exceptionally well by leveraging the next generation technologies.
Established in 1895 and located in the sandhills of North Carolina, Pinehurst is widely known as the cradle of American golf. In fact, the property has hosted more golf championships than any other site in America.
It's no surprise, then, that any discussion of the guest experience naturally starts with golf.  "At Pinehurst, managing our 9 golf courses and 14 retail outlets would be impossible without Visual One GolfPro from Agilysys,"  says Ed Nickelson, Director of Information Technology at Pinehurst.
"At Pinehurst, we don't sell golf the way the local golf course does," he says. "If you're going to play golf here, then you're going to be a member or an overnight guest. That's the only way we would sell a round of golf. Otherwise, we simply wouldn't be able to meet demand, especially on course Number 2."
Every guest's stay information is attached to their rounds of golf information. That information is also attached to their spa, dining and other information. "In this way, we can start to develop a very nice picture of our guests," says Nickelson. "From a financial perspective, we're able to understand what dollars a specific group or type of guest spends across the property."
Personalized service, largely enabled by Visual One PMS and other technology solutions from Agilysys, is a key factor in ensuring a positive guest experience. "When you arrive, the bell stand takes your golf clubs," Nickelson explains. "The system produces a golf bag tag, which gets attached to the guest's golf bag. We take possession of the clubs, which then show up before the golf round. We move the golf clubs for each guest throughout the nine golf courses on the property. That's one less thing for them have to deal with on their own."
Transporting golf clubs is only one example of personalized service. Another example is dining preferences, including dietary restrictions. Food allergies, for example, are noted at the point of reservation or check-in at the front desk or at the first meal experience. The information follows the guest throughout their current and future stays, avoiding the need for them to revisit that same discussion every time they sit down for a meal.
Special occasions like birthdays and anniversaries can also be tracked. "We go to great lengths to note that Mr. and Mrs. Smith were here for their twentieth anniversary, in 2006," says Nickelson. "If they come back up in 2016, those notes are in the system. People at the front desk can, first of all, welcome them back and, secondly, congratulate them on the occasion of their thirtieth anniversary. That allows us to do what we call 'surprise and delight.'  We'll put out candies or a complimentary bottle of wine, sometimes based on their purchase history. If there's a merlot that they seem to be exceptionally fond of, having ordered that same bottle on multiple earlier trips, we'll place it in their room with a handwritten card."
According to Nickelson, effectively leveraging guest data means playing the role Big Brother without appearing to be Big Brother. "We don't want to creep out our guests," he says. "But we want to make them feel remembered and special."
Pinehurst captures and stores guest preferences and transaction histories across all parts of the organization, including its restaurants, spas and golf courses. This empowers the staff to present guests with personalized offers, be it the courses they play or the beverages they drink. "If a particular guest always ordered a Captain & Coke in the past," says Nickelson, "we would like our servers to say so: 'Welcome back Mr. Smith, may I get you another Captain & Coke?'" Pinehurst seeks to translate stay information into targeted marketing programs that also engender greater guest loyalty and advocacy.
One communications vehicle is guest room telephones, which have large color touch displays with XML browsers. These digital displays serve as a miniature billboard that delivers personalized messages. As an example, a guest may have stayed with the property five times in the past and each time has enjoyed a spa treatment. This time, however, their booking record includes only golf. That information could trigger a targeted campaign in which a shortcut key is sent to the touch display with a message encouraging the guest to book a spa appointment, perhaps offering them a 10% discount as an incentive.  "It's a very soft, suggestive promotion instead of in-your-face advertising," says Nickelson.
Guest experience management is about personalization. It's about understanding people's wants, needs and preferences at a granular level. That understanding needs to extend to the web. "Unfortunately," says Nickelson, "it's very hard with the products that exist in the market to sell Pinehurst online the way someone would buy Holiday Inn Express. Our model doesn't allow for a shopping cart experience. We're not that kind of business model. You're not going to put a guest room and a round of golf in a shopping cart and check out."
Pinehurst nonetheless strives to provide a personalized, wizard-based experience. "You might start out thinking that you want to book a certain package," says Nickelson. "You make that selection and now we guide you online as you go through selecting what accommodation you want, whether you want to be in a villa or the Carolina Hotel or the Holly Hotel or the Manor Hotel. And then we help you select your golf rounds, your spa treatment and your dining reservation. In the end, we hand you a fully booked itinerary of everything you're doing and when you're doing it up to the level you want it taken care of. If you want a la carte additions, you have that option. If you need to secure tee times on a particular course, then you have that option, too. You can make a phone call and talk through the best options with an agent, or have the system cue our folks to call you, if you want a more personal experience to complete your booking."
On the backend, Pinehurst utilizes technology that ensures that the golf courses are being properly yielded so as to avoid tee times filled with onesomes and twosomes. "As a twosome, we're going to provide options based on the time of day you want to play as fills," says Nickelson. "You won't necessarily know that you're playing along with two other people. You'll just know that you fit into that time slot."
This efficiency also applies to the spa. Based on how many therapists are available and which treatment rooms are open, a guest might be offered multiple options for booking an appointment, but the options back up into already-booked times. The goal is to minimize gaps in a therapist's schedule so as not to keep them on site for, say, 6 hours when they might be needed for only 4 hours.
"The more you're able to present options to your guests that would make it appear to be their choice, and the more you personalize the experience, the happier they're going to be in the end because they're getting exactly what they asked for," says Nickelson.
Like most hotels, Pinehurst solicits feedback using guest satisfaction surveys. "Our approach is somewhat extreme," says Nickelson, "and it's debatable whether you should go this far."  The guest survey takes an average of 26 minutes to complete. It's a serious time commitment, and surveys are completed by approximately 8% of guest stays. The surveys begin with a series of questions about the reservations process, the on-property transportation, etc. After that, there are more specific questions about the quality of accommodations, restaurants, golf, spa, fitness, tennis and retail outlets, as well as the checkout process and any banquet business.
"We approach it from the standpoint that a guest will complete the survey because they're either really happy or really dissatisfied with their experience at the property. For the person who is really happy, we want to have the opportunity to thank them for their business. What we really want to know about is our detractors, the people who are going to go home and tweet about their experience in a negative way or blast us on TripAdvisor."
Pinehurst uses Net Promoter Score as a performance metric. In 2015, the goal was to achieve an overall score of 67. "We're lagging behind slightly right now at 65," says Nickelson. "Our low score over the past 5 years has been 62 and our high has been 65, which, overall, is excellent."
Managers across the property are encouraged to reach out personally to dissatisfied guests, to find out what went wrong and what can be done to make their stay better in the future. "Very often, if it's a poor experience, we'll empower our managers to offer an incentive to come back and give it another try," says Nickelson.
There are more than 100 managers at Pinehurst across its golf courses, club houses, retail shops and dining outlets. Approximately 20 of them serve as division heads. They range from the food and beverage director and the fine dining director to the director of IT and the controller and marketing manager. Each of the senior managers may have multiple managers below them, and each one of them has an impact on the guest experience.
According to Nickelson, the role of technology in delivering a positive guest experience is that everything works as it is supposed to work. "It's bad when a guest's first experience with a hotel is with someone in central reservations who, instead of finding a way to make friendly chit chat, is complaining that their computer is too slow," says Nickelson, who notes that both the technology solution partner and the hotel's own IT department need to take responsibility for any performance issues that arise. "We need to be partners with our technology provider to make sure that we deliver a seamless, smooth and really great experience for the guest," he says.
According to Nickelson, the job of personalizing the guest experience falls mainly on the local IT department.  "The tools are there to transmit guest data to the managers so they're able to personalize the experience," he says.
Nickelson cautions hoteliers about the risk of doing too much customization with a technology solution. "Pick a product that fits your needs," he says. "The one that's closest to your needs is the right one. When you attempt to customize a product that's designed to be used in a certain way, then every time you take an upgrade it creates a disaster. The solution provider can't possibly take into account every property's customized modules when they do an upgrade. Every vendor can only meet so many needs."