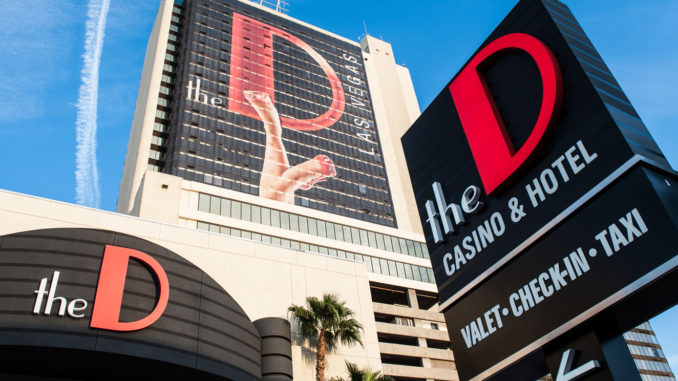 The D Las Vegas (the D), previously the Irish-themed Fitzgeralds, is hard to miss even in downtown Las Vegas, where there tends to be no shortage of visual stimulation. That is largely thanks to the property's retro architecture and loud signature colors, which are deep reds and black.
Launched in 2012, this trendy and popular casino property has a more contemporary feel than its neighboring properties. The property is known for attracting a young clientele seeking unique and high-energy gaming experiences. Boasting 629 remodeled guest rooms, the hotel has the feel of a bustling nightclub. The main draw is the two-level casino, where the front desk is located in the center of the gaming area and where dealers rotate between dealing cards and dancing on podiums.
The D has enjoyed profitable growth since its inception five years ago. To further boost revenues and profitability, the D's executive management team recently made the decision to invest in next-generation revenue management capabilities, with the goal of not only increasing total guest value to maximize profits, but to also gain deeper insights into competitor pricing through advanced rate shopping.
As a first step, the hotel needed to gather data from various across all of its hospitality technology, including the POS systems used for its popular restaurants, into a format that could be analyzed in a way that provides actionable insights.
Until recently, the D was manually monitoring its customer segments to forecast and make pricing decisions. The D was also using a system for rate shopping that was unable to automate the data collection process and turned out to be a poor fit the needs of the property.
To optimize inventory and make smarter pricing decisions, the D selected technologies from The Rainmaker Group. In particular, the hotel implemented the solution provider's guestrev and revcaster revenue optimization solutions. These solutions are part of Rainmaker's portfolio of revenue and profit optimization solutions designed to help hoteliers streamline operations, enhance revenue optimization processes, improve lead performance and drive guest bookings.
According to reports, the D is now better able to optimize inventory, helping to ensure that rooms are sold at the right price for transient hotel guests and that rooms are always available for the casino resort's most valuable gaming customers. The hotel is also now able to automatically aggregate all the data that is required to create segment-specific and even guest-specific rates.
As a result, revenue managers can determine where their market strength is relative to seasonality, supply and demand, and local competitors at any given time. According to reports, the D has already seen early success in creating a more accurate and profitable pricing strategy, a big step toward maximizing the profitability of the property as a whole.