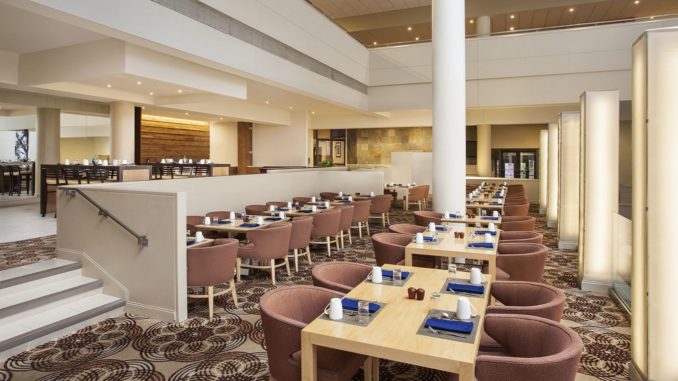 By Debbie Carson, Associate Editor
With POS systems accounting for the largest portion of the budget for hotel restaurant IT investments, there is no shortage of related solution providers vying for the attention of prospective buyers, including hotel and resort operators. As it happens, some of the leading POS solution providers are also leading providers of hotel property management systems (PMS).
By asking the right questions, buyers can quickly rule out some options while narrowing down others. These questions are bound to vary depending on the restaurant sizes and categories at a given property, as well as the hotel owner or restaurant operator's strategic priorities.
An operator who wishes to migrate one or more of the hotel's eating establishments to tableside service capabilities will likely have more questions about those features than ones who decide to use centralized order and payment processing terminals. Similarly, an operator who manages multiple restaurants across multiple hotel properties may be more interested in multi-property features and remote access to, say, menu and table layout functions.
Following are four of the broader questions, equally applicable across all hotel restaurants, that prospective buyers may wish to explore with POS solution providers.
What type of customer support is offered? Are there any extra costs? How quickly will questions be answered and problems be resolved?
Hotel restaurant operators should have clear expectations when it comes to customer support and problem resolution as well as the training that may be needed to get restaurant servers and other staff up to speed on the new solution.
Does the solution provider (or a certified subcontractor) offer an online or, better yet, in-person training program? Is it equipped to offer online troubleshooting and diagnostic techniques should technical issues arise? Are local, in-person service and support services on hand should there be an issue that can't be handled remotely?
Knowing that problems will get resolved fully, and in a timely manner, is critical for a food and beverage services organization that needs to run with minimal interruption and in which even a 30-second lag in payment processing may be enough to erode the guest experience.
What is the POS solution provider's track record for stability and reliability?
A solution provider's reputation and record of customer satisfaction are important. Nobody wants to implement a POS system that falls short of expectations due to known shortcomings in stability, reliability or promised benefits.
While the solution provider need not have been in business for decades — most of the tablet-based POS players are relatively new entrants — it should nonetheless have a sizable roster of customers that can attest to the reliability and performance of the solution.
For hotel operators, it may make sense to implement restaurant technologies from a hospitality vendor that also provides hotel property management solutions. This will help ensure optimal functionality, given the unique needs of hotel restaurants, including easy data integration with the PMS (especially if the vendor is one and the same).
Does the POS solution offer flexibility in functionality, including data access and performance reporting?
The degree of visibility offered by next-generation restaurant POS systems is unprecedented. Such visibility offers a whole new level of management control. To take advantage, however, restaurant operators may have certain software configuration and customization needs that must first be implemented. As such, they may want to confirm that any solution providers under consideration can meet these needs and preferences.
With respect to employee scheduling, for example, some managers may prefer to modify or create their own templates of work periods, if that option were to exist with a particular solution. Or, as another example, they may have a certain way of wanting to input menu modifiers.
Most systems come equipped with a large number — in some cases, dozens — of standard dashboards and reports around operational and financial areas like sales and revenue, labor and inventory control that should meet most operators' day-to-day performance management and analysis needs.
That said, not all POS data queries and reporting requirements can necessarily be anticipated in advance or be addressed with out-of-the-box dashboards. For that reason, buyers would be well advised to find out to what extent customized reporting is possible and, also, what is involved in the process of filtering and sorting data according to a specified set of parameters.
It only stands to reason that buyers would want to ensure that any solution under consideration is able to meet expectations in terms of POS data analysis and reporting capabilities as well as PMS integration.
What is the total cost of ownership? Are there any "hidden expenses"?
While hardware and software costs run gamut, as do the requirements of different hotel restaurant operators, next-generation restaurant POS systems on the whole tend to be significantly less expensive and require less up-front investment than their predecessors. There are many reasons for the shift to increased affordability, including the fact that installation is generally less complex and hardware is generally less expensive compared to, say, a decade ago.
In many systems, the POS data is now stored entirely in the cloud, reducing (or, likely, even eliminating) the need for on-premise servers. Incidentally, most cloud-based POS systems also use a subscription "pay as you go" model, which generally means no long-term contracts and no upfront capital investment for the software. This may be an important consideration, especially for smaller, independent hotel operations with a limited budget.
In all cases, it is important to confirm which software features and modules, including future upgrades — as well as which hardware components, if any — are included in the base (recurring) price that is quoted so as to avoid any unpleasant surprises down the road.