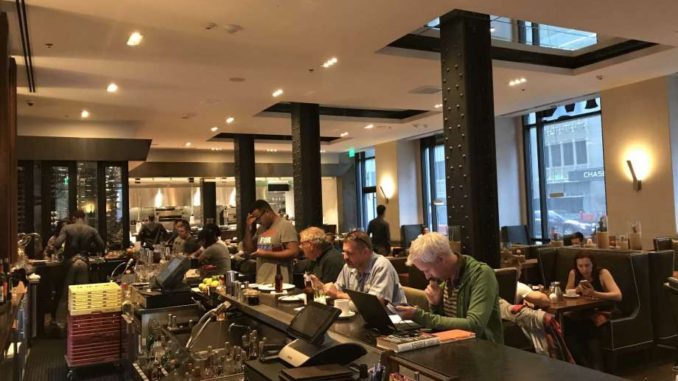 By Jeff Zabin, Managing Editor
Today, restaurant guest-facing apps are soaring in popularity, automating various types of interactions between diners and restaurants. Self-service kiosks are also gaining ground. These technologies are aimed at reducing friction in the ordering process — making it easier to customize meals, for example, and cut wait times.
Some apps allow diners to track meal progress in real time, from preparation to delivery. Others allow those who are in a rush to pre-order and pre-pay for meals for a more expedient dining experience. Some mobile ordering systems incorporate geofencing and other location capabilities; an alert is sent when a diner is a certain distance away, prompting the kitchen to prepare their order so it's ready when they arrive.
With all of these solutions, the goal is the same: to help restaurants — as well as hotels and resorts, in many cases — meet the expectations of a technology-savvy, mobile-engaged population and further enhance the quality of the guest experience. Importantly, in the process, restaurants have the opportunity to capture mountains of guest data. Through analytical modeling and reporting, the data can be used to generate actionable insights and further enhance the guest experience.
On the restaurant management side, new solutions are being developed to help operators automate key processes, from inventory costing to menu development — e.g., syncing recipes with inventory and supply ordering systems. Some restaurants are experimenting with futuristic approaches to kitchen automation, to the point of installing robots that operate in an assembly-line setup and do everything from prepare salads to grill burgers.
Today solution providers are unveiling countless additional technologies, some perhaps more useful than others, as well as enhancements to existing platform capabilities, all at an accelerated pace. And increasingly, restaurant operators are seeking to leverage the benefits of these solutions to their advantage.
According to our latest research, 79% of restaurant operators believe that advanced technologies are key to not only addressing many of their current challenges, but also to catapulting their businesses to ever-higher levels of operational performance and guest satisfaction on an ongoing basis.
At the forefront of these technologies are next-generation restaurant management and point-of-sale (POS) systems. These systems have recently evolved by leaps and bounds in terms of functionality, fueled by advanced ordering, payment processing, inventory control and labor management features along with sophisticated sales and marketing, guest relationship management and loyalty management capabilities.
Performance improvement also depends to a large extent on technology interoperability and data integration. The POS system needs to seamlessly connect with online ordering systems, guest-facing apps, kiosks, display hardware and any number of third-party modules and solutions, such as those related to inventory management and workforce management.
In a hotel or resort location, the POS may need to integrate with the hotel property management system (PMS). Large, complex restaurants and chains often need to integrate applications across multiple locations. Increasingly, the POS system also needs to integrate with third-party CRM, marketing and guest loyalty and rewards management solutions, allowing restaurant operators to gain a deeper understanding of guest preferences and deliver more personalized messages and offers as well as tailored services, such as seating and beverage options based on preferences.
The more robust data analysis and reporting capabilities that many solutions now offer are also key factors in performance improvement. Smart restaurant operators are collecting, integrating and analyzing data from multiple sources, including POS transactions, loyalty programs and guest-facing apps, to better understand their guests at both an individual and aggregate level, to interact with them more effectively and to identify opportunities for improvement in hotel business operations.
Which dishes are the most popular? Which dishes are the least popular? Which are the most profitable? Which are the least profitable? Which servers are the most productive? Which are the least productive? Which types of guests are the most valuable? Which are the least valuable?
In the past, mining data to extract meaningful insights tended to be an onerous and time-consuming proposition. Many next-generation POS systems, by contrast, have built-in capabilities that make it possible to readily generate all types of actionable insights, oftentimes on an ad hoc basis. This gives hotel restaurant operators the ability to make more informed decisions about all aspects of the business.
In the end, there is no shortage of compelling reasons for a hotel to want to migrate from a legacy restaurant management and POS system that may be lacking in multiple performance areas to a state-of-the-art system designed to meet the hotel's needs now and into the future.