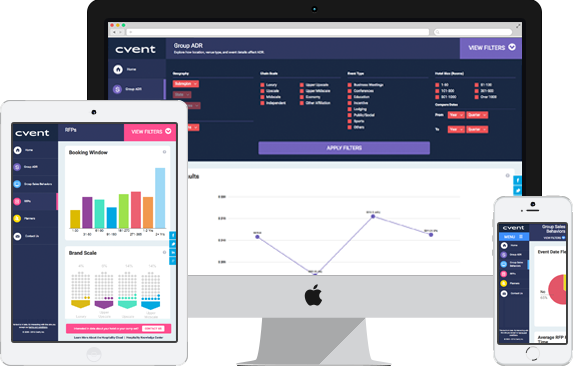 Hoteliers want to be able to make smarter, more timely business decisions. And that, precisely, is what business intelligence enables. It empowers decision makers with data access and insights discovery. It gives them the tools to know what they can do right now to increase efficiency and effectiveness.
The release of one such tool, called Group Business Intelligence, was announced today by Cvent, a leading meetings, events, and hospitality management technology provider. The new solution is designed to give hoteliers access to real-time data and analytics of their group business, and that of their competitive set, in a single easy-to-use platform.
According to a company spokesperson, the goal is to providing hotels with the tools they need to respond to pending RFPs and book business based on competitor rate and response information offers. The solution aims to help them generate more qualified group business leads and increase revenue per available room.
The Group Business Intelligence solution is available to Cvent hospitality customers through an online portal, which is constantly updated with the latest information. Hoteliers can segment information based on their reporting needs-including specific time periods, customer segments, and locations to see how particular parts of the business are performing. Having this data in an accessible, comprehensive dashboard lets hospitality professionals drill-down from overall results down to individual RFPs within Cvent's platform and respond is in line consistent with business goals.
The solution allows hoteliers to see how their venue is performing relative to their competitive set, with regards to demand generation, response, and award behavior, and use those insights to adjust their business strategy accordingly. All dashboards are designed to be intuitive and easy to use, with the ability to drill down, segment and filter RFP data to isolate key insights.
The new and enhanced analytics tools for the Cvent Supplier Network, Cvent Passkey and Cvent Business Transient include:
Cvent Supplier Network Business Intelligence Solutions
Enterprise Dashboard: A set of tools to help enterprise-level hospitality executives evaluate their entire portfolio's performance to anticipate marketplace fluctuations and build the proper foundation for informed decisions and strategic planning. Data from the Cvent Supplier Network is aggregated to provide both a bird's-eye view and deep-dive insights into their properties' relative performance, so they know where to focus their sales and marketing efforts.
Competitive Set Dashboard: Data that allows hotels to compare their group business performance against that of up to 10 of their peers. The tool analyzes real-time RFPs sent to the peer group across the full RFP lifecycle – from demand to award.
Cvent Passkey Analytics
Enhanced Analytics Dashboard: Passkey customers now have access to an improved set of analytics tools for group business booked through the platform. The enhanced offering allows for seamless upsell to hotel group guests, improves block pick-up, decreases group reservation costs, and facilitates secure data transfer.
New Homepage: The new Passkey homepage offers hotels improved event search capabilities to find events based on specific attributes such as planner email address and event cutoff date. The homepage also highlights key performance indicators to shed light on group business volume moving through Passkey.
Cvent Business Transient Analytics
Cvent Business Transient Dashboard: A new analytics tool empowers hotels to view account-level or property-level details to compare their corporate travel program performance to the market, measure the acceptance and progress of their offerings, view rate and amenity details to gain acceptance into additional programs, and identify why a corporate travel program may reject a property.