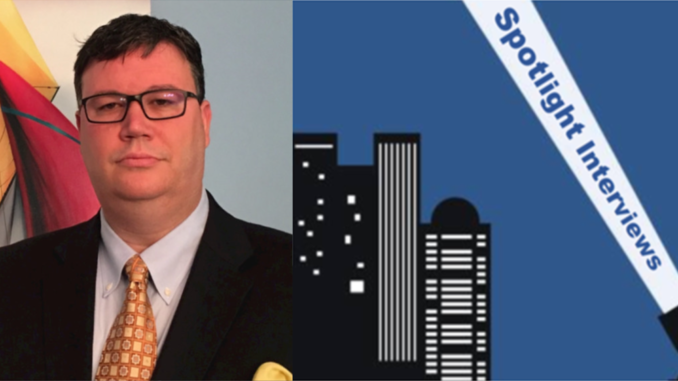 Infor is one of the world's largest providers of hospitality software. Its products are in use at almost 20,000 hotel and casino locations worldwide. Infor hospitality solutions include robust capabilities for hotel property management, restaurant management, revenue management, asset and incident management, analytics, and artificial intelligence. Jason Floyd is the vice president and general manager of Infor hospitality solutions. He is responsible for all global operations of the business unit, including sales, services, product management, marketing, support, solution consulting and P&L management.
First the big news. As we reported, Infor received a $1.5 billion dollar investment earlier this year. Congrats! What is the impact of that massive funding round on Infor Hospitality's plans for the future?
Everyone was super excited about this investment. It was the additional investment Infor sought from our board to help better position Infor for a potential IPO. Investments of this size and nature certainly lend aid to Infor's acquisition strategies, and Infor Hospitality having acquired three companies in the past 9 months definitely was on the receiving end of such benefits this investment provided.
The recent acquisition of ReServe Interactive is a big deal. Can you talk a bit about that? What was the reasoning behind that acquisition? What are the benefits to both your organization as well as to your customers?
A big deal indeed. The acquisition of both Reserve Interactive and Vivonet were extremely strategic for my team and I. Infor has spent the last several years building a world class next generation Hotel Property Management System, for which we are seeing great adoption globally. Sales & Catering, and Point-of-Sale (for which we discuss next) we felt were major gaps in our suite of solutions. There is a lot of demand for fully integrated suites of modules in the Cloud. Infor as a company has the Infor CloudSuite product strategy where we offer customers multiple highly integrated solutions. The challenge Infor had was until now we didn't have all the cloud solutions to offer in our suite like Sales & Catering that customers wanted. We often would be told that our HMS Property Management System was exactly the new technology a hotel company was seeking but that an integrated Sales & Catering solution in our cloud was also a requirement. Reserve Interactive not only allows us to offer an integrated Sales & Catering system with our Property Management System, but Reserve Interactive also has a full restaurant table reservation and floor management suite that Infor now has to offer our restaurant clients and hotel food & beverage customers.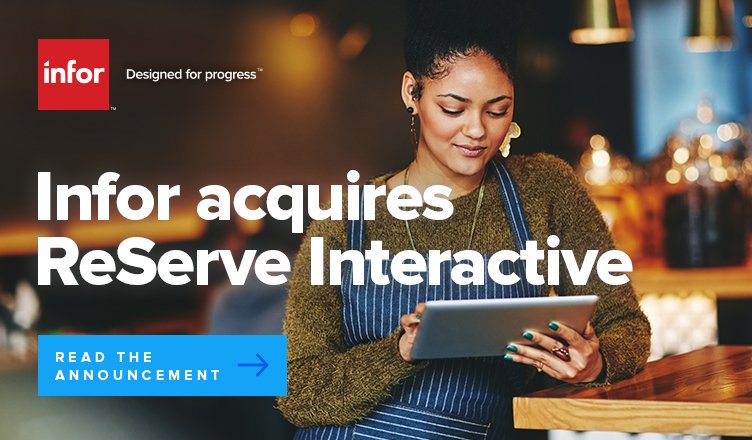 We also reported on the acquisition of Vivonet. Can you talk a bit about that, as well? What was the reasoning behind that acquisition? What are the benefits to both your organization as well as to your customers?
The acquisition of a point-of-sale company was another strategic initiative of my group for some time.   Infor has a well-established Hospitality point-of-sale business in Europe, but that solution was not in the cloud and not one we felt could be lifted to the cloud and taken globally. When Vivonet came along, it really caught our interest.  Not only is it a cloud-based solution that we felt we could invest in and introduce globally under the Infor banner as Infor POS, but it also allowed Infor to expand Infor Hospitality into Food Service Management. Infor Hospitality now has a strong Food Service Management customer-base thanks to Vivonet that we can offer a multitude of different solutions to.   At the same time we now have a fantastic cloud point-of-sale to offer our hotel customers. Can't get much better than that.
Can we expect that Infor will be buying up additional companies to enhance the hospitality group's platform capabilities and provide a competitive advantage? If so, over what period of time? Are there any specific plans you can share?
Nothing is currently in our line of sight, and if it were, I couldn't share it with you anyway – companies like Infor like to try and keep acquisitions a surprise. That being said, if there is a company or solution that complements our go to market strategy, it is a safe assumption that we will review it for a possible fit in our product family.
Tell us a bit about your career trajectory. What led you to your current role at Infor Hospitality? How long have you been in this position?
I have been the General Manager of Infor Hospitality for 9 months. Prior to that I was the Vice President and Chief of Staff for 6 years.  I started my career with Kimpton Hotels after earning my degree in Hospitality Management from Kansas State University. I love everything about the Hospitality Industry, but quickly learned early in my career that I was better suited to be a vendor versus remain an operator.   I actually could see myself retire as an operator running some small Inn somewhere, someday but I knew long ago that I could do the most good for the industry I love as a vendor. After leaving Kimpton, I started as a PMS installer with National Guest Systems Corporation in the late 90s. Soon National Guest Systems Corporation had evolved into Visual One System and I was promoted to be a Product Manager and one of the chief architects of that solution. My knowledge of Visual One propelled me into sales and before I knew it I was a Vice President of Sales for Visual One. When Agilysys acquired Visual One I continued on in a sales role leading their hotel and resort sales. A few years after the acquisition of Visual One, I felt it was time for a change and wasn't sure I was still contributing to my industry at the same level as I once did. Stewart Applbaum who I had worked with before had started something great at Infor Hospitality and asked me to come over as Vice President and Chief of Staff and so I did – and 7 years later here I am, running the joint. Infor Hospitality remains one of Stewart's many businesses of Infor.
What do you do in your job on a day-to-day basis? What do you like most about your work?
Chief cook and bottle washer. My job on a day-to-day basis is all about supporting my vast team. I am responsible for the global sales growth, product development growth, and overall business unit growth of Infor Hospitality. It keeps me extremely busy for sure, but regardless if I am sitting with my sales staff, my development staff, my services staff or any other employee it is my team that keeps me going and that makes Infor Hospitality a true contender in the hospitality technology sector. Working with customers and my team and witnessing the passion I see in team about doing right by our customers is what I love most about my job.
How has the hospitality industry changed and evolved, especially in terms of hotel technology and the solution provider landscape, since you began your career however many years ago?
Over 20 years ago when I started in this industry, many hotel companies were trying to retire their large IBM-based solutions for smaller footprint based, best-of-breed Microsoft platform-based solutions. The challenge was that just like the big IBM solutions, it still took an army of IT people to support all the servers and not so great interfaces between different solutions. For many, the answer was to move to technology providers that offered single server fully integrated solutions. This is how Opera, Northwind, Visual One and many others made so much progress in the early 2000s. As all things evolve, integration technology (such as XML) and cheaper hardware allowed for a comeback of single purpose best-of-breed solutions. The cloud changed it all and in my opinion brought us full circle. The cloud allowed for the technology footprint in a hotel to massively shrink and along with it a lot of the resources required to it. The end result that many companies like Infor saw was an increased demand to get as many cloud solutions from a single cloud provider as possible.
How about with respect to the restaurant sector?
I am admittingly not as well-versed in the restaurant sector as I am hotels. However, as a consumer and provider of restaurant technologies I see more of a shift to self-service through consumer devices than I have noticed before.   Hotels have also seen more of a self-service technology adoption, but I don't believe at the same rate as restaurants. Uber Eats, Grub Hub, Dine & Dash, and so many other apps are changing the restaurant sector at lightning speed.
What, in your view, are the biggest obstacles and challenges hotel operators are likely to face over the next few years, especially in terms of technology?
Staying relevant with the Millennial Generation. I believe my generation and the generations before me are still all about loyalty programs, points, and standardization.  Millennials are not wired the same way, at least not that I have witnessed. Millennials are all about new experiences and the instant hotel brands appear to have become stale in their offering – Millennials will find the next shiny hotel brand to try out.  Hotel Operators while they can reduce their technology footprint, cannot reduce their technology offering. Guest room technology, consumer device technology, revenue management and analytical technology is going to be even more critical to keeping the generations behind mine engaged.
How about with respect to the restaurant operators?
I believe much the same as hotel operators.  Though I believe Restaurant operators have the added challenge of managing the symbiotic reliance of point-of-sale software and hardware.   Whether it be apps on consumer devices, new point-of-sale terminals, self-service kiosks, or pay-at-table devices hardware is still a critical component in the restaurant sector and it is a component that has to be continuously refreshed for restaurant operators to stay engaged with younger generations.
Do you think hotel operators are prepared for the challenges that lie ahead? If not, what do they need to do to better prepare themselves – and, hopefully, ensure their ongoing success?
Generally speaking, yes I do.  Most operators I know are well on-top of the challenges they face.  Organizations such as HFTP, HTNG and HSMAI (as well as many others) do a fantastic job of educating operators and helping vendors like Infor understand the challenges that operators face so that we can try and face them together. The challenge I think most operators will face is IT budgets. Ownership groups have to understand that keeping pace with technology is important. I was once told that an owner would prefer to purchase new pool cabanas versus buying new software as they felt there was a more measurable return on investment. While I can't say in today's world that they are equally important, I will say it does no good to replace the pool cabanas if you haven't invested properly in the technology that is going to get a guest to book the cabana!
How about with respect to the restaurant operators?
I think there is probably more education and programs available to restaurant operators to help them stay ahead of challenges than there are for hotels just due to the much larger size of the restaurant industry.   However, I do believe that restaurant operators face similar challenges as it pertains to budgets as hotel operators.   Technology is one of the biggest drivers of the younger generation so it can't be ignored by ownership groups.   One key difference, and it is an important one is hunger and cravings.  I am not kidding!  I don't care how old you are, if you are hungry for ice cream you are going to go the best ice cream establishment you know of regardless of their technology or infrastructure…but once you get there it sure would be nice to have an app that rings up your order in the point-of-sale without you having to wait in line to tell the kid behind the counter that you want rainbow sprinkles.
What, in your view, are the biggest opportunities that are now available to hotel operators due to recent advances in technology? How can they best take advantage of these opportunities?
Cloud – plain and simple.  Moving as many on-premise applications to the cloud as possible is the greatest opportunity a hotel operator has. Not only does such a move reduce their infrastructure and human resource costs but it also allows for better mining of data and analytics.
What about with respect to restaurant operators?
Same as hotels but restaurant operators have it bit harder than hotels. Cloud is critical for restaurant operators but it can't be 100% cloud as if the cloud goes down your hardware and point-of-sale can't go down with it. Restaurant Operators need to find opportunities to move as much of their technology to the cloud as possible but do so with vendors that can provide redundant on-site infrastructure in case the plumber accidently cuts the internet line.
In your experience, are most hotel operators making the right decisions in terms of their technology infrastructure? Are their properties generally achieving their potential in terms of revenue performance as well as the quality of the guest experience, or is there a lot of room for improvement?
Hard to say. Many hotel operators believe that because their vendor is "hosting" their solution they have made the right decision in their technology infrastructure to achieve proper revenue performance that is dependent on technology, and many operators are still in the business of self-hosting. To a certain extent I will defer to the theory of "to each their own". I can't say with absolute certainty that cloud is always better than a vendor that is just hosting a legacy application, but I believe the day is very quickly coming where hosted solutions will not be able to keep pace with true cloud solutions and that it will impact revenue performance. I would say that a significant amount of operators see this as well because Infor and other vendors are seeing rapid adoption of cloud from vendor hosted, self-hosted and on-premise solutions.
As far as technology is concerned, where should hotel operators be focusing their time, energy and IT resources? What technology-enabled business initiatives are likely to provide the biggest payoffs?
I believe Property Management and Revenue Management will continue to provide the biggest payoffs.  It is hard to measure an ROI from a property management system, but if that system provides the ability for new technologies to emerge in a hotel operation that can cater to all generations of guests and have them coming back for more than the return on the investment is beyond measure. Revenue Management system are critical for any operation large or small and if proper revenue management practices are in put in place utilizing a solid revenue management tool the return on the investment should be easily measured.
What about with respect to restaurant operators?
Harder for me to say, but I would probably say operators need to focus their energy on self service solutions and on point-of-sale solutions that have fully integrated self-service options. Sorry Alice, but I foresee a day where even in a Cheesecake Factory I sit down in a booth and review the menu, order and pay all through my phone. Technology to do so is already available, it just is more readily adopted by quick service restaurants versus sit-down restaurants but I believe that will change.
We reported on the recent upgrade of EzRMS. Any other new product releases on the horizon that you can share?
Infor is entering our beta pilot stage of our Hospitality Price Optimizer.   This is a new revenue management tool we have been working on that is more lightweight than our full EzRMS suite.   The tool is a rate engine on steroids and can either be used stand-alone or in conjunction with EzRMS. Infor's HMS Property Management System also is releasing soon with expanded features for housekeeping, mobility, casino hotel operations, and luxury hotel operations.  I am also excited to say that within the next few months we will be releasing new versions of both Reserve Interactive and Infor POS (formerly known as Vivonet) that have large amounts of new features and enhancements. The goal is to debut many of these new features or design concepts at HITEC in June.
What will be the primary focus areas for Infor Hospitality over the next year, particularly in terms of enhanced platform capabilities and/or entirely new solutions?
The primary focus will be to take all of these new and fun solutions that we have built and acquired and create the best fully integrated CloudSuite of solutions available to the market today – globally. Not only focusing on integration, but mobility, and user operability across the entire suite as well. We will also be paying close attention to what we call "last mile functionality," where we can take specific modules of a piece of software and vastly enhance them to create true feature functionality differentiators against our competition. This is the stuff I live for and where I believe Infor, my team and myself can truly contribute to the industry we love.
Any other thoughts about the hospitality industry, particularly with respect to technology innovation and emerging trends? Is there anything about where the industry is today that surprises you?
I have been doing this long enough that not much surprises me anymore. Trends change and we change with them, because if we don't, we will wake up and discover our products and services are no longer relevant. My goal is to never allow that to happen as long as I am at the helm. I always tell my development staff that if you think you're close to finished with a product or even a single feature within a product – think again. It only takes the next hotel or restaurant operator we are wooing to tell you they like it but…they would like it better another way instead. Innovation and emerging trends are changing so fast that it can be hard to judge what is truly a trend that will stick or what is a fad that will soon fade. Luckily, I have a great team of industry professionals and fantastic customers to help Infor Hospitality establish proper priorities. In regards to the industry as a whole – sorry, the AirBnb concept eludes me.   Not sure that anyone could ever convince me to stay in someone's house when I could be staying in a nice hotel room streaming my media on a hotel room television while eating room service and sipping a martini  – but again, that's just me.