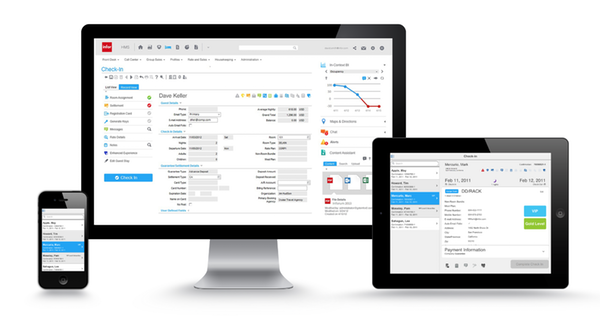 Infor, a leading hospitality technology solution provider and global leader in business cloud software, announced an agreement to receive a $1.5 billion investment from shareholders Koch Equity Development and Golden Gate Capital. This investment builds on KED's investment of more than $2 billion in early 2017, and it represents an important milestone as Infor reportedly considers a potential IPO later this year.
Hospitality has long been one of Infor's core focus areas. Customers of Infor Hospitality include six of the top ten largest hotel brands and nearly 20,000 hotel and casino locations around the world. Infor's hotel technology solutions range from its EZRMS revenue management software to its Hospitality Management Solution (HMS™) hotel property management system.
In October 2018, Infor acquired Vivonet, which offers solutions for POS, kiosks, kitchen systems, payments, labor scheduling, and food and labor cost management. Infor already has hospitality functionality that covers property management, revenue management, asset and incident management, analytics, and artificial intelligence.
As we reported in Restaurant Technology News, the addition of Vivonet's robust restaurant POS platform capabilities, which also includes inventory and procurement functionality for companies in the foodservice management sector as well as for full and quick service restaurant, and hotel food and beverage micro-verticals, should be a good fit for Infor in terms of creating a more comprehensive suite for customers and expanding its offerings into three new foodservice micro-verticals.
Infor has grown to become one of the world's largest technology solution providers, generating approximately $3 billion in annual revenue.  In total, the company has 16,500 staff and serves more than 90,000 customers in over 170 countries.
Infor became the first company to move mission critical ERP application suites to public clouds for entire industries. Infor's CloudSuites are the foundation for digital transformation for more than 9,500 customers in 110 countries. Infor applications span financials, manufacturing, supply chain, human resources and customer relationships.
Over the last five years, Infor has consistently gained market share in cloud applications, and 70 percent of its software license revenue is now derived from cloud applications.
Related