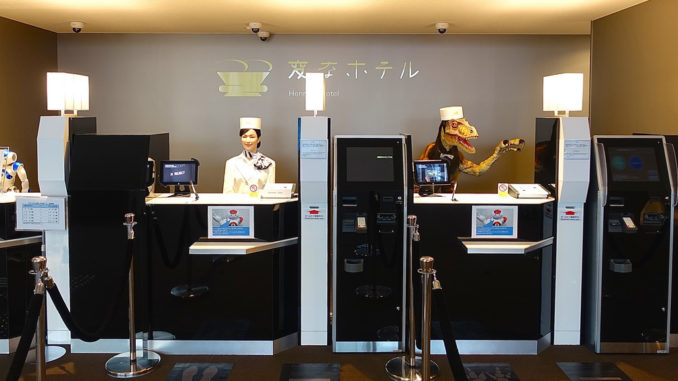 Until last week, guests checking in at Henn-na Hotel, also known as Japan's robot hotel, could be greeted by an animatronic front desk humanoid or, perhaps even more interestingly, by a dinosaur robot sporting a bellboy hat. Room service bots whirled up and down the hallways with guest room deliveries while other robots were designed to perform a variety of other tasks.
Now the hotel has reportedly "fired" over half of its 243-strong robot workforce following countless complaints from both staff and customers. Apparently, a large percentage of the robots were more adept at creating work for their human counterparts than they were at reducing it.
At Henn-na Hotel, at least until last week, each room came equipped with a robot assistant, dubbed Churi, which was one of the first non-humans to get the pink slip after guests complained that could not answer even the most basic questions. The robot problem extended to the luggage-carrying bots, whose one only job turned out to be more than they could handle.
The dinosaur robot was unable to scan guest passports, perhaps owing to the inherent limitations of its dinosaur robot hands. Similarly, the dog robot dancers, located in the lobby often failed to dance or do much of anything at all , for that matter, thus limiting their role in enhancing the guest experience (which, to many, was suspect to begin with).
Henn-na (which aptly means both "strange" and "strange" in Japanese) Hotel first opened its doors in 2015 at Nagasaki's Huis Ten Bosch theme park and has opened a second property in Tokyo's high-end Ginza shopping district  last year. As reported here, the hotel's parent company, H.I.S., announced plans to construct eight more humanoid robot-staffed Henn-na Hotels. According to the company, the plan was to build four robot-staffed hotels in the Tokyo area and four others in Osaka, Fukuoka, and Kyoto.