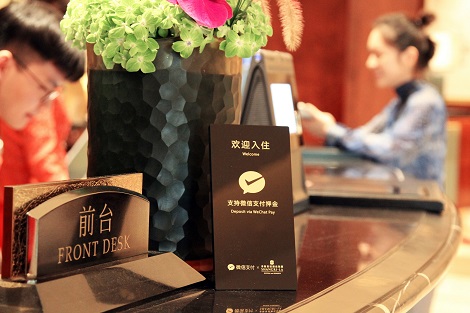 Shangri-La Group, which ranks as one of Asia's premier developers, owners and operators of hotel and investment properties, earlier this month launched WeChat Mini Program and WeChat online pay services. This service will eventually cover all its over 100 hotels globally including Shangri-La, Kerry, Hotel Jen and Traders properties.
This makes Shangri-La, which currently owns and/or manages over 100 hotels globally in more than 70 destinations under the Shangri-La, Kerry, Hotel Jen and Traders brands, the first hotel company to offer a range of e-services under the WeChat ecosystem including online pay and offline deposit for guests with WeChat accounts.
By personalizing guest experiences through WeChat functionalities, Shangri-La aims to provide its guests with improved convenience and a better overall stay experience, as well as enhanced communications via social media engagement on WeChat, which is a Chinese multi-purpose messaging, social media and mobile payment app developed by Tencent. First released in 2011, the app has grown to become one of the world's largest standalone mobile app, with over 1 billion monthly active users.
These initiatives are a result of the Shangri-La and Tencent strategic partnership on digital transformation that the companies inked in November of last year. By leveraging Tencent's strength in technology and connectivity, and by incorporating Shangri-La's hotel experience and business resources, the partnership was formed with the goal of driving technology innovation and business transformation of traditional industry models and enhance service quality and guest experience for hotel operators.
As of this month, the WeChat Mini Program and WeChat online pay service are available in all 50 Shangri-La properties in mainland China. The full suite of WeChat e-payment functions will reportedly be followed in stages for other properties worldwide. The introduction of Shangri-La WeChat Mini Program will also enable Golden Circle members to link their membership with WeChat ID. Shangri-La's official WeChat service account will also be upgraded by adding the access to the mini program.
The goal is to provide guests with a seamless digital journey from the time they search, book, check-in/check-out to payment. As WeChat supports Shangri-La's e-direct channel, hotel management are able to tap into a wide range of platform resources and to engage with a broader base of WeChat users in China and globally.
By integrating the multiple transaction touch points within the WeChat APP, Shangri-La can bring a one-stop payment solution to guests through the e-payment tools of WeChat Pay. According to reports, 46 Shangri-La hotels in mainland China will also allow offline WeChat deposit pay for check-in at the front desk from the end of May. Guests can also track the offline deposit transaction via their WeChat account and get instant refund upon check-out.
Shangri-La Group has also brought the Golden Circle membership and WeChat ID together under one platform. Existing Golden Circle members can opt to manage their account from the WeChat end, while WeChat users can enrol to the Golden Circle programme directly via the platform.