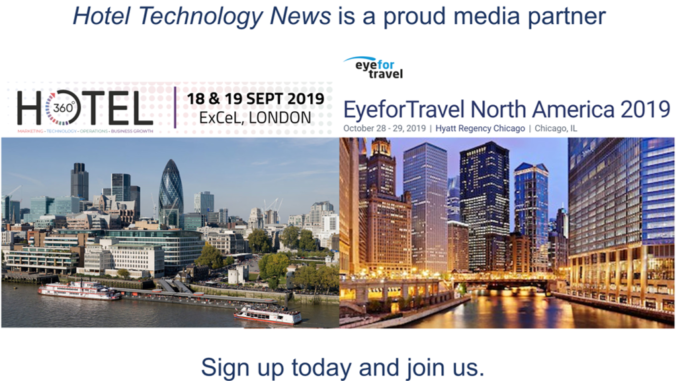 Hotel Technology News, the hospitality industry's premier source of information and insights related to technology innovation at the world's leading hotels and resorts, today announced that it has entered into a media partnership for two leading hotel industry events taking place this fall: Hotel360 and EyeforTravel North America.
"We're proud and excited to be a part of these upcoming events for the benefit of hospitality professionals in Europe, in the case of Hotel360, and in North America, in the case of EyeforTravel North America," said Debbie Carson, Associate Editor at Hotel Technology News. "These are the premier, must-attend industry events for hotel executives."
Both events have a strong focus on next-generation hotel technologies, with a number of speaking sessions designed to educate attendees on best practices in technology deployment, how to maximize the value of hotel technology investments, and a look at the latest technology innovation in the hospitality industry. Registration is currently open for both events.
Hotel360
Year after year, thousands of Europe's most proactive hospitality professionals descend on the ExCeL, all hungry to find the tips, techniques, innovations and strategies they need to transform themselves, and their companies, into the biggest names within the hotel industry.
The industry's most successful names will be on hand to deliver all of the hows whats and whys, on their climb to the forefront of the industry.
Seminar sessions are specifically tailored to cover every aspect of the industry. Whether you're a global chain or an independent, you're guaranteed to find that piece of advice that will take your strategy to the next level.
Panel debates provide visitors with a unique opportunity to hear hotel business experts take on a plethora of the industry's most pressing topics. Each session is jam-packed with information, inspiration and advice, enabling the audience to put their questions to those who have all the answers.
This not-to-be-missed event takes place September 18-19 at ExCeL London. To learn more about Hotel360, and to register, please click here.
EyeforTravel North America
EyeforTravel North America unites leaders from world leading hotels, airlines, casinos and car rentals to win bookings, deliver personalized customer experiences and upsurge revenue.
The challenges you face are clear, margins diminish, the alternative lodging tornado rips through your revenues, the parity nightmare grinds on and there are calls that traditional loyalty is dead.
At this must attend show, these challenges will be met with serious experiential innovation, a penchant for AI and analytics and an evolutionary approach to loyalty.
Every talk is inspiring, concise and memorable. Senior speakers will share exclusive insights that will leave you on the edge of your seat.
This not-to-be-missed event takes place October 28 – 29 at the Hyatt Regency Chicago. To learn more about EyeforTravel North America, and to register, please click here.