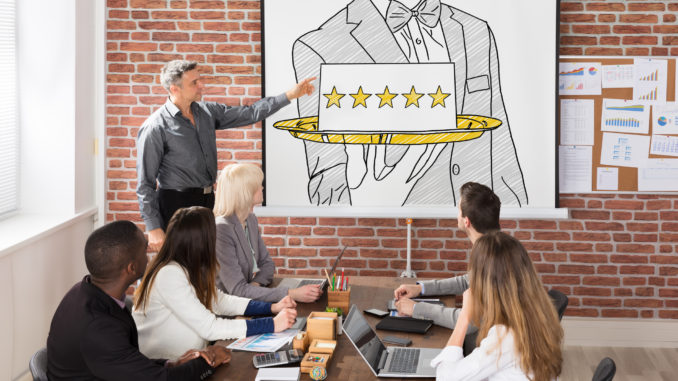 While overall enrollment in postsecondary education has remained largely stagnant over the last couple of years, the number of students enrolled in at least some courses online has grown steadily during that same time.  With a growing number of students around the country looking for different avenues of learning, many of the sectors within private and public schools are attempting to keep up with the demand.
Hospitality, an area of study traditionally limited to competitive and expensive programs at select universities, is beginning to branch out into the online sphere, giving more students than ever a chance to access these resources for a lower cost.
Like the rest of society today seeking alternate routes to education and career development, American academia is undergoing a broad range of transitions to make the postsecondary education experience more relevant for an increasingly diverse student body. This includes college professors incorporating self-study ebooks that offer training and instruction in job skills to support classroom study. It is believed that the inclusion of specific job and task-related education courses allow students to gain better first-hand insight into potential career choices, and encourages them to "settle" into their choice, and gain their degree in their chosen field.
One example is HMBookstore, an online library of 150 separate hotel, restaurant, and service skill courses, written by hotel professionals specifically for students interested in the hospitality industry. Starting with a handful of colleges and universities that offered their courses seven years ago, HMBookstore will enjoy record-setting enrollment in its eBooks for university students in 2019. In all, over 28,000 students have enrolled in HMBookstore's eBook subscriptions to support and supplement their hospitality courses in 22 colleges and universities. Among the path makers were UNLV, University of San Francisco and University of South Florida. Successful students not only can expect a good grade but a separate Certificate of Completion in hospitality.
"These resources enable students get ahead in their hospitality careers before they have graduated," said Ken Edwards, CEO of HMBookstore. "They will learn virtually everything they need in a host of jobs, customer service, and management functions to chart a successful career course."
The range of online course topics provided by HMBookstore is extensive and wide-ranging. For example, they offer a comprehensive introduction to "Revenue Management," a critical topic for any hotel manager or owner. Future industry leaders can also gain valuable insight into the hospitality business with the "General Manager" ebook .
Students planning to specialize in the food and beverage sector of the hospitality industry have access to such titles as "Executive Chef, F&B Director," and "Catering Director. Sales and Marketing students can select from "Site Selection that Sells, Director of Sales, Online Travel Agents and Digital Marketing."
As we enter an age where more elements are virtual, online education to supplement classroom study is cutting a wide swath across a range of topics such as accounting, finance, engineering, management, and even medicine. Some professors who were initially reluctant to adopt this system for inclusion in their overall curriculum have recognized online education as a tool that has been easily accepted, and is virtually second nature, by today's computer generations. It's been evident by the growing number of students encouraged to go on to complete their course study and obtain a degree.
ABOUT HMBOOKSTORE:
HMBookstore, developed by Tristar Hotel Group, is an industry-proven online Management Learning System (LMS) platform that provides online educational training for hotel owners and operators, students, individuals pursuing a career in the hospitality industry, and hospitality industry professionals seeking to improve their skills. With over 150 courses available in English, Spanish and Mandarin, HMBookstore provides hospitality training for individuals in all leading hotel brands, including Starwood, Hilton, IHG, Wyndham, Best Western, Hyatt and independent hotels.