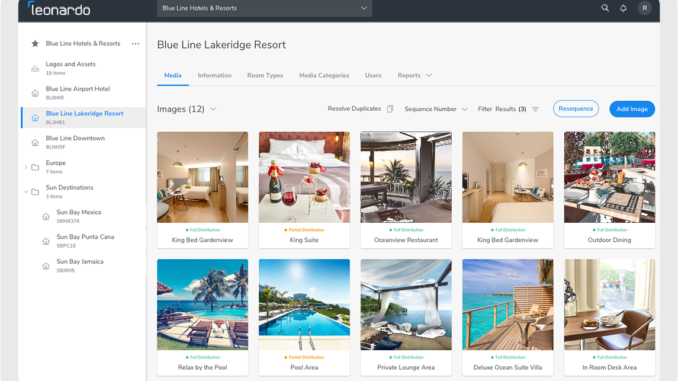 Hotel technology solution provider Leonardo has been busy as it gears up to launch four next-generation solutions over the next few months.
For starters, the company redefined its mission, which is to help people have better travel experiences. It appointed a new CEO: Mark Charlinski, who brings more than 14 years of travel industry experience. Leonardo also announced that it has a new parent company: Jonas Software, which ranks as a leader in both the technology and hospitality markets.
The company has invested heavily in accelerated innovation and growth, with the goal of delivering the solutions and leadership today's hoteliers need to stay current and provide memorable, meaningful travel experiences. This week, Leonardo announced the result of its investment: four new products. The release schedule will start this month and continue through early next year.
New product highlights include:
Deeper connections with top travel websites. Leonardo is one of the first travel technology companies to connect to Booking.com's new Photo ingestion API. This deeper, direct connection to Booking.com means our hotel chain partners will:
See updates live in 15 minutes or less
Instantly increase content scores
Gain control of photo sequencing
Available starting in October.
Complete property-level solution to drive more direct hotel bookings. The company is rolling out the next iteration of its Vizlly hotel website and digital marketing solution in partnership with Bookassist, a Jonas Hospitality sister company. Hotel properties and management companies will be able to drive more bookings with enhanced technology and services, including:
Beautiful website themes that convert
Pay-Per-Click (PPC) advertising
Metasearch management
Award-winning booking engine
Available starting October 14th.
Secure, modern digital library for brand-approved media. The company's Media Library is the first product built on its new content management platform and will replace its Private Digital Library (PDL).
Media Library will help hotel chains:
Centralize brand-approved hotel media in a secure gallery
Control access to media by internal and third-party users
Organize media by property and category
Currently in beta, hoteliers can gain access as early as January 1st, 2020.
Faster, fresher way to manage hotel content. The company asked its hotel chain customers to help it evaluate our VScape solution. The end result? A new Content Manager that will:
Make managing hotel content faster
Be fresh and user-friendly
Include the features our users value most
Currently in development, hoteliers can gain access as early as January 1st, 2020.
"We've been envisioning this moment for a number of years and we've worked hard to get here," said Charlinski in a company statement. "We're extremely grateful for all our customers and partners who have worked closely with us to help shape these solutions. I couldn't be more excited to put these new solutions in the hands of travel suppliers and help them drive more revenue and reduce costs for years to come."
Does your company have news it would like to share with our readers? If so, we invite you to review our editorial guidelines and submit your press release for publishing consideration.