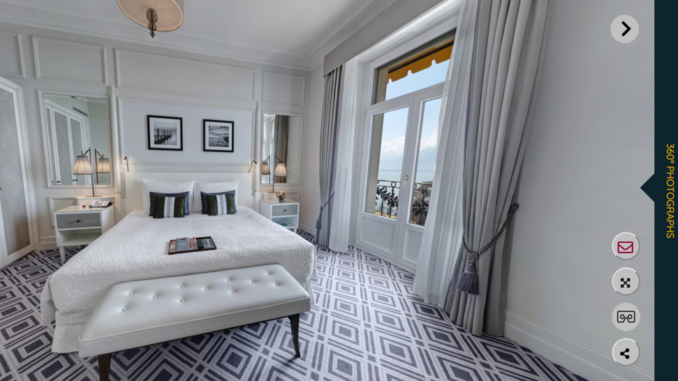 Over the past few years, more hotel brands have experimented with virtual reality technology. Some have offered virtual tours on their websites, or via social media sites like Facebook, using 360 video technology that allows potential guests to look at guestrooms and other parts of the hotel before they book. In most cases, the tours are shot using an omnidirectional camera, resulting in all directions being filmed at once, allowing for a 360-degree field of view that people can navigate.
There are multiple ways of producing 360-degree video content and also multiple ways to view it, including via on head-mounted displays and virtual reality headsets as well as budget alternatives like Google Cardboard. In fact, Google introduced a virtual tour functionality, allowing hotels to "showcase all the details that your customers love" more than six years ago. The functionality failed to reached its potential.
More recently, virtual reality technology has been put into action by solution providers like Amadeus, allowing customers to look for flights, compare hotel prices and book rooms through a virtual reality headset. The potential to use immersive booking process to allow customers to do a virtual walkthrough of faraway hotel rooms and facilities — seamlessly exploring and booking a guest room without leaving the comfort of their living rooms — is now gathering steam as hotels look to incorporate next-generation virtual reality platforms to attract more guests and secure direct bookings.
One of the leaders of the pack of next-generation solution providers is Visiting Media, whose TrueTour platform is now used by hotel brands that include Klimpton, IHG and Marriott. Accor properties in Europe and the Americas recently launched the platform's top-to-bottom 360-degree 3D and virtual reality presentation and delivery capabilities with the goal of making it easier to upsell their luxury rooms and suites and sell their event spaces in person and at a distance.
According to Visiting Media, Accor needed to create an experience as close as possible to physically being on property, creating emotional connections and a sense of experience. It also needed to synchronize all of their most valuable sales assets in one place to create a central hub for meeting planners to find and showcase stellar visual sales experiences, with the goal of increasing group sales.
The first Accor hotels in Europe to deploy the solution were Fairmont Le Montreux Palace, Sofitel Munich Bayerpost, Sofitel Berlin Kurfürstendamm, Raffles Europejski Warsaw and Swissôtel Le Plaza Basel. Last month, Pullman Berlin Schweizerhof and Swissôtel Zurich also deployed the technology. "[The solution] enables our sellers, both Hotel Sales & Global Sales, to use new immersive visuals and provide a selling tool that fits perfectly the client's needs to virtually experience the hotel & event space, present 360-degree images and 3D virtual tours of the property,"  said Petra Loecher, Vice President of Sales, Luxury & Premium Brands for Accor Central & Eastern Europe.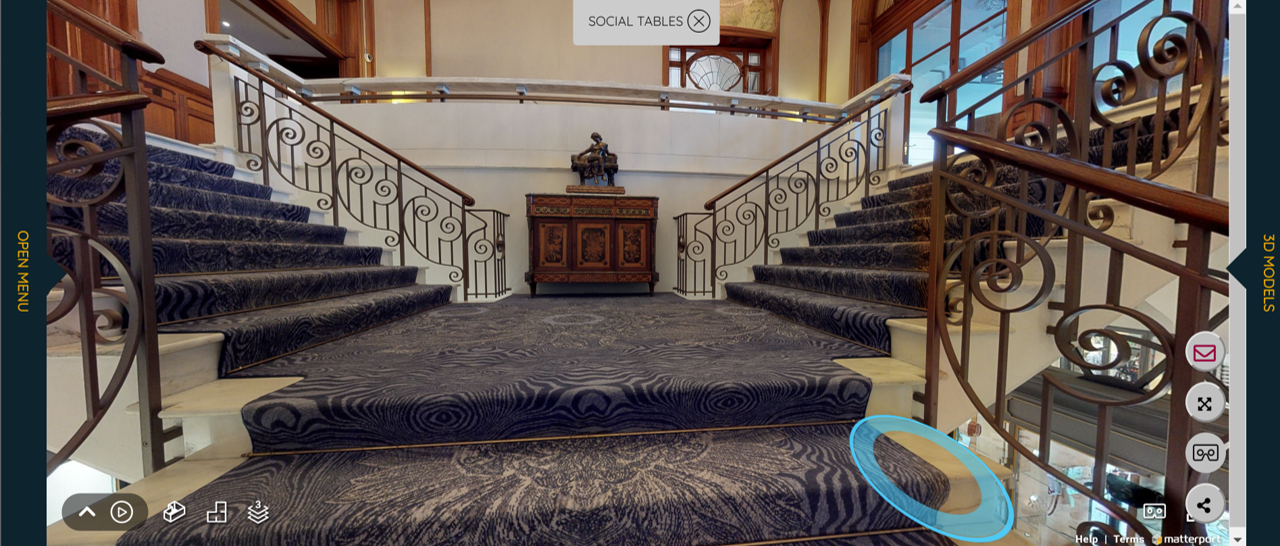 Visiting Media is currently working with Accor's Global Sales team, building a syndication hub that will soon sync all property-level 360-degree and 3D content with global sellers worldwide in real time, becoming the first immersive content network of its kind.
Graduate Hotels also recently deployed the solution. "Once we saw the power TrueTour had to increase incremental revenue at Graduate Athens," said Larkin MacDonald, Director of Sales and Revenue, Graduate Hotels, "it was a no-brainer to roll out the platform across our entire portfolio." According to MacDonald, the solution "integrates all of our most important sales and marketing materials into one place, and showcases the unique character of each of our properties."
"Not only does this technology increase time and engagement spent on hotel websites–as guests explore the look and feel of each room, but it radically increases their exposure and rankings on search engines," said Michal Hubschmann, CEO of VDroom, which also offers a platform that allows property owners to create and distribute a 3D gallery of visual assets. The technology proactively reports to search engines rather than passively waiting for them to index a new listing, further increasing visibility and direct traffic to a property.
According to Hubschmann, hotels using the service have enjoyed up to 50% more views than hotels using regular images. The technology also allows hotels to upsell–offering an upgrade to a client who just booked a standard room by linking to a deluxe room, and demonstrating the difference.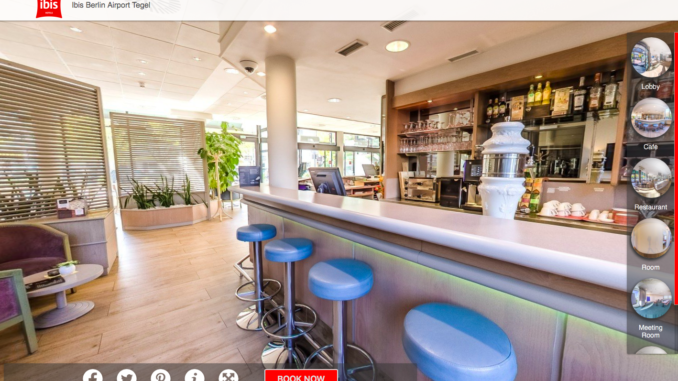 Since earlier this year, GCH, a leading German hotel management company, has been using the VDroom platform for its hotel bookings. More than a third of the hotels they manage, including Best Western, Ibis, Wyndham, and Radisson Blu, now offer guests the ability to view their rooms in 360. GCH also created the world's first virtual reality portal, allowing guests to discover hotels and entire destinations three dimensionally.
According to Daniel Wishnia, GCH digital marketing consultant, the "wow" effect from virtual reality offers incentive for guests to book directly through the hotel as opposed to using an OTA. This is critical for hotels that commonly pay up to 30% commission to OTA's to serve as their booking agents. Any technology solutions that can help hotels avoid those types of commissions are sure to be embraced because there is nothing virtual about driving revenue growth and cost reduction.