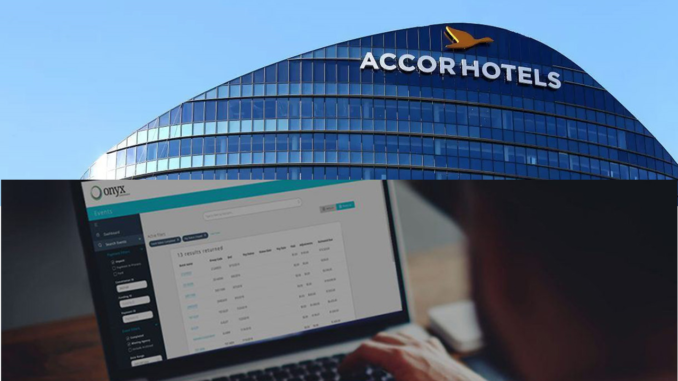 Global hospitality payments and business intelligence solutions provider Onyx CenterSource today announced the expansion of its partnership with Accor, a world-leading augmented hospitality group. The partnership began in 2010, when Accor chose Onyx CenterSource's CommPay™ solution to streamline and optimize the group's commission payment process.
Since the beginning of the partnership, Accor has implemented CommPay at more than 4,000 hotels across their portfolio, increasing the commission payment ratio to their travel partners to more than 99%. "We rely on Onyx expertise to provide our hotels an end-to-end commission payment and insights solution that increases efficiency and guarantees strong relationships with our agency partners. Accor is pleased to offer Onyx solutions to its new brands to ensure the same excellent results," said Ronny Burchhardt, Vice President, Digital Hotel Experience at Accor.
Onyx CenterSource is a leading global provider of B2B payments and business intelligence solutions to the hospitality industry. The company strives to build long-lasting relationships with its partners and is passionate about providing quality customer service, consultative insight and cost-effective solutions.
With a legacy dating to 1992, the company facilitates in excess of $2.1 billion in payments annually, partnering with more than 150,000 hotel properties and 200,000 travel booking providers in 160 countries. In addition to its headquarters in Dallas, Onyx CenterSource has regional hubs in Seville, Spain and Tønsberg, Norway.
"Accor has seen tremendous growth throughout our partnership, including the acquisitions of Fairmont, Raffles and Swissôtel, and we've continued to expand our services alongside them," said Onyx CenterSource CEO Mark Dubrow. "As their needs evolve with their continued growth, we expect to enable deeper levels of market and partner insights that they need to continue their upward trajectory." 
The Group has been acquiring hospitality expertise for more than 50 years, resulting in an unrivaled portfolio of brands, from luxury to economy, supported by one of the most attractive loyalty programs in the world.
Does your company have news it would like to share with our readers? If so, we invite you to review our editorial guidelines and submit your press release for publishing consideration.