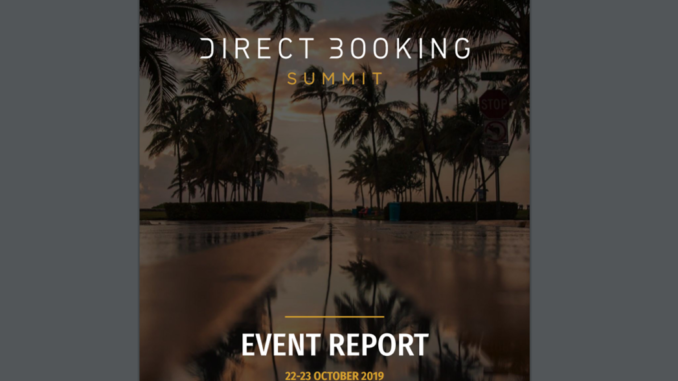 With over 360 attendees, the Direct Booking Summit, which took place October 22-23 in Miami, Florida, exceeded all expectations with an outstanding lineup of speakers, putting a spotlight on the biggest challenges facing hotels of all sizes. For the fourth year in a row, industry insiders came together to discuss challenges and leave with a list of actionable tactics to take forward in 2020.
In total, 36 industry-leading speakers coming together to provide their hotel strategies for 2020. The following are some key takeaways from just three of the speaker sessions, courtesy of Triptease. (To access the full report, please click here.)
Bridge the gap: the challenges between digital marketing and revenue management
Dan Wacksman, Former SVP Marketing & Distribution, Outrigger Hotels and Resorts, Principal,
Sassato LLC

Drawing from his experience in the hotel industry, Dan examined the problems that exist between teams, and provided actionable tips for rethinking your processes to work better together.
Revenue and Digital Managers often have different visions of success. They need to be better
educated about each other's roles, values and KPIs.
Confusing your customer with multiple rates, offers and choices can result in abandonment of a
booking. You need to keep it simple!
Ensure that your prices are always in parity and your booking process is as simple as on OTA
websites.
A really robust data capture model is difficult, but there are some simple things you can start with.
Most PMSs offer ways to capture some simple but important information bits.
Data analysis never ends. Educate your staff about data collection, analysis and how you can use it
to make positive changes.
Hotels need make sure that membership rates on their websites are the same rates we're giving out to OTAs. Ease of access to special rates on your direct channel is crucial.
Stop thinking short-term and instead think about the strategic implications of working with OTAs.
OTAs have international reach and can help hotels tap into new audiences, but they do things that
are advantageous to them – they won't have hotels' best interests at heart.
Ask your tech partners what their attribution model is. A last-click attribution model does not make
sense in today's multi-touch digital environment.
The relationship a hotel has with a customer is an intimate relationship – much different from the
one OTAs have. We need to own that relationship.
Hotels often focus on Q1 and Q3 strategies. Digital Marketing and Revenue teams need to align their strategies and an often less busy Q2 allows time to bridge the knowledge and perception gaps.
Building a culture of revenue management
Derek Brewster, Director of Revenue Management, Lotte New York Palace

In this session, Derek drew from his experience in an independent hotel to share the five building blocks of a successful revenue management culture – and how you can get there.
Involve stakeholders in your strategy.
Think of the overall revenue and profitability targets of the hotel, rather than those of individual silos.
Know your competitors, staff, and customers inside-out. Attend industry events where you can.
Articulate your revenue strategy, take into consideration everyone's feedback and let other teams
come to your meetings. They will help you understand whether you're setting goals too high or low, know what guests are saying and how they deliver value.
The revenue team also needs to attend sales and marketing meetings. It keeps us all focused on the hotel's goals and long-term strategy over quick fixes.
Be as deliberate and calculating as you can, because decisions can be risky.
Leverage strategic partnerships in experiential marketing campaigns.
Your revenue strategies need to be aligned with every department.
Support sales efforts by optimizing how you deliver pricing to sales managers in a timely manner.
Support and engage the digital marketing team by ensuring all promos stay on brand.
Direct is the most cost-effective channel. It also drives the highest ADR for Lotte New York Palace.
Have the right resources and technologies available to align teams.
Accurate, up-to-date data should be the basis of every revenue decision. No gut feelings!
Know what generates demand. Analyze data and work with sales and marketing teams to attract and retain the most high-value guests.
Know what pricing and discount strategies competing hotels have and learn from it.
Know when you lose/gain market share against our competitors.
Know what the best years of performance were at your hotel – what were your best-performing offers then? Discuss how you can sustain it or repeat that success.
Be prepared to pivot if you over- or under-estimate a strategy's impact. Don't be afraid to make
mistakes because you can learn and adapt
Monitor performance to know its effect on top and bottom line.
Pivot, don't panic. Panic can bring drops in prices that are difficult to recover from.
Leverage partnerships and demand and invest in loyalty.
Find the latest technologies across various industries and adopt them for your hotel.
"Three Strikes and You're Out!" How to take control of rogue wholesale rates
Colette Labis, Director of Partnerships & Distribution, Westgate Resorts


After making headlines for taking a stand and suing Amoma after they repeatedly violated their terms,
Colette shows the success behind taking the 'three strike rule' seriously, and how to navigate the complex world of wholesale rate distribution.
Rate parity violations cost more than just the difference in rate. Each time you're going down in your search results you're losing thousands of dollars in business. They also create disruption with other partners.
Don't beat up your market managers for unsavoury company decisions or reach out to them only
when something is going wrong.
Be selective when choosing a distribution partner. Westgate Resorts reduced our partnerships to
only the most impactful because the time and amount they were taking was not worth the revenue.
Establish a threshold of production. If Westgate Resort's distribution partner is not hitting it within 12 months, they cut it out.
Work with partners who are easy to do business with. They should provide flexible terms and
distribution abilities and not have complicated contracts.
Tighten your distribution clauses. Define rate structure, package rate, opaque rate and violation
penalties.
You can achieve a fully dynamic rate structure through well-established connectivity (API messaging, reservation delivery, promotional and derived rate ability). Follow up with dynamic package rates (wholesaler net rates, package/opaque rates, new "B2B/FIT" rates, managed rates) and room-only rates (float to BAR, set discount to BAR, new "B2C" rates, LRA rates).
Regularly perform violation shops and test bookings. Shop your hotel in a live environment daily,
conduct test reservations to determine the source of a problem, and never rely on shop reports.
Colette believes hotels should not be afraid of taking legal action. There is power in numbers. The
more hotels stand up to mischievous behaviour coming from third parties, the less cases of bad
partnerships we will have.
To access the full report, please click here.