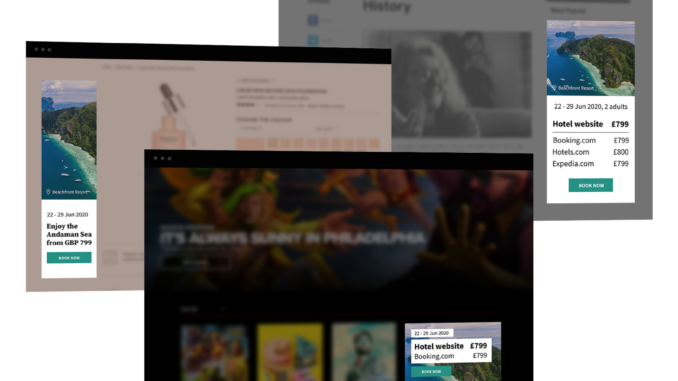 Hotel technology solution provider Triptease has a history of delivering personalized messaging on hotel websites. From today, they also deliver personalization in banner ads across the rest of the web.
Introducing: Retargeting.
Retargeting is the latest addition to Triptease's market-leading direct booking software platform for hotels.
Triptease Retargeting significantly increases the return on investment (ROI) of a hotel's online marketing strategy by intelligently serving personalized, price-led ads to potential guests after they leave a hotel's website.
"We're driving a return on investment almost double the industry average by taking a joined-up approach to the guest journey," explains Charlie Osmond, Triptease's founder and Chief Tease.
"We put guests in context for the hotel. That allows us to be more efficient with our bidding and more successful with our conversion."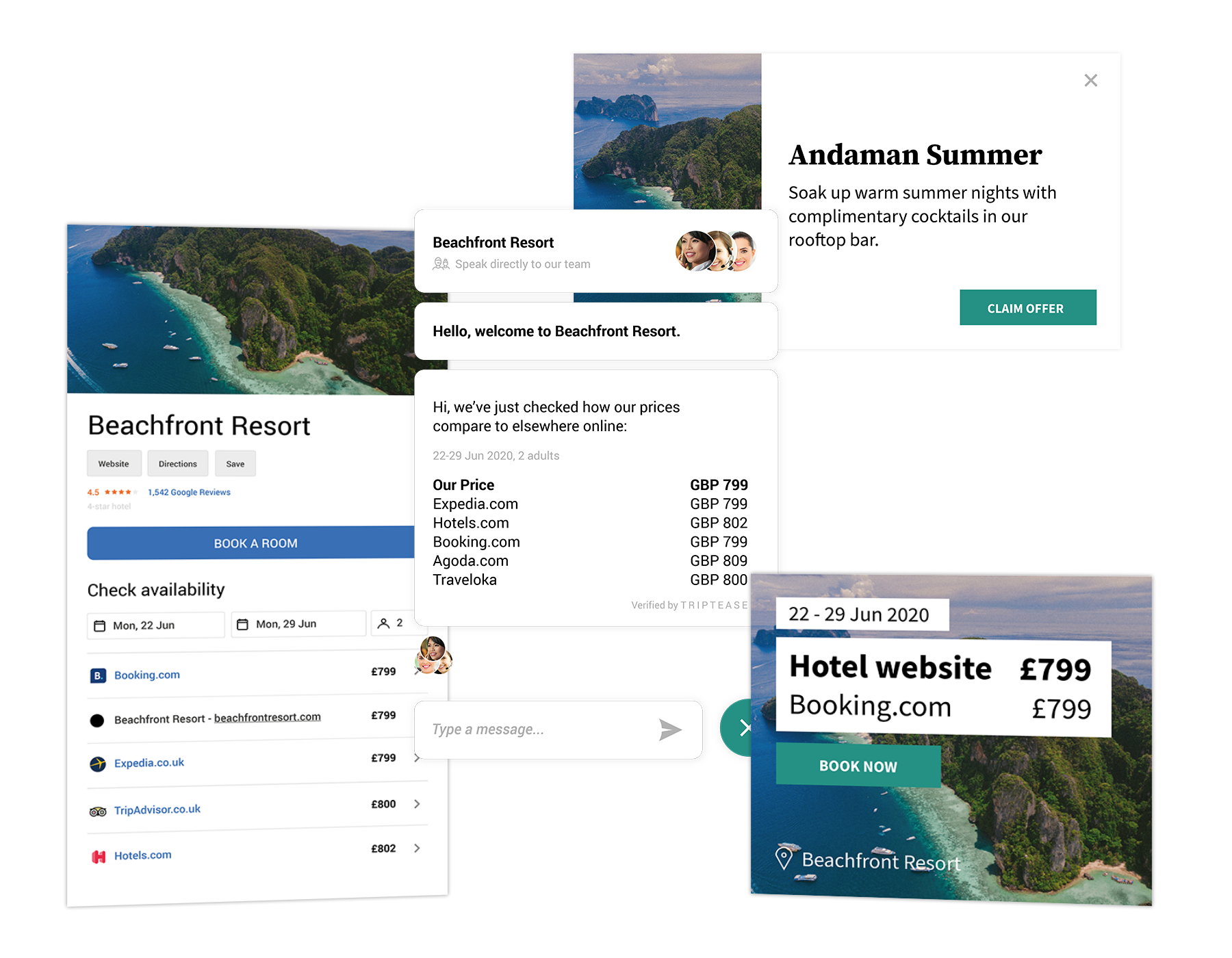 How it works
Triptease's algorithmic approach combines search, parity and behavioral data to avoid costly bidding mistakes. With Triptease Retargeting, hotels can avoid common pitfalls such as targeting a visitor if their search dates are in the past, or bidding to advertise when they don't have the best price available online.
As well as knowing who to target and when to target them, Triptease Retargeting dynamically updates ad creative to show only the messages most likely to convert an undecided guest.
Powered by Triptease's industry-leading price intelligence, Retargeting allows hotels to show live price comparisons to guests based on their unique search – wherever they are on the web.
"Price remains the single most powerful factor in booking decisions, and we've known since the launch of Price Check that a live price comparison gives guests a proven, powerful incentive to book direct," says Alasdair Snow, Triptease's co-founder and Chief Product Officer.
"Now, with Retargeting, we're able to share that message with guests even when they're not on the hotel website or booking engine. Most importantly, Triptease knows which guests are worth retargeting – and which to ignore."
The Triptease Platform
Retargeting joins Metasearch, Parity Management, Targeted Messages, Live Chat and Insights on the Triptease Platform.
"Because we can connect data from all parts of the booking journey, we're able to give guests a much more consistent experience than they would otherwise get," explains Charlie Osmond.
"If we know a guest has arrived on the booking engine from metasearch, we show them a message based on the details of their search. If we know they're high-value, we might highlight one of the hotel's upsell offers. If they leave the site without booking but they've displayed signs that they're interested, we'll adjust our retargeting bids to make sure they're reminded of the hotel later."
"We're excited to be reaching guests at more stages of their booking journey than ever before. We look forward to continuing to help hotels maximize their direct channel, driving a high volume of incremental bookings and reducing their dependence on OTAs."
Does your company have news it would like to share with our readers? If so, we invite you to review our editorial guidelines and submit your press release for publishing consideration.