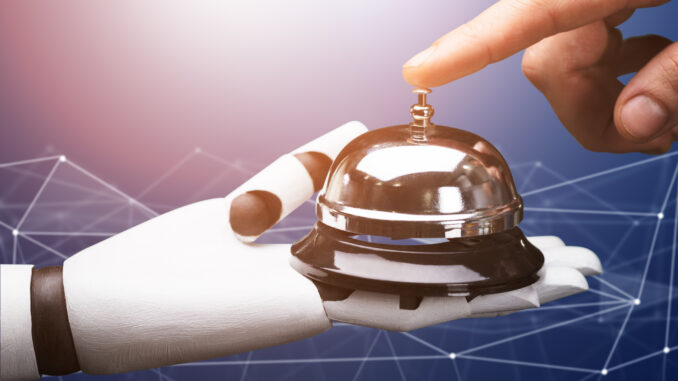 Hospitality will always be a people industry… at least for the foreseeable future. In the guest communications space, this means that nothing will make a customer feel more confident in a hotel's follow-up activities than a direct interaction with an in-person agent. But nowadays, it is impossible to deliver great guest service without a supportive apparatus of various technologies.
This is due to both labor conditions and the mounting guest expectation for exceedingly fast service. Together, this means that you need to expedite or automate as much as of the 'grunt work' as possible so that your human team can take the time to focus on the people standing right in front of them.
Rather than replacing your front office team, here are five fundamental aspects to investigate for how technology can enable your associates to be insurmountably better at their jobs.
Cross-departmental integration. With service moving fast, you can no longer let any request get congested by a lack of communication between different siloed platforms, not only to improve team efficiency but also to minimize errors and heighten personalization. Customer service reps must be able to quickly push the necessary information to other departments like housekeeping or maintenance as well as to the PMS or CRM.
Respond from anywhere at any time. Working remotely is a trend that even hospitality cannot ignore. And with the expectation for immediate answers to guest inquiries, you must look into platforms that can route all incoming messages to a single dashboard so various team members can respond from their homes or anywhere on-property, and at any time of day or night.
Concierge exclusivity. How does your concierge or front desk provide information to guests that is above and beyond what someone would find through a Google search? Given the omniscience of the internet, you must now reinvent this service offering by intricately knowing the 'hyper-local' neighborhood around your hotel as well as setting up private discounts with regional providers that one cannot attain elsewhere.
Rapid recovery with mid-stay satisfaction scores. If a guest hasn't had the best of experiences at your property, how then can you change their minds when they've already left? Instead, consider sending them a quick survey after check-in or at the end of the first night so that negative reviews can be flagged and remedied prior to departure.
Chatbots and artificial intelligence. To reiterate the core idea behind these necessary upgrades, it is all about enabling your team to provide better team by ensuring that they aren't bogged down in the minutia of minor tasks and nonstop paperwork. To that end, I've seen some fantastic chatbot programs on the market that can help to field all the basic questions posed by guests so that your live agents then have more time to focus on the headier requests.
As it is now 2020, the new decade will see these sorts of support for your guest communications transition from value-adds to mandatory for effective service delivery. If you haven't already set aside budget for platforms that can address some of these five points, then start investigating your options in the coming months to then make sure there is adequate budget set aside from next year.
One of the world's most published writers in hospitality, Larry Mogelonsky is the principal of Hotel Mogel Consulting Limited, a Toronto-based consulting practice. His experience encompasses hotel properties around the world, both branded and independent, and ranging from luxury and boutique to select-service. Larry is also on several boards for companies focused on hotel technology. His work includes five books, "Are You an Ostrich or a Llama?" (2012), "Llamas Rule" (2013), "Hotel Llama" (2015), "The Llama is Inn" (2017) and "The Hotel Mogel" (2018). You can reach Larry at [email protected] to discuss hotel business challenges or to book speaking.
This article may not be reproduced without the expressed permission of the author.
Are you an industry thought leader with a point of view on hotel technology that you would like to share with our readers? If so, we invite you to review our editorial guidelines and submit your article for publishing consideration.