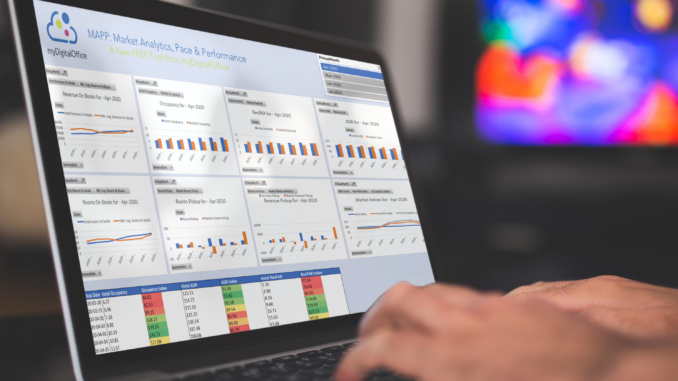 myDigitalOffice, the hotel information management and back-office automation platform for hotels, today announced the release of the myDigitalOffice MAPP (Market Analytics, Pace, and Performance), a free data analytics resource that enables hoteliers to identify forward-looking performance trends across their own portfolios and other markets, and visualize market recovery in real-time.
myDigitalOffice has quickly become one of the fastest-growing hospitality tech companies in North America, following rapid adoption of its data visualization dashboards, paperless night audit product, and digital document management solution. This growth created the timely opportunity to give back to the industry, in the form of invaluable data sets, in such a critical time of need.
"We're in an unprecedented time," said Ali Moloo, founder and CEO of myDigitalOffice. "Industry performance from last week, last month, last year… none of it matters. It's critical that hotels focus on what lies ahead. Fortunately, our team is in a unique position to help them do just that."
Since the fallout from COVID-19 began to unfold in North America, Moloo's globally dispersed team collaborated to develop and deliver reporting capabilities to help accelerate market recovery and support the continuity of the hospitality industry.
MAPP (Market Analytics, Pace and Performance) provides a guide to help hoteliers navigate today's uncharted landscape. Leveraging forward-looking, aggregated and anonymized hotel and market-level performance metrics, hoteliers are enabled to make more strategic, data-backed business decisions much sooner. Powerful integrations allow users to access their own portfolio data instantly, eliminating hours of data manipulation and analysis. With the combination of hoteliers' own portfolio data and broader, forward-looking market performance statistics, MAPP provides critical information for benchmarking and identifying demand trends to visualize market recovery in real-time.
Does your company have news it would like to share with our readers? If so, we invite you to review our editorial guidelines and submit your press release for publishing consideration.