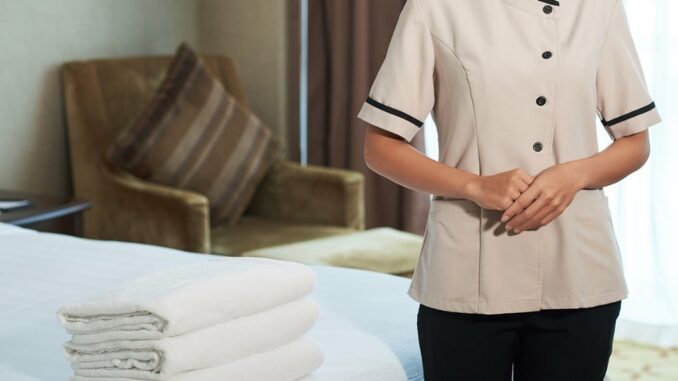 Sometimes when things seem the darkest, moments of beauty emerge in the most unexpected places. During this time of quarantine, rivers are cleaning up, vegetation is growing, the air is becoming cleaner, there are fewer reports of crime, families are bonding, workers are resting, and nations are banding together for the good of mankind. While hospitality is possibly one of the hardest hit industries, it too is finding a silver lining amidst the darkness.
Proactive hotel companies are using this time to tackle technology projects that are easier to accomplish during low occupancy. Some are seeing immediate benefits and improved efficiencies by implementing a digital employee communication platform that enables them to communicate in real time with furloughed workers.
Ensuring that everyone has the procedural information they need while on leave will make it easier to onboard employees when business resumes. Others are using this time to install beacon networks for communicating with employee safety devices. Putting panic buttons in place today will help hoteliers fulfill their social and legislative responsibilities for keeping their service employees safe. Both will go a long way towards reducing turnover post pandemic. Yes … turnover.
One for All, All for One
It seems like just yesterday that hotel companies let go most of their workforces, but soon they will be needing them back. While managers plan to connect with their displaced teams, hotel workers are contemplating their next move. Whether or not they return will be determined by how well management communicated with them during this difficult time. Employees want to know two things: "What are you doing for me today?" and "How will you keep me keep safe if I return?"
As many as 90 percent of women and 70 percent of men in service jobs report experiencing sexual harassment in the workplace – higher than any other industry.
Thankfully, a new "one for all and all for one" safety culture is emerging.
Legislation in New York, New Jersey, Miami, Illinois, Washington State, Las Vegas, and California is requiring hotels to add employee safety devices, and the American Hotel & Lodging Association is encouraging hotel companies to do even more. This year more than 50 AH&LA members representing 20,000 rooms will be equipping housekeepers and other service employees with panic buttons as part of their voluntary commitment to the AH&LA's 5-Star Promise designed to strengthen the culture of employee and guest safety. The silver lining for participating hotels is a safer workforce and a more loyal talent pool. 
Empathy + Social Responsibility = Loyalty
When hotel management shows empathy, invests in its employees' personal safety, and acknowledges its social responsibility through industry initiatives, it has a positive impact on job retention. New candidates will be drawn to a property or brand for its integrity and social conscience, while existing employees will find it difficult to leave.
93% of employees say they are more likely to stay with an empathetic employer
85% of employees say they are likely to stay longer with an employer that shows a high level of social responsibility
82% of employees say they would consider leaving their organization for a more empathetic one, a figure that rises to 87 percent for Millennials
Consider this silver lining scenario:
A hotel is closed during the pandemic, yet management is able to stay in constant communication with departmental employees digitally via chats, streams, web and other means using an operational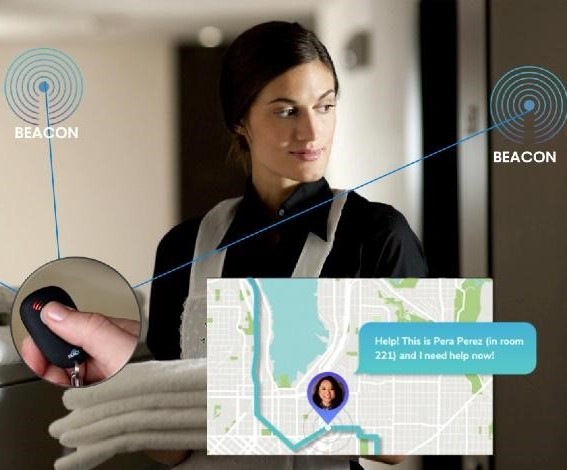 communications platform such as Beekeeper. Workers remain engaged with human resources daily to get questions answered and receive assistance with unemployment paperwork. With no revenue for an extended period, the hotel cannot offer its valued employee's monetary incentives to return.
However, throughout the quarantine, furloughed workers learn that the hotel is using the shutdown to implement new technologies that honor industry commitments and protect them against personal harm, such as panic buttons from React Mobile. Other technologies are also implemented that will help them do their jobs better. As a result, employees who once considered going to the hotel next door for an additional $1 per hour are now returning to their original employers.
When hoteliers put employee safety first – especially when occupancy and revenues are low – it speaks volumes to job retention. No matter how attractive the incentive may be from the hotel next door, workers won't leave because they feel valued.
78% of employees say they would choose an empathetic employer over a less empathetic organization with a higher salary and they would work longer hours
A Beacon of Hope
Technology suppliers understand the financial struggles that operators are facing today, and we also know the devastation that turnover post pandemic can bring to hoteliers' bottom lines. With each new hire comes with a hefty price tag; the Institute for Research on Labor and Employment at the University of California at Berkeley reports the average cost to replace an employee for all categories of workers is about $4,000. Therefore, suppliers are doing everything they can today to reduce the financial burden of technology implementation while helping hoteliers fulfill safety mandates and brand commitments to employee safety throughout the country.
React Mobile is offering new customers two free months of service and 90-day deferred payment terms. We also are manufacturing and supplying personal protective equipment, like face masks and face shields, to hotels in need, such as those participating in AH&LA's Hospitality for Hope initiative.
Tyler Knott Gregson, an acclaimed poet on social media platforms, is quoted as saying: "We are the silver lining in any and every dark cloud we could ever find. There is no need to go looking for the light when you bring it with you."
Robb Monkman is the founder and CEO, of React Mobile, Inc. A seasoned entrepreneur with experience launching multiple products, from idea to exit. Several years ago, Robb was the victim of an armed robbery and hostage situation that left a lasting impression on him. He soon learned that thousands of people every day were in situations where they desperately need help but could not make a call. He made it his mission to solve this problem, founding React Mobile to create a simple yet powerful personal safety platform that today is transforming the way people call for help in emergencies. React Mobile is making tomorrow a safer place and already helping people all over the world.
Are you an industry thought leader with a point of view on hotel technology that you would like to share with our readers? If so, we invite you to review our editorial guidelines and submit your article for publishing consideration.