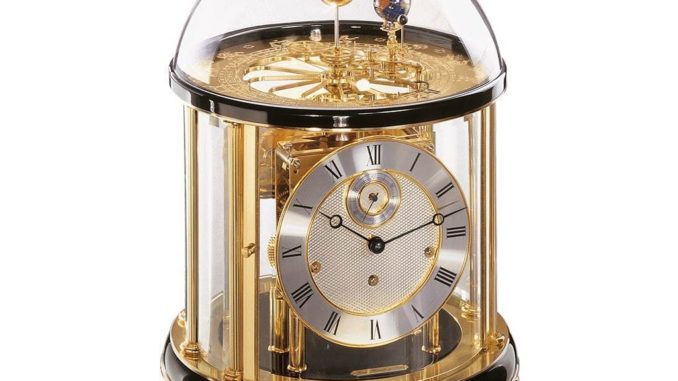 Exquisite clocks have always been a central feature of upscale hotels. In fact, the original grandfather clock referred to a floor clock in the lobby of London's George Hotel. It might be said that no hotel technology is older or more venerated than a mechanical clock, whether a grandfather clock or modern floor clock, mantel clock, wall clock or table clock. 
A good example is the Tellurium I, a museum-quality astronomical clock in black lacquered piano finish (also available in solid cherry wood) and with polished chrome-plated inner workings. The Tellurium I clock reproduces the annual orbit of the earth around the sun, with the earth rotating around its own axis once in twenty four hours.
The moon, in turn, revolves around the earth in 29.5 days completing a full rotation around its axis. This allows the reproduction of the different moon phases as they are visible from earth. In the course of one year, the earth passes all twelve zodiac signs, months and individual days which are indicated on the flat disc. Features 8-day spring wound movement with 4/4 Westminster chime on 4 polished bells, separate second feature and 11 jewel deadbeat escapement.
The polished brass disc depicts milled zodiac signs and rosettes in addition to the months and days of the year.  Reproducing the astronomical movements of the sun, earth and moon, and with a day/month indicator, Tellurium is a both an exquisite timepiece and a kinetic work of art of enduring value and beauty. 
Time to enhance the beauty of your property? For a limited time, save 10% on all clocks at Timely & Timeless with code HTN10, courtesy of Hotel Technology News.

This content is sponsored by Timely & Timeless Exquisite Clocks Emporium and an authorized dealer and wholesale distributor of high-end German clocks with expertise in the hospitality sector. This partner paid a fee to be included in Hotel Technology News, which is not responsible for the content of this article.