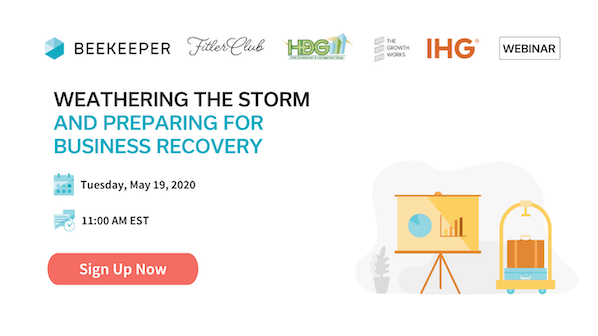 What will it take to be successful in the new world? As part of its ongoing COVID-19 Webinar Series, Beekeeper will host industry experts from IHG, Fitler Club, and HDG Hotels to discuss weathering the COVID-19 storm and planning for recovery. The online event will be held Tuesday, May 19 at 11:00 a.m. EST / 5:00 p.m. CET.
James Lemon, founder and CEO at The Growth Works and Strategy & Innovation Lead, Commercial & Technology at IHG; Jeff David, President of the Fitler Club in Philadelphia and Founder of Jeff David Hospitality; and Lisa Lombardo, Chief People and Culture Officer, HDG Hotels will join Andrada Paraschiv, Beekeeper Head of Hospitality and former Executive Director of Communications and Strategy of FRHI Hotels & Resorts (Fairmont, Raffles and Swissôtel) to share their pandemic experiences, discuss lessons learned, and identify ways to successfully compete in the days ahead.
To register for "Weathering the Storm and Preparing for Recovery" click here.
"Hotels will gradually start to reopen, but they will have to brace themselves for 'the next normal' … and the one after that … and the one after that," Paraschiv said. "We will likely see several iterations of normalcy in the months and years to come. Recovery will be slow, and properties will have to work hard to get ahead of the competition and capture the limited increase in occupancy. During this session we will provide tips for standing out from the crowd, containing costs, and driving revenues.
"The Beekeeper COVID-19 Webinar Series has been tremendously successful with several hundred attendees signing up for each event," she said. "We sincerely appreciate the time these experts devote to this forum. Only by working together and establishing new standards in best practices will we emerge strong and ready to embrace the future."
Does your company have news it would like to share with our readers? If so, we invite you to review our editorial guidelines and submit your press release for publishing consideration.