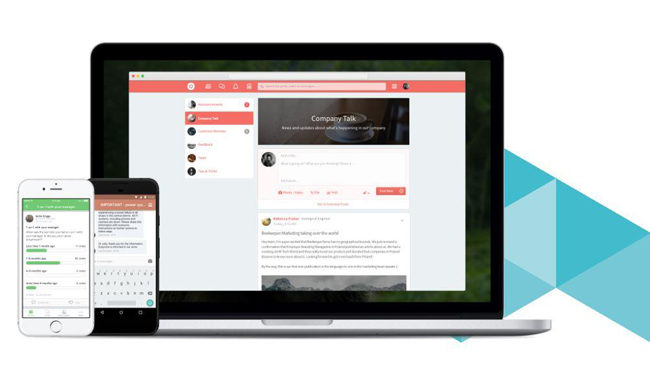 Beekeeper, a mobile-first operational communications platform for non-desk workforces, including blue-collar and service-oriented workers, has raised $45 million in a Series B funding round. The funding comes as Beekeeper accelerates the adoption of its platform, designed for organizations, including major hotel brands like Hilton, Marriott, InterContinental, Hyatt, and many others, with more than 50% of its workforce who are not otherwise connected on email or company devices.
Beekeeper's solution integrates multiple channels in one secure hub that is accessible by employers and employees from both desktop and mobile devices. The result: A more productive and efficient workforce. Beekeeper positions itself as "Slack for non-desk employees."
The funding round was co-led by Thayer Ventures and Swisscanto Invest by Zürcher Kantonalbank, with participation from prior investors including Atomico, Alpana Ventures, Edenred Capital Partners, Fyrfly, Hammer Team, investiere, HighSage Ventures, Keen Venture Partners, Samsung NEXT, Swiss Post, and Swisscom.
Beekeeper has experienced exponential growth in the last year across multiple verticals, including hospitality. The company plans to use the new funding to further expand its platform to bridge the gap between knowledge workers and their non-desk counterparts, and further expand its offering with new features and integrations.
As a part of Beekeeper's roadmap, companies will reportedly be able to customize their experience through the rapidly growing Marketplace with additional apps and integrations with systems like Workday.
Founded in 2012, the company completed a $5 Million Seed Round, an $8 million Series A financing, supplemented by a $13 million Series A extension round last year.
In June, at HITEC in Minneapolis, Beekeeper unveiled its new Shift Schedules mobile capability, enabling hotel associates to check the most up-to-date work schedules. Workers receive notifications for new shifts added and for changes to existing shifts. They also see shift data, such as the shift title / code, color, date, start time, and end time of their shift and seeing how long they are working.