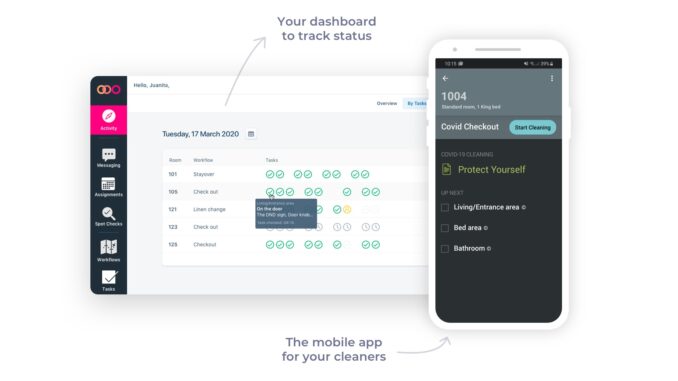 Is your hotel "Covid Clean?" It can be, thanks to a new app that gives housekeepers step-by-step cleaning instructions that follow Center for Disease Control (CDC) guidelines to stop the spread of the virus. Beekeeper, a mobile-first communication platform for frontline workers, is now offering the "Cleaning Task Lists" by Whispr app FREE to its customers. The smart checklist will work on any Android or iOS device and can be activated by Whispr immediately if the hotel is an existing Beekeeper user.
"We are extremely proud of our innovation partner, Whispr, for designing an app that will enable hotels to be truly responsive to the virus and lessen its impact on the property, staff and guests," said Andrada Paraschiv, Beekeeper Head of Hospitality. "Because our core products are integrated, any hotel using the Beekeeper operational communication platform can upload the 'Cleaning Task Lists' by Whispr app in minutes. The app includes a real-time dashboard showing each room's availability as it is made Covid Clean."
Beekeeper users can download the app today by clicking here.

"We are encouraging our customers to display the Covid Clean badge throughout the hotel and on their websites and social media profiles to let travelers know their doors are open and the assets are virus free," Paraschiv added. "This is a critical first step towards economic and social recovery for hotels."
Hugh O'Flanagan, Whispr CEO, said the Covid Clean initiative was developed to help hotels during this difficult time. The product is currently being used by Marriott and Hilton properties in certain parts of the U.S., and will extend it to further properties in Ireland, Germany, UK and China next week.
"There are lots of small steps hoteliers can take to help combat this virus, but it means mobilizing your team and that's often the hardest part," O'Flanagan said. "Now, hospitality businesses can roll out 'Covid Clean' to their teams and ensure they are following CDC guidelines. At the heart of this initiative is worker augmentation — giving housekeepers the right information they need at the right moment and in the right way.
"Both Beekeeper and Whispr believe in using technology to connect workers and bring them together when you need it the most," he added. "This is that time, and we think this is a good example of how to use modern tools and actually make a difference. We're offering this totally for FREE to any hotel in the world. This is our way of trying to help."
Beekeeper customers and other hotels can register here. Workers will be guided to download an app and they can get going on completing checklists and turning their properties Covid Clean.
Beekeeper connects operational systems and communication channels using one secure, intuitive platform. It links colleagues across locations and departments in real time via mobile or desktop devices and provides an intelligent dashboard to help managers improve internal communication and streamline business processes. As innovation partners, Beekeeper and Whispr are introducing AR and voice technology to ensure that housekeepers are always up to speed.
Does your company have news it would like to share with our readers? If so, we invite you to review our editorial guidelines and submit your press release for publishing consideration.