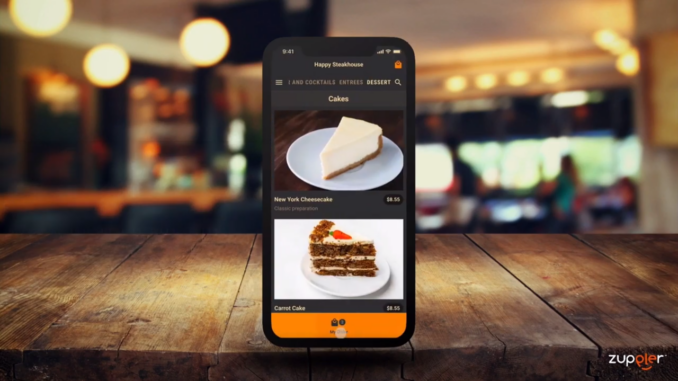 Global software and services company Zuppler has launched Menu Anywhere On-Premise Contactless Ordering on the Zuppler "Menu Anywhere" Platform, offering an on-premises contactless ordering solution. With applications for restaurants, hotels, hospitals, educational institutions, live events – everywhere menus are provided – this new offering limits contacts between guests, wait-staff and the kitchen, allowing customers to use their mobile device to engage with digitally-enabled, dynamic menus that send orders directly to the kitchen, as well as pay their bills, bringing a much-desired, heightened level of safety to guests and staff.
Menu Anywhere On-Premise enables a personalized and highly interactive experience allowing customers to track the status of their orders, see prior orders and favorite items; while providing dining establishments the ability to serve guests with limited staff, update menus and specials in real-time, capture order history, encourage guests to enroll in loyalty programs, and allow for more efficient operations.
"As restaurants, hotels, schools, live events and workplaces return in stages across the country, we know that the reimagined dine-in experience for millions of consumers will require significant change. We are excited to add this new on-premise innovation to Zuppler's "Menu Anywhere" offerings to power food service operators with a safe, secure, personalized and innovative menu tool that gives consumers what they desperately want: a return to good food with the experience of eating outside the home in a safe manner," said Shiva Srinivasan, Founder and CEO.
Mr. Srinivasan continued, "Menu Anywhere On Premise is scalable, can be adapted to different vertical markets and can operate in many environments. We customize the ordering process in a number of exciting ways that enhance the experience for consumers and give greater control and valuable information to food service providers. Today's launch is a natural extension of our current offerings, and is entirely driven by the needs of our clients."
"As our business starts to open post Covid-19, we were comfortable to manage our 'to-go' orders but were getting concerned about dine-in orders. The contactless dine-in product from Zuppler will solve this concern and help us manage the expectations of our customers around safety," said Keith Pascal, partner at Act III Holdings and investor in Boston-based Life Alive Organic Café.
Gordon Food Service, the largest family-managed broadline foodservice distribution company in North America, works closely with Zuppler to identify emerging needs within the foodservice industry. As foodservice operators began to reopen, the need to replace physical menus with digital, contactless alternatives quickly emerged.  "Zuppler has been an extraordinary partner. Their food ordering system has provided our customers with immediate solutions to support their business in a rapidly changing environment," said Bill Balke, Director of Customer Marketing, Gordon Food Service.
In addition to serving 15,000 restaurants and food services clients across the globe, Zuppler enjoys important partnerships with leading transactions processor Worldpay (acquired by FIS in 2019) and Rewards Network, a provider of loyalty-based marketing and financing services to the restaurant industry.
"We think that in addition to delivering safety, Menu Anywhere On-Premise establishes the baseline for the next phase in dining hospitality, with more options, more flexibility, more control and more engagement with customers. In this way we help deepen the relationship and trust between guests and food service provider," said Srinivasan.
Does your company have news it would like to share with our readers? If so, we invite you to review our editorial guidelines and submit your press release for publishing consideration.