Chris Silcock is Executive Vice President and Chief Commercial Officer for Hilton, a leading global hospitality company with a portfolio of 18 world-class brands comprising more than 6,700 properties and more than 1 million rooms, in 122 countries and territories. There he leads the company's global Commercial team including sales, revenue management, distribution, enterprise data and analytics, marketing, and customer engagement, loyalty and partnerships.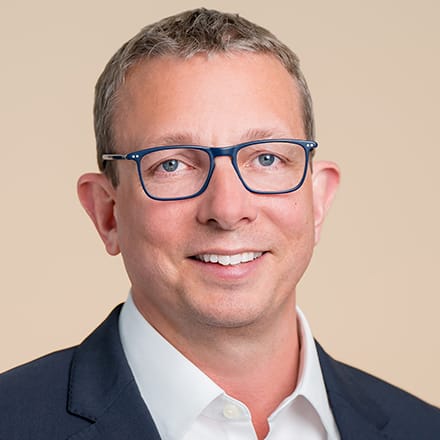 Chris has over 20 years of experience with Hilton, and can be credited with leading the company's global sales modernization process, and transitioning revenue management to a data-driven discipline delivering consistent and meaningful market outperformance. He also created Hilton's first enterprise data and analytics team, bringing advanced analytics to the forefront of real-time decision making.
Prior to this role, Chris held a number of positions at the company, including Head of Revenue Management and Online and Regional Marketing, and Vice President of Revenue Management. He has also held a number of regional revenue and project roles across the business, as well as several positions at the company's properties. He began his career with Hilton as a catering and banquet waiter at Hilton Watford.
In addition to his time at Hilton, Chris worked in a consulting capacity with several hospitality companies, including large international chains, as well as smaller operators and independent hotels across Europe. He currently serves as a member of the board for Groups360, a leading online marketplace for meetings. Chris holds a bachelor's of science degree in Computer Studies from University of Essex and studied music prior to his hospitality career.
What are your primary responsibilities as Hilton's Executive Vice President and Chief Commercial Officer?
In my current role at Hilton, I lead the company's global Commercial team including technology, sales, revenue management, distribution, enterprise data and analytics, marketing, customer engagement, and loyalty & partnerships.
I've been fortunate to be with Hilton for more than 20 years and have served as Chief Operations Officer, Customer & Commercial Operations; Head of Sales & Revenue Management; and Senior Vice President of Commercial Services. I have also worked at the regional and property level, and in fact, I began my career with the company as a catering and banquet waiter at Hilton Watford.
What role does technology play in the guest experience at Hilton?
At Hilton, innovation is in our DNA. Hilton Hospitality has always been about people serving people. We've always had our guests at the heart of everything we do at Hilton and, in recent years, the integration of physical and digital has been a key focus of our innovation agenda.
Prior to the pandemic, we were already focused on expanding the features of the industry-leading Hilton Honors app to improve the guest experience, including Digital Check-In, Digital Key, Digital Check-Out and in-room technology. All of these features give guests the choice and control to use their phone to select their room from a floor plan as well as check-in, unlock their room and access other areas of the hotel that requires a key (such as fitness centers and pools) directly via the Hilton Honors app.
For instance, since its 2015 launch, Hilton's Digital Key has expanded rapidly — now available in over 81% of our more than 6,700 hotels and used to open over 152 million doors. Last year alone, despite the pandemic, Digital Key rolled out to an additional 383 hotels and adoption has doubled. Going into 2022, we are regularly delivering more than 1 million Digital Keys per month to our guests.
These contactless initiatives present a digital solution to decrease on-property wait times, increase peace of mind, and enhance the guest experience, shifting those important in-person interactions to focus on enriching the guest stay in other ways and maximizing hospitality for Hilton team members. The human element is critical to our ability to deliver best-in-class hospitality experiences to our guests for decades to come.

Has Hilton launched any new technology innovations recently?
Earlier this year, Hilton was the first major hotel company to introduce a booking experience that allows individuals to easily book and instantly confirm at least two connecting rooms, which was a solve for a long-time travel planning frustration. This innovative technology, Confirmed Connecting Rooms by Hilton, continues to roll out globally and is available when booking on Hilton.com or through the Hilton Honors app at participating hotels within any of the portfolio's 18 brands.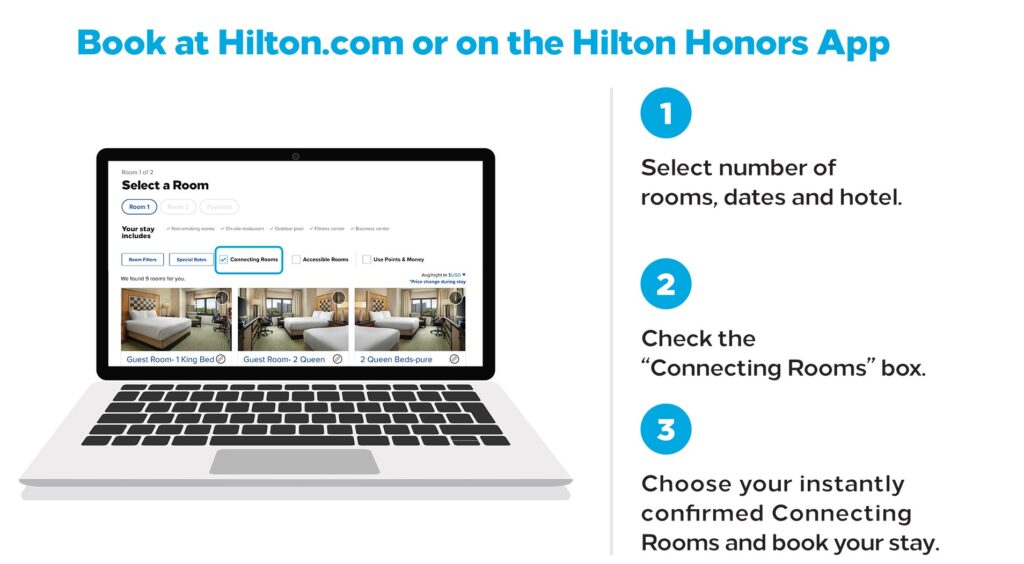 Continuing on that momentum, we also recently introduced another industry-leading enhancement through the Hilton Honors app, enabling guests to share their digital room key with family and friends safely and securely. The first for a major hospitality brand, Digital Key Share allows more than one guest to have access to their room's Digital Key.
Plus, to continue to show our appreciation for and to celebrate our most loyal Hilton Honors members, we recently announced an enhancement to a highly valued Hilton Honors benefit, providing members with early confirmation of a favorite perk – complimentary room upgrades. Eligible Gold and Diamond Hilton Honors members will be notified of their space-available upgrade 72 hours prior to arrival, enabling the member to choose their upgraded room directly when they check in via the Hilton Honors app.
In addition to these enhancements, we also offer contactless payment options at more than 3,500 hotels, so guests can pay with their mobile phones, smart watches or by tapping their credit cards. Our in-room technology in select hotels also enables guests to personalize and control several aspects of their stay from their mobile device and Hilton Honors app. For instance, guests who stay at participating hotels can customize their preferences from popular streaming media, such as SHOWTIME, Netflix and iHeartRadio, using their smart phone as the remote control for their experience.
What was the impetus for Hilton launching these new guest-facing technologies?
Hilton has always had its guests at the heart of everything we do, and we will continue to listen, evolve and innovate to lead the industry and deliver the exceptional experiences that are synonymous with Hilton hospitality.
We seek to innovate with technologies in ways that increase convenience, comfort and personalization of the travel experience, ultimately ensuring we are delivering the most friendly and reliable hospitality experience available. As a brand that aims to meet our members where they are, we must listen to them and act on what we learn. Our industry is competitive, dynamic and growing, and we'll continue to focus on what will drive the most value for our nearly 123 million members around the world.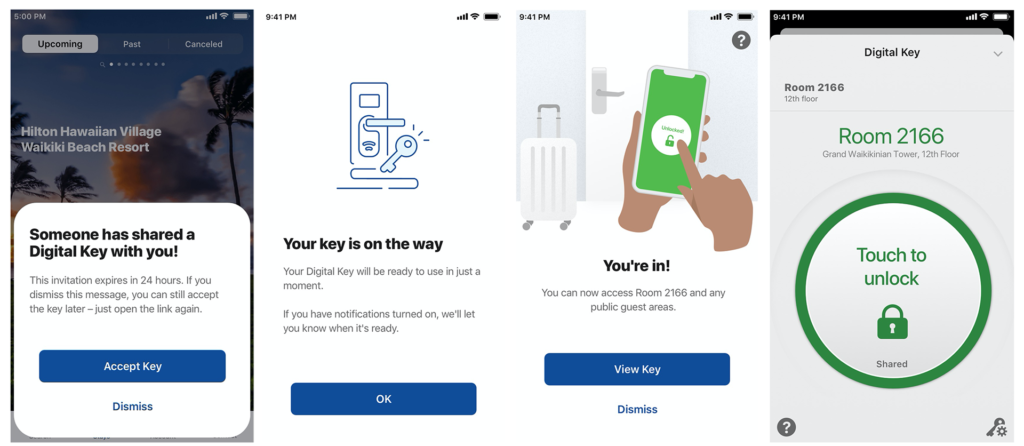 How will technology play a role in the hospitality industry's recovery?
There is no doubt that the pandemic changed the travel experience. Over the past 20 months, the world changed and adjusted to the realities of the pandemic and, at Hilton, in many ways, we stayed the course and took the same strategic approach that we've always taken: to lead the industry with innovation that has a meaningful and lasting impact on the guest experience.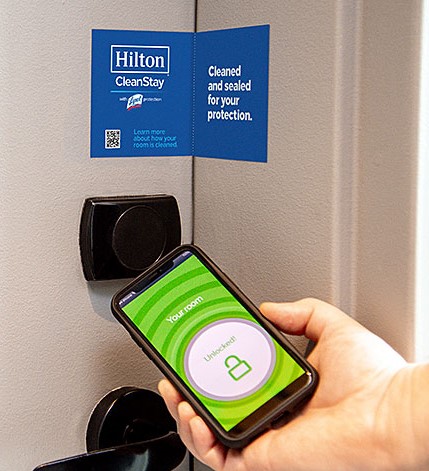 We led through the pandemic by supporting our communities by offering 1 million rooms for medical professionals, supporting our Hilton Honors members by extending status, ensuring no points or free night certificates expired, and by lowering the qualification rates for tier status. We offered special rates for anyone who needed to travel, provided contactless arrival and departure and we launched CleanStay by Hilton which ensured the safety of our customers who continued to travel.
At Hilton, we've been incredibly focused on delivering the experiences our guests are looking for, through every up and down we've faced. We have steered the industry in responding, turning adversity into opportunity by developing new innovations and experiences for our guests that give them more control over their stay. We intend to continue to lead through the recovery in the same ways, supporting our hotels and the communities they are in, providing the most reliable and friendly hospitality experience for our customers, using technology to continue to innovate the customer experience, and by continuing to recognize our Hilton Honors members with benefits that are important to them, like confirmed upgrades prior to arrival.
Further reading: Hilton Opens the Door to Its New Digital Key Sharing Technology