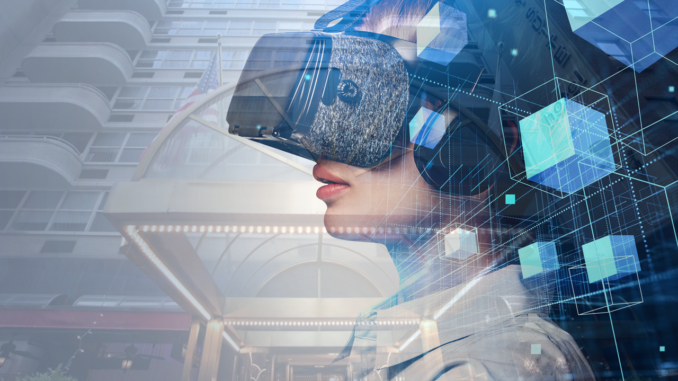 The metaverse is controversial and easy to shrug off by traditionalists as just another online craze. We see it as a way to augment experiences in the real world and to enhance brand advocacy. Moreover, the examples we present are ones that have applicability in the near future and not some distant decade where you've already retired.
(Lengthy and chunky explanations of each specific use case compelled us to divide this article into two parts; Part 1 explores the first five potential ways that hoteliers can get in on this latest tech craze.)
As a final word before getting into these latter five, some alphabet soup is in the order. If you're confused about the difference between augmented reality (AR), virtual reality (VR) and mixed reality (MR), know first that you are far from alone and plenty of other articles have been written to help distinguish each. Secondly, you should read up on non-fungible tokens (NFTs) insofar as how blockchains can support unique ownership of digital and physical assets.
Lead User Innovation. This is a term that deserves its own article specific to the hospitality space. Basically, it describes how your most loyal guests or 'evangelists' as some tech companies codify them will come to find new and extraordinary uses for your product that you never thought of or intended for. The metaverse can help you embrace the ingenuity of these individuals by giving them the space to interact with your brand in many more fun, fascinating and possibly perverse ways, all of which are tracked digitally and hence can be used to create actionable inferences for the physical product.
A Bonus for Tokengating. The future is all about the 'gating' or closing off of digital content for nonsubscribers. In this sense, 'tokengating' is simply the use of NFTs to govern who has access to a physical location, ownership of an asset or visibility of a digital construct. While you can create, say, a private lounge that only owners of a specific NFT will be allowed to enter, the prospects of MR and the metaverse introduce the possibility of even more added perks, specifically the access to certain areas or items that other non-NFT owners cannot interact with.
Boosting the Concept of Transformative Experiences. As the next generation of the Experience Economy, there is the notion of the Transformation Economy where customers evaluate brands based upon how well products improve their overall livelihoods. So, can you use technology to ensure that a guest leaves a hotel better off than when they arrived? Without digressing too far into the wellness side of things, one metaverse-oriented application would be virtual exercise or yoga classes. Each room comes equipped with a VR headset and tracking suit, and guests can log in to an immersive digital environment for an on-demand training session with a highly skilled instructor, all without having to go through the logistics and inconvenience of meeting in person. In this sense, it's a bit like what Peloton has done but much more personalized. Moreover, depending on the sensors in the equipment used, such sessions can be much more responsive to incorrect movements, presenting the opportunity for an upsell related to physiotherapy corrective measures.
Cataloguing Experiences as a Post-Departure Gift. By deploying a digital twinning model to record aspects of the hotel stay, you can gain more data on a person's onsite experience while the blockchain technologies underpinning the metaverse clone can ensure that that data is kept private to only the guest. For this use case, the data can drill down to the minutia of point-to-point decisions made on property, nutrition or wellness information and memorable highlights of the trip. All of these can be catalogued in the metaverse for future access, with the ultimate loyalty goal of having guests leave a property in person but never really checking out. As a somewhat extreme example, a bride and groom want to revisit the place of their nuptials on their anniversary at the exact moment when they said, "I do," but must rely on the metaverse to offer that meticulously timed experience because the rigors of life prevent them from doing so in real life.
Further Incentives for a Loyalty Program. While you mull over all the previous ideas, you can see that not only are there applications for the metaverse to improve your physical product, but also to encourage guests to revisit your property, especially when you also incorporate gamification techniques. For instance, what if you only allowed access to various parts of your metaverse hotel clone to certain tiers of your loyalty program? Each tier could be determined from points accumulated not just from purchases on-prem in the physical world – rooms, suite upgrades, spa treatments, F&B, gift shop, golf and so on – but also, through the integration of all your various digital channels, incorporate online actions such as responding to a survey, social media mentions or getting friends to click on a bespoke referral link. This is but one use case that could have some lucrative applications. Next, you can throw in the idea of tokengating certain AR-based experiences to particular loyalty tiers, and then you have the makings of a compelling, modern rewards program.
Larry and Adam Mogelonsky represent one of the world's most published writing teams in hospitality, with over a decade's worth of material online. As the partners of Hotel Mogel Consulting Limited, a Toronto-based consulting practice, Larry focuses on asset management, sales and operations while Adam specializes in hotel technology and marketing. Their experience encompasses properties around the world, both branded and independent, and ranging from luxury and boutique to select-service. Their work includes six books "Are You an Ostrich or a Llama?" (2012), "Llamas Rule" (2013), "Hotel Llama" (2015), "The Llama is Inn" (2017), "The Hotel Mogel" (2018) and "More Hotel Mogel" (2020). You can reach Larry at [email protected] or Adam at [email protected] to discuss hotel business challenges or to book speaking engagements.
This article may not be reproduced without the expressed permission of the authors.
Are you an industry thought leader with a point of view on hotel technology that you would like to share with our readers? If so, we invite you to review our editorial guidelines and submit your article for publishing consideration.