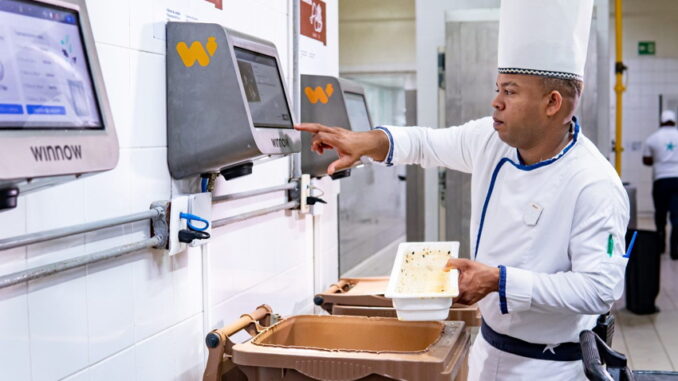 According to a report by the World Wildlife Fund, the hospitality industry is responsible for approximately 1.6 billion metric tons of food waste each year. In an effort to reduce this staggering amount of waste, many hotels are instituting new policies and partnership programs.
One such example is the Swissôtel in Chicago, which has implemented a "Food Rescue" program that donates unserved food to local charities. The program has been so successful that it has been expanded to all of the Swissôtel's North American properties. Another hotel chain that is taking steps to reduce food waste is Marriott International. The company recently announced a partnership with food rescue organization Subzero Group that will see surplus food from Marriott hotels being donated to those in need.
In an effort to reduce food waste, many hotels are also implementing new technology solutions. One popular solution is new software that helps to track food production and inventory. This allows hotels to more accurately predict how much food they need to prepare, reducing the amount of unused food at the end of each day. Some hotels are also using sensors to monitor food temperature and quality, ensuring that only fresh and safe foods are served to guests.
Now Iberostar Group, the Spanish hospitality company, which has forty five hotels across the globe including in Spain, Portugal, Montenegro, Greece, Tunisia, Morocco, Jamaica and Mexico, has announced that it will be installing artificial intelligence in its more than 100 hotels globally in order to become zero waste. This commitment by the company will become a reality thanks to an innovative system, based on technology from solution provider Winnow Systems, which will contribute to ending food waste and bringing the company closer to its goal of being free of waste sent to landfill by 2025.
The Iberostar Group committed itself to this zero-waste objective in 2020 with its own 2030 Agenda, which also includes being carbon neutral by 2030. With this announcement, the Iberostar Group is taking a major step towards achieving its sustainability goals and making a positive impact on the environment.
Iberostar has installed technology based on Winnow AI in five of its hotels, which is already saving 618,000 meals per year and 1,065 tons of CO2e per year. This is a significant step in the right direction, but there is still more work to be done in order to achieve the company's goal. In order to halve global per capita food waste by 2030, as stipulated by the United Nations SDG 12.3, Iberostar must continue to find ways to reduce food waste at all levels of its operations. This includes working with suppliers to reduce food waste at the source, as well as implementing programs to educate staff and guests about the importance of reducing food waste.
The program has reportedly been piloted successfully at Iberostar hotels in Europe, the Caribbean, and Latin America, and has shown to be highly effective in reducing food waste. On average, establishments using Winnow's technology have cut their food waste in half within 12 to 24 months.
The Winnow systems implemented in Iberostar kitchens know exactly what they throw away, what they save, and how they can make smarter decisions based on real data. The kitchen staff, trained to work with the tool, uses a tablet to identify discarded food, while a camera identifies food items (capable of capturing up to 600 food items). A scale measures the weight and sends a message to the chef, indicating the cost, weight, and quantity of food discarded.
All this data is uploaded to the cloud, where the food waste from each day is recorded and analyzed. With the preparation of daily, weekly, and monthly reports, Iberostar kitchens receive the necessary information to promote improvements in their production processes. Those improvements will ultimately help Iberostar save money and reduce its environmental impact.
Utilizing AI in its kitchens will allow Iberostar to improve the customer experience and quality of service. This will be done by improving efficiencies in the kitchen, paying more attention to environmentally-conscious materials, and innovating with techniques such as slow cooking.
"Reducing food waste is key to meeting our 2030 Agenda goals," said Sabina Fluxá, Vice-Chairman & CEO of Iberostar Group, in a press statement. "The value of food cannot be underestimated, and, at Iberostar, we want to ensure it is not wasted. In addition to training our employees to address food waste, we have put in place this innovative system to reduce the amount of waste we produce without affecting the guest experience. We are convinced the use of state-of-the-art technology, training, and innovation dedicated to removing food waste will help us reduce climate impacts, achieve our goals, and contribute to broader global goals that benefit the planet."
In total, with the implementation of this system, Iberostar will stop throwing away almost 5 million meals per year, more than 1,600 tons of food, and will stop emitting almost 8,000 tons of CO2 per year. Iberostar's financial savings are expected to exceed 7 million U.S. dollars per year. These numbers are impressive and speak to the fact that investing in waste reduction can pay off in the long term both environmentally and financially.