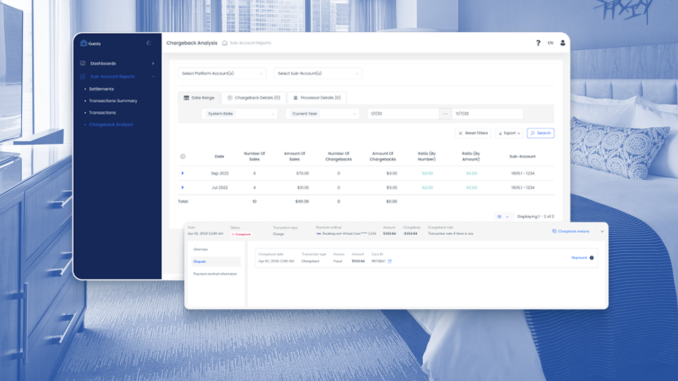 Leading hospitality and property management solution provider Guesty has unveiled its native payment processing solution, GuestyPay. Designed specifically for the needs of vacation rental and property managers, the solution is integrated directly within Guesty's product, syncing with full business data and operational processes. GuestyPay is available to existing and new Guesty customers in the United States, with a United Kingdom and European Union launch scheduled for mid-2023.
"GuestyPay is another milestone in our brand's promise of delivering a one-stop shop for full, flexible property management in the hospitality industry," says Amiad Soto, Co-Founder and CEO of Guesty. "We know our customers best from all aspects of their operations and have designed a compatible product that complies with their business model, fully integrates into the Guesty platform, and is serviced by an in-house payments team, offering customer support and risk management."
As a full service product, GuestyPay handles chargeback management, settlement payouts, accessible payments reconciliation, end-to-end credit card verification, and advanced payment reporting tools. Industry expertise lies at the heart of GuestyPay and is a solution custom built for the unique pain points and business needs of property managers and hospitality professionals. An internal payments operation team is dedicated to risk mitigation, monitoring, and flagging market threats to ensure cash flow for customers, business continuity, and the prevention of transaction failures.
Guesty is the leading property management operating system for the short-term, vacation rental, and hospitality industries. From hosts to property management companies and hospitality operators, customers rely on Guesty's platform and solutions to centralize reservations, guest communication, operational tasks, cleaning management, and more across all the major booking OTA channels, including Airbnb, Vrbo, Booking.com, Tripadvisor, Expedia, Agoda, Trip.com, Hopper, Marriott Homes & Villas, Google Travel, direct booking websites, and more.
GuestyPay eliminates the hassle of interacting with third-party providers, giving customers full control of their payment processing. The solution can easily be set up within the Guesty dashboard, and joins the company's in-house offerings of Advanced Analytics, Damage Protection, Accounting and 24/7 Guest Communication.
Does your company have news it would like to share with our readers? If so, we invite you to review our editorial guidelines and submit your press release for publishing consideration.