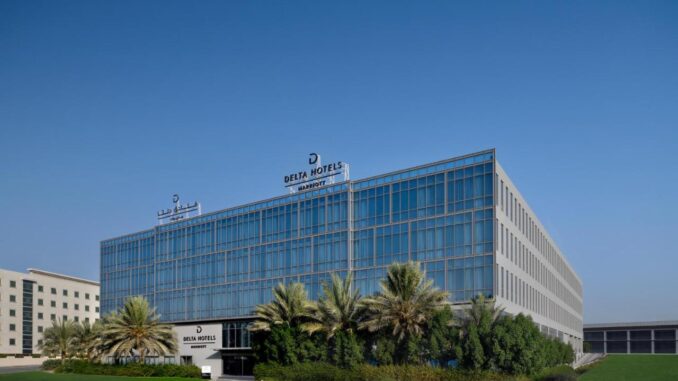 The United Arab Emirates, known for its opulent cities and extravagant resorts, may give the impression that water scarcity is not a concern. However, the reality is that the country faces a serious depletion of its water resources. According to a report from the Emirates Industrial Bank, the UAE has the highest per capita water consumption in the world.
Over the past thirty years, the water table in the region has declined by about one meter per year, putting the UAE on track to exhaust its natural freshwater resources in just fifty years.
To help address the problem, Delta Hotels by Marriott in Dubai Investment Park has launched a sustainability initiative aimed at transforming humidity in the air into sustainable drinking water for hotel guests. The technology, build by India-based AirOWater, is designed to target the global shortage of clean drinking water and replace plastic by providing an innovative and sustainable solution to the increasing demand for fresh drinking water.

The hotel's collaboration with AirOWater aligns with the brand's stated commitment to sustainability and its pillar of providing free bottled water to guests. As a result of this collaboration, Delta Hotels by Marriott, Dubai Investment Park, will be the first Marriott International property in the Middle East to work with AirOWater.
The hotel currently has two AirOWater Atmospheric Water Generators (AWG) units, which produce a range of 500 to 1,000 liters of water in one day, enough to cover all of the property's drinking water requirements. Airowater utilizes moisture content in the air to create drinking water through a four-step filtration process. The machine's optimum performance ideally requires a minimum humidity level of approximately 50 percent. However, the Airowater is designed to produce sufficient amounts of water in conditions of lower humidity as well.
All 246 guestrooms, restaurants, meeting facilities, spa, and gym feature refrigerators that are stocked with filtered AirOWater glass bottles. The hotel is plastic-free in terms of water bottles, with no plastic water bottles used in any public or staff areas, including back-of-house offices. For every 1000 liters of water produced by the AWG units, the hotel saves approximately 11,000kg of plastic and further reduces its carbon footprint as there is no wastage of water, compared to desalination or typical reverse osmosis treatment systems of water.
"All of us in hospitality need to focus more on sustainability and look for solutions together to eliminate plastic bottles in our properties," said Raja Zeidan, the general manager of Delta Hotels by Marriott. "The consideration of how we use water, and the containers in which water is stored, is a good starting point, however, we plan to invest a lot of time and energy into sustainable initiatives for the future of our hotels."
The hotel's initiative is a step forward in terms of sustainability and will hopefully serve as an inspiration for other hotels to follow suit.