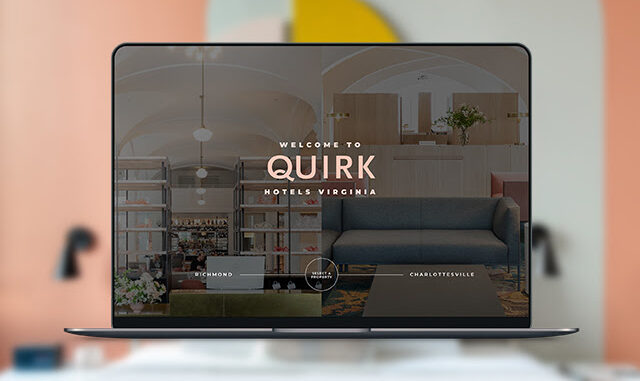 Virginia hospitality firm Retro Hospitality has selected Tambourine, the digital marketing company serving hotels, resorts, and tourism destinations, to re-imagine the Quirk Hotels digital experience.
With the addition of a second location in Charlottesville, Virginia in March of 2020, Retro Hospitality wanted to bring the expansion of the art and design-focused boutiques to the forefront of its digital story.
"Unique and thoughtful design elements make Quirk Hotels what it is," says Bree Brostko, CMO, Retro Hospitality. "When we were searching for a digital marketing partner, Tambourine's portfolio of luxury boutique designs made them the obvious choice."
Tambourine designers crafted a dual splash page experience for Quirk Hotels to introduce potential guests to both properties. The website user can then toggle between the Richmond and Charlottesville locations.
"We wanted to enrich the brand narrative by linking both properties, but we also wanted to give each property an individual user experience," said Diego Rodriguez, Design Lead, Tambourine. "We strived to design a website that embodies the beautiful in-person experience. Tambourine was part of the original Quirk Hotels launch in Richmond, so we are excited to see the original vision expanded upon."
Does your company have news it would like to share with our readers? If so, we invite you to review our editorial guidelines and submit your press release for publishing consideration.