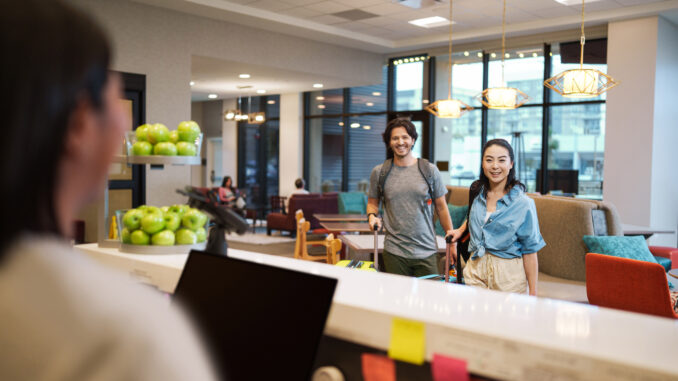 A recent Hilton report titled "The 2023 Traveler: Emerging Trends that are Innovating the Travel Experience" highlights the growing demand for a "frictionless" travel experience. To address this demand, Hilton has deployed a cloud-based hotel Property Engagement Platform (PEP). This platform is currently powering over 1,000 properties within the Hilton portfolio, with implementation across all Hilton properties expected to be completed by 2026.
Homewood Suites by Hilton Largo Washington DC was one of the first hotels in Hilton's portfolio to implement PEP. According to Hilton, the implementation has helped reduce wait times for guests and increase the amount of time team members can dedicate to providing personalized service. It has also significantly reduced the amount of time for team member training.
PEP incorporates a suite of integrated software solutions to streamline operations, address guest and team member needs, and identify cost efficiencies within one standard platform that can be scaled worldwide. Developed in collaboration with Dallas-based hospitality solution provider HotelKey, and replacing an on-premise technology called OnQ, PEP  is expected to improve the guest experience across Hilton's 19 brands and reduce upfront property management system training efforts from 40 hours to 4 hours.
The use of PEP at Hilton properties is just one of the many innovations the company has rolled out in recent years in its incessant efforts improve operational performance as well as the quality of the guest experience.
"As a business of people serving people, we're always looking for ways to deploy solutions that meet the evolving needs of our team members and our guests," said Michael Leidinger, senior vice president and chief information officer, Hilton, in a press statement. "In addition to benefiting from our new property engagement platform, to achieve a more frictionless travel experience, guests can also engage in our other industry-leading digital innovations, such as enhanced booking options, Digital Key and Digital Key Share through the Hilton Honors app and personalized in-room technology."
Since its 2015 launch, guest usage of Hilton's digital key has expanded rapidly. The technology is now reportedly available across nearly all of Hilton's portfolio of more than 6,600 properties worldwide. As of last year, according to the company, it has been used to open more than 150 million guestroom doors, and has reduced plastic waste by 125 tons, furthering Hilton's "Travel with Purpose" commitment to cut its environmental footprint in half by 2030.

The primary guest can share their active digital key with up to four additional people or devices from the Hilton Honors app. For the secondary guest to gain access to the digital key, they must receive an invitation from the primary guest, be logged into the Hilton Honors app and pass a security check that happens instantly in the background. Guests who accept a share will have access to the room and property throughout the duration of the stay and, for security purposes, cannot further share the digital key. PEP also joins Confirmed Connecting Rooms, launched in 2021, which allows individuals to easily and instantly confirm at least two connecting rooms at the time of booking.
In December, as reported here, Hilton partnered with Amadeus to implement their API within the Amadeus distribution system. The Amadeus GDS is the first to directly integrate with the company's API, which means both Hilton and Amadeus will benefit from a faster, more advanced connection to the GDS channel in areas such as credit card information, cancellation policies, and meal plan details. Previous connectivity through multiple APIs meant that changes to content could not be as easily accommodated. The new integration has enabled Hilton to scale up more effectively and roll out new features at a faster pace. The API integration also improves the overall customer experience and booking process for guests.