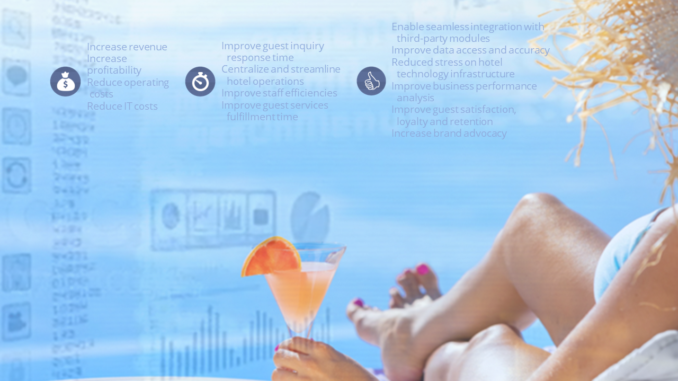 Starfleet Research, the leading provider of best practices IT research and recommendations for the hospitality industry, has released The 2023 Smart Decision Guide to Hotel Property Management Systems. This marks the seventh edition of the popular title, widely regarded as the industry's most authoritative and comprehensive resource for maximizing success with hotel property management systems and related technologies.
The 2023 edition (click here to access) has undergone complete revision, updates, and expansion compared to previous editions.
Despite facing challenges such as rising interest rates, slowing economic growth, and widespread labor shortages, the hotel industry is currently experiencing a major resurgence. Hoteliers are investing in new technologies to improve operations and enhance guest experiences, going beyond the solutions implemented during the pandemic to support safe and contactless operations. These technologies include virtual and augmented reality, personalized marketing and communication tools, smart room technology, and even delivery robots. Among these technologies, the property management system (PMS) holds paramount importance.
A next-generation PMS is essential for hoteliers to optimize hotel operations and deliver superior guest experiences. By implementing a fully-integrated system, hotels can streamline day-to-day operations, digitally engage guests with touchless services, personalize guest experiences, and benefit from a wide range of features and functionalities. A modern PMS enables effective property management, leading to cost savings and increased profitability.
A modern PMS can also help address the pressing challenges related to labor shortages that many hoteliers currently face. By automating tasks that typically require staff, a next-generation PMS reduces workloads and allows existing staff to focus on critical tasks. This increased efficiency reduces the need for additional staff, streamlines operations, and improves workflow, ultimately enhancing business effectiveness.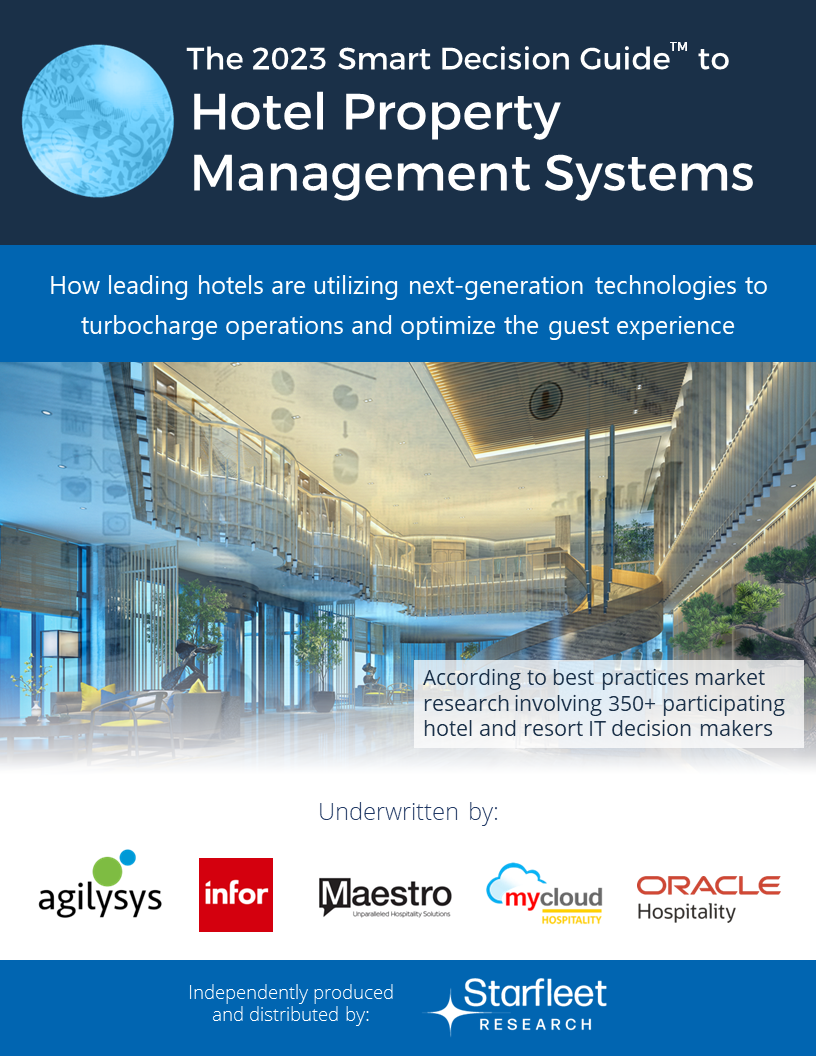 Research conducted by Starfleet Research reveals that almost one-quarter (24 percent) of hoteliers who have not upgraded their PMS in the past three years are planning to do so within the next 12 months. For these hoteliers, The 2023 Smart Decision Guide offers practical guidance and serves as a roadmap for success in selecting a solution that best suits their property's specific requirements and ensures long-term value.
Whether hoteliers have yet to migrate to a next-generation solution or are seeking ways to enhance the value of their current systems, this Smart Decision Guide provides actionable advice for reducing costs and maximizing revenue. The content is based on unbiased, fact-based information gathered from 367 qualified survey respondents, making it an invaluable resource for decision-makers in the hospitality industry.
The new Smart Decision Guide is underwritten by the following industry leaders: Agilysys, Infor, Maestro, mycloud Hospitality, and Oracle Hospitality. Four of the underwriters also participated in previous editions. For a limited time, the 2023 edition is available for complimentary download courtesy of the underwriters.
Access the guide here to embark on your journey toward greater hotel success.
About Smart Decision Guides
Smart Decision Guides produced and distributed by Starfleet Research serve as definitive resources and required reading for making technology-related purchase decisions and maximizing the value of those investments. The content is independently produced, without editorial involvement from company underwriters, providing for unbiased, fact-based information and recommendations. Starfleet Research is the IT market research arm of Starfleet Media, the leading provider of content marketing programs for technology solution providers in hospitality, retail and healthcare IT. Starfleet Media also publishes Hotel Technology News and Restaurant Technology News.
Does your company have news it would like to share with our readers? If so, we invite you to review our editorial guidelines and submit your press release for publishing consideration.