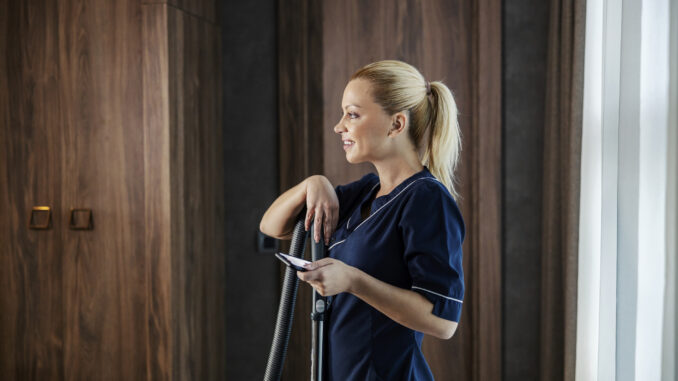 In today's information-driven world, we know that creating a positive guest experience is crucial for a hotel's success. To survive in the competitive hospitality sector, hotel owners and general managers are increasingly turning to "Smart Hotel" technology to enhance that guest experience, and at the same time assist employees to be more efficient.  
So far, though, most smart hotel technology is directed at the guests themselves. While that direct effect on the guest has enormous value, we also know that interactions with hotel staff, directly and through the services they provide, has always been the most important driver of the guest experience. And hiring and retaining talented staff has never been more difficult than it has been in the last few years. 
The confluence of these trends – the rapid emergence of technology and the challenge of proper staffing – tells us that it is time for hotels to think of smart technology not only for making guests' lives easier, but also for making employees' work easier. Technology can empower seamless backend operations that elevate the hotel experience, creating a realm where efficiency and guest satisfaction harmonize the total experience. 
Hospitality opportunities and challenges
People are eager to travel again now that the COVID-19 pandemic is over. According to the Hospitality Global Market Report 2023, the hospitality market worldwide is expected to reach $5.8 billion in 2027, at a compound annual growth rate of 5.5%, indicating the power of the recovery from COVID-19 despite disruption from the Russia-Ukraine war.  
But the hospitality sector still struggles with the pandemic's impact on hiring hotel staff. A recent survey by the American Hotel & Lodging Association found that more than 80% of hotels are experiencing staffing shortages. Despite offering diverse incentives, 87% of hoteliers say they are having problems filling open positions. This shortage can severely impact a hotel's ability to operate efficiently. Housekeeping ranks as the most pressing need for 40% of hoteliers. 
While it's too early for comprehensive data on the subject, it's clear that hoteliers reduced technology spending during the pandemic, in response to declining revenues. It's equally clear from industry surveys that hotels are now ramping up technology spending to make up for lost time and to cope with staffing challenges.  
The question is, what technology should they invest in, when the Smart Hotels options have exploded?  
The Smart Hotel technology landscape
Most of what comes to mind as Smart Hotel technology is designed to interact directly with guests.  
Envision the stay of a typical guest:  
Now, it usually begins with the guest's use of a smartphone app to check in, often by conversing with an AI chatbot. They may also use that app to reserve and find a parking spot in the lot or garage. Next, the guest uses a mobile key, typically powered by Bluetooth technology, to unlock hotel room doors (replacing the once-ubiquitous and often-lost plastic keycards). Inside the rooms, guests increasingly use their phones or Alexa-style voice-activated systems to use the television, open the blinds, change the heat or cooling settings, and request information on hotel services. Or they may be getting that information from a "smart mirror" with a touchscreen ability. 
While many of those Smart Hotel functions also assist hotel operations – either through gathering data useful for automating energy usage or personalizing the guest experiences – all of them are guest-facing and almost all utilize the personal smartphone. 
Studies indicate that these guest-friendly technologies pay dividends. According to a study by Hotel Technology, 73% of guests surveyed said they would favor returning to a hotel that satisfied their technological needs. However, we also know that guest-facing technology alone is not enough, and sometimes actually a hindrance, as reported in a widely circulated article in The New York Times.      
It's clear that hotels need to leverage the same system of applications on smartphones  for employees as well as guests. Hotel operations can run more smoothly when optimized through technology that helps staff prioritize and complete their tasks. This improves productivity, but equally or even more importantly, having more efficient staff improves guest satisfaction and the overall guest experience. 
As with the hypothetical guest experience outlined earlier, imagine how Smart Hotel-type technology can foster seamless collaboration between staff and managers and improve the guest experience.  
Smart Hotel technology for staff
At the start of a shift, the employee clocks in and has in their hand a schedule with a clear, easy-to-follow task list. The employee checks off completed tasks, allowing the manager to see progress in real time. Should a guest need extra service, perhaps extra pillows or towels, the manager can see which staff member is close by and is on or ahead of work schedule and is best able to handle the request. That minimizes the disruption to the employee's workflow and, more importantly, provides the fastest and best service to the guest.   
Later in the shift, the employee might notice a maintenance issue like a water leak or torn carpeting. Smartphone-based technology allows the employee to photograph the problem, send the photo and information to management, as well as a precise GIS-based location of the problem. Again, this facilitates the quickest and most helpful response to the problem.  
At the end of the shift, the employee receives a motivational message that recognizes achievements, and possibly a brief survey or forum that gathers input – communication that increases employee satisfaction and can refine processes and positively affects the guest experience. 
By leveraging the best use of technology, management reduces the burden on its most important resource: its staff. Employees become happier, more engaged, and more likely to stay with the hotel. Retaining that trained, top-level talent is crucial for maintaining high-quality services and hotel experiences; when employees are happy with their work, they provide better service for guests. 
As hoteliers strive to stay ahead in the technology race, they should focus on incorporating smart technology into their back-end operations. Empowering their employees to provide the best guest experience drives reputation, repeat business and ultimately increase the hotel's profitability.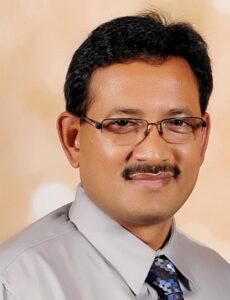 Raja Epsilon is the founder and CEO of WrkSpot, which helps hotels address the operational gaps between line staff and managers, and between management and ownership and finance. As a creative technologist with over 20 years of experience, he has delivered innovative products for both start-up and enterprise organizations. His experience in the areas of internet hardware, automotive, entertainment, and tax and accounting enables him to develop a solution that delivers on the promise of the "Smart Hotels" concept.
Are you an industry thought leader with a point of view on hotel technology that you would like to share with our readers? If so, we invite you to review our editorial guidelines and submit your article for publishing consideration.