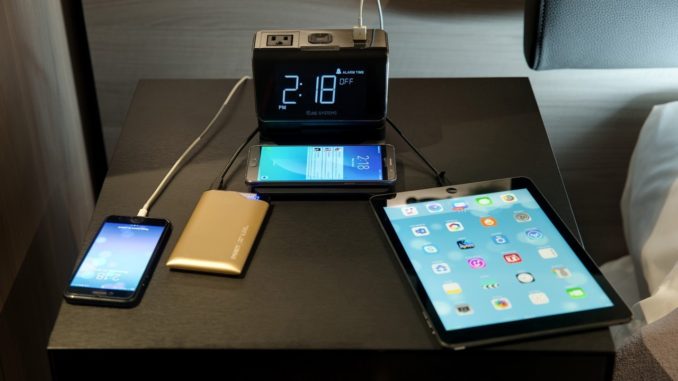 With recent advances in Bluetooth low energy beacon technology, hoteliers, increasingly, have the capacity to know where a guest is on their property at any given moment – even inside the guestroom. Hoteliers can leverage this intelligence to their advantage by sending contextualized messages to guests based on their current location.
Now Kube Systems, a provider of mobile device charging solutions, has partnered with Gimbal, an independent platform for aggregating and executing consumer data, to bring location-based marketing to hotel guestrooms via its Kube Essentials multi-device charger.
Kube Essentials is an all-in-one charging station with built-in cables, alarm clock and modular expansion options. Kube Essentials charges ALL mobile electronics, including laptops with an AC power outlet. The new combined technology will enable hotels to engage with guests by offering promotions and other notifications to their mobile devices.
Hoteliers can send marketing messages and offers that may prompt guests to leave their rooms and spend money in other outlets. They can also push messaging that encourages the use of in-room services, such as in-room dining.
The goal is to enable hotels to improve the guest experience and, ultimately, drive increased revenue, both inside and outside the guest room.