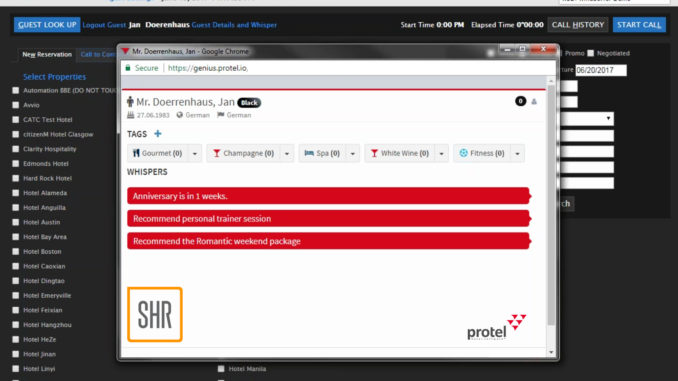 Houston, Texas-based Sceptre Hospitality Resources (SHR), a provider of a next-generation distribution technology and a central reservations system (CRS), called Windsurfer CRS, announced that it has teamed with protel hotelsoftware, a Germany-based provider of advanced hotel property management systems (PMS).
The partnership gives SHR access to protel's 14,000 global hotel clients' transaction and preference data. As a result, the company will be able to provide hoteliers and their guests with an enhanced booking experience via a unique predictive analytics data interface. With integrated data, including predictive analytics information, SHR will be able to offer hotel clients highly-relevant data through all phases of the guest experience.
Traditionally, the CRS and PMS talk to each other via a point-to-point interface. According to a company spokesperson, the protel system provides a multi-point connection to the entire hospitality ecosystem via its enterprise service bus, protel.I/O.
The service bus extracts data from the PMS as well as from other vendors such as restaurants, spas, and any other connected systems. It stores the data in its data warehouse, protel Genius. Genius then analyzes the data and feeds only the most relevant guest intel and upsell recommendation data back. This can be delivered at every guest touchpoint using what is known as "whisper" technology.
Subscribing systems such as the CRS can then pull these focused recommendations for booking, stay, and post-booking purposes. This provides hoteliers with not only vital guest preference and spend information, but also recommendations to help them deliver more personalized and engaging guest experiences.
The partnership reportedly makes protel the first company of its kind to bring this type of technology to market.