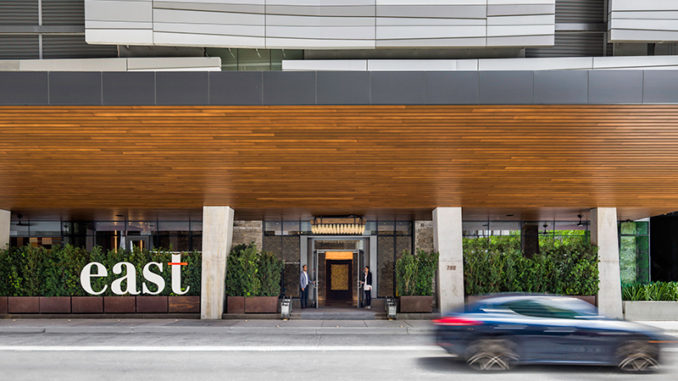 EAST, Miami, a 352-room property owned and operated by Swire Hotels, has introduced a mobile app designed to enhance the quality of the guest experience. Features and functionality of the native app include mobile check-in and mobile key entry. The app also offers a rich collection of information about the property and local attractions and destinations.
Swire Hotels' portfolio of hotels consists of two brands: the House Collective and EAST. Most of the company's small, luxury hotels are located in Hong Kong and Mainland China. EAST, Miami, located in Brickell City Centre in Miami, Florida, opened  in 2016 and is the Hong Kong-based company's first North American property.
A centerpiece of Brickell City Centre, a $1 billion mixed-use development by Swire Properties, the parent of Swire Hotels, includes luxury retail shops and office towers on a nine-acre campus. EAST, Miami includes 89 one-, two- and three-bedroom residence suites equipped with kitchens and laundry. The hotel also introduced the first North American restaurant by the team behind Uruguay's acclaimed Parador La Huella.
The mobile app was developed by TripCraft with the goal of eventually mobilizing all aspects of a guest's interactions with the hotel property, including booking, marketing and guest services. Development of the app required significant technological effort, given the need to integrate with seven different systems from seven different solution providers.
Additional app functionality, including in-room controls, service messaging and mobile check-out, will be rolled out in the next phase of development.