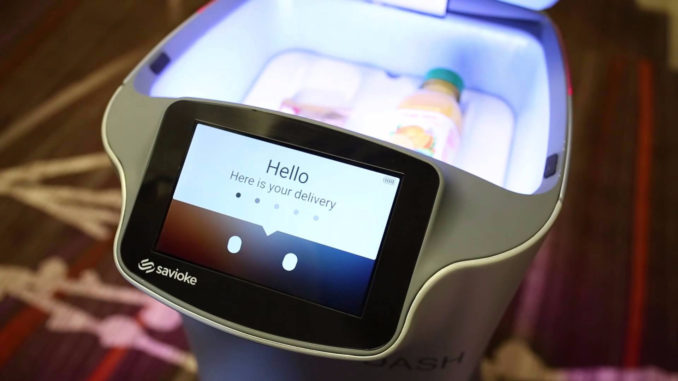 Millennium Hotels & Resorts, established in Asia and now found in over 60 destinations worldwide, is on the verge of expanding its non-human staff.
The hotel company began experimenting with a front-of-the-house autonomous service delivery robot (dubbed AURA, for short) eight months ago, piloting its first robot test at the 293-room M Social Singapore.
Now the hotel group plans to roll out these service delivery robots to four other properties: Grand Copthorne Waterfront, Studio M Hotel Singapore, M Hotel Singapore and Orchard Hotel Singapore.
Developed by San Jose, California-based Savioke, and spearheaded by Republic Polytechnic's Hospitality Solution Centre, AURA has received rave reviews from guests and employees alike and may usher in a new era of robotic additions to hospitality guest services teams.
The robot is designed to optimize hotel service operations by delivering room amenities, such as bottled water or towels, to guests in their rooms.  The AURA robot is programmed to operate an elevator and navigate to guests' doors, announcing its presence upon arrival.
The robot moves without human assistance. It comes to an immediate stop when its sensors detect a moving object within a 5-meter radius, which mitigates the risk of knocking into unsuspecting guests. The sensors also detect when the door is opened, at which point its hatch slides open to reveal the bottle, towel or other contents of the storage compartment the guest had ordered.
More important than freeing up hotel staff to focus on other duties is the surprise-and-delight experience the robotic room service delivery provides to guests. The robots offer a unique and memorable experience that has already been shown to increase occupancy, drive repeat visits and generate favorable brand advocacy.
The robots also offer the hotel a competitive point of differentiation, and that will continue for as long as they retain their novelty. While commoditization doesn't seem likely to happen anytime soon, other hotels are already following suit.
Last year, for example, the Park Avenue Rochester Hotel deployed two robot housemaids. Marriott Los Angeles LAX/Century Blvd deployed Savioke's Relay robot, reporting overwhelmingly positive reviews on social media and an estimated .5% boost in RevPAR as a result. Another Savioke partner announced that it is deploying its Relay robot in the luxury Shinagawa Prince Hotel in Tokyo to deliver packages, food, and other items directly to guest rooms.
More sophisticated robots are currently in development by Savioke, and several other robotics companies are jumping on the bandwagon. According to reports, the next generation of AURA robots will have a robotic arm that gives it the ability to cook eggs on demand, for example. These newest additions to the guest services staff should be in service by early next year.
It may be only a matter of time before other robots are serving meals in the hotel restaurants and providing valet parking services (for those cars that don't park themselves).