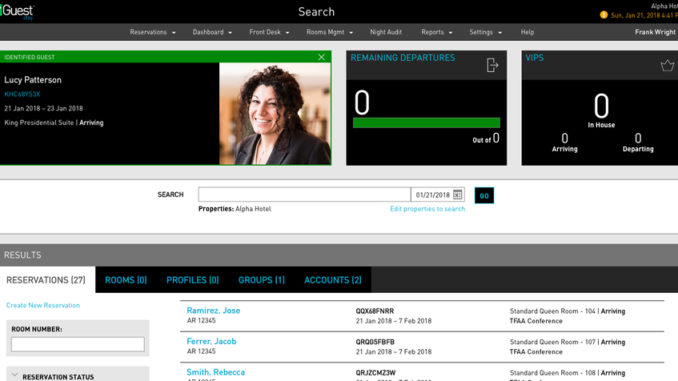 Facial recognition software can detect faces in images, quantify their features, and then match them against stored templates in a database. The technology measures and matches the unique characteristics for the purposes of identification or authentication. Facial scanning biometric technology is incredibly versatile, as reflected in its wide range of potential applications — including, perhaps most notably, its incorporation into Apple's new iPhone X smartphone.
Facial recognition is among the newest capabilities of next-generation PMS solutions.  Among the pioneers is Agilysys, a leading global provider of next-generation hospitality software solutions and services, which today announced that facial recognition has been added as one of the innovative capabilities of its rGuest Stay PMS solution to help streamline operations and deliver an improved guest experience. The PMS is a native cloud-based solution that delivers innovations in guest service, property operations and 3rd party integrations.
With rGuest Stay, the face of a returning guest can be digitally recognized as they approach the front desk, and the system will display their profile information to the agent, allowing the employee to provide a personalized welcome and improved guest service. The system can show any information saved about the recognized guest, including room preferences, arrival and departure time, and much more. The facial recognition feature is optional and can be easily enabled or disabled as appropriate.
Facial recognition is just one of new innovative features found in rGuest Stay. The PMS is also capable of working with custom voice-controlled artificial intelligence assistants such as Amazon Echo's Alexa. The digital assistant can answer questions about operational status and provide other information that is in the rGuest Stay system. Since rGuest Stay is completely API-based, it is easily accessible by the digital assistant, and has potential for easy integration with any future technologies.
Disclosure: The solution provider featured in this article is a current or past client of Starfleet Media, which is the publisher of Hotel Technology News.